Beyond the implementation of action plans aimed at improving the performance of the company, funds and properties, BNP Paribas REIM is also committed to achieving specific and measurable objectives with regard to ESG policies (Environmental, Social and Governance), in accordance with SFRD requirements (Special Fund for Reconstruction and Development). Integrating ESG criteria into investment decisions has therefore been one of the company's five strategic pillars since 2019, facilitating efforts to achieve its three key objectives:
Reducing greenhouse gas emissions
Managing properties responsibly
Raising awareness among stakeholders of the need for positive change.
 
The rehabilitation of properties is at heart of the ESG strategy
To address current and future societal and environmental issues, and to kickstart a sustainable transition, BNP Paris REIM has redefined its ESG roadmap up to 2025. The aim is for 90% of funds open to subscription by investors to be considered "sustainable" by then, in accordance with articles 8 and 9 of the new European Union's Sustainable Finance Disclosure Regulation (SFDR).
Beyond risk management, the European manager of property services also intends to improve performance and gradually boost the ambition of its funds.
The potential growth in funds has also been closely studied, and money from the management funds of BNP Paribas REIM has been earmarked for many renovation and reconversion operations. This "Best in progress" approach has recently been adopted for certain properties in Paris, such as the Magellan and 33 Avenue de Wagram, and integrated into efforts to rebuild the city. Around 75% of existing buildings are now inefficient in terms of energy consumption [1]. The "Best in progress" approach aims to invest in these buildings and improve their performance through energy renovations.  Fund management with an ESG-oriented approach therefore helps to significantly reduce CO2 emissions produced by the real estate sector.
The main aim of the action plan is to reduce the carbon emissions of properties managed by BNP Paribas REIM. To measure its progress, the company has developed a roadmap for its three main priority areas: low carbon, biodiversity and the circular economy.
This helps ensure the resilience of these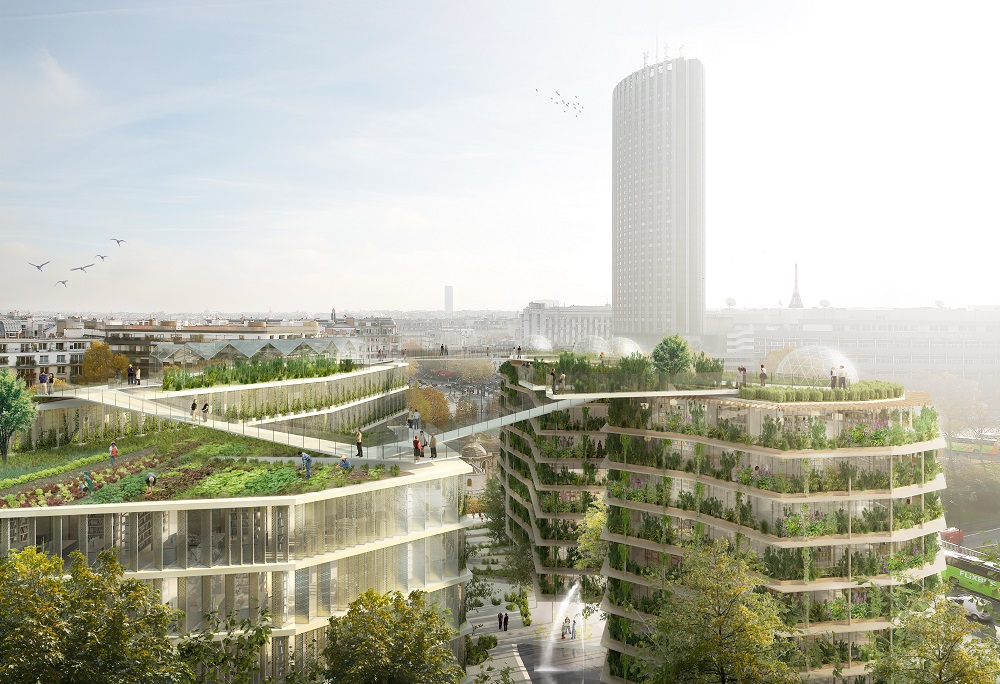 buildings in the long term, while also paving the way for a potential increase in the value of rent payments on its properties, as well as a possible rise in their market value.
The same demanding, specific and pragmatic method has been adopted for the acquisition of new properties, in order to only select buildings with (or that are capable of reaching) a high ESG performance level and which help address BNP Paribas REIM's own objectives. This strategy has already proved successful for BNP Paribas REIM, as it obtained the ISR certification (Socially Responsible Investment) for many of its funds. BNP Paribas Diversipierre real estate mutual investment fund (OPCI) was one of the first real estate funds to obtain the certification in 2020, followed by the Accimmo Pierre and Opus Real real estate investment trusts (SCPI) and the Afer Pierre fund in December 2021.
Launched in late 2020, the EIPF (European Impact Property Fund) is the first European institutional property fund with the aim of achieving the climate objectives established under the Paris Agreement.
An appealing CSR Charter for our partners
BNP Paribas REIM is helping to drive this change with the support of its stakeholders, both internal and external, constructing ethical and more energy-efficient buildings together.

In all our renovation and rehabilitation projects, we look to achieve the best possible performance in eco-management, which is directly related to tenants' management of household bills and costs (energy, water and maintenance). That's why we have implemented CSR specifications, which we now use for all our operations.
It is essentially a set of guidelines sent to the contractors, architects and business who BNP Paribas REIM works with to renovate its real estate portfolio. These businesses must integrate their solutions into calls for tender within the required fixed framework. They are asked to build the project around a solid environmental strategy, reflected through five key areas: the energy efficiency of buildings while in use; reducing the carbon footprint of construction and renovation works; enhancing the comfort and well-being of occupiers; protecting and enriching biodiversity within properties and the surrounding area; and conserving resources and raw materials by implementing a circular economy strategy.
A circular economy: towards a new normal
This final component, which focuses on circular economy supply chains, is particularly important to BNP Paribas REIM. 230 million tonnes of waste are produced on building sites across France every single day, of which 41 million are deemed potentially reusable. Opting for a circular economy approach therefore represents a meaningful response, conducive to the sustainable reconstruction of cities themselves. 
BNP Paribas REIM plans to develop this environmentally friendly methodology, whether by reusing materials and resources in-situ, which involves recovering materials present on site before starting reconstruction works, or ex-situ, which entails the opposite approach, that is, reusing materials from other buildings on a new building site. The renovation and rehabilitation of 185 Avenue Charles-de-Gaulle at Neuilly-sur-Seine is a great example of this.
The circular economy is not only good for the environment, but also socially responsible thanks to organisations such as RéaVie. This association, which has worked with BNP Paribas REIM on many building sites, aims to further develop the re-use of building materials by engaging different stakeholders, while also providing professional integration training in occupations related to the re-use of materials and construction. The company is also developing actions aimed at raising awareness among the general public of waste-related issues, and thus intends to create a new, circular, social and solidarity-based economy.
In 2018, BNP Paribas REIM worked with RéaVie to renovate an office space on the sixth floor of a building on Rue Jules Guesde in Levallois-Perret, France saving 25m3 of reusable materials and equipment in the process. Now available on the Solid-R d'Antony platform, the materials have been restored, ready for re-use on another building. Through this building site, 75 hours of professional integration training have been provided in partnership with two companies offering temporary professional integration employment (ETTI): Ecleepse and Humando.
 

As a European manager of real estate investment, we are well aware of the accelerated integration of environmental and social challenges in society, and in particular, in the real estate sector. Our CSR strategy, which we are constantly strengthening, meets the needs of our investors in terms of the environment and environmentally friendly asset management. By taking matters related to the reconversion and rehabilitation of properties into account, as well as the circular economy and the re-use of materials, we have demonstrated to all our stakeholders that we are driving change and prepared for a future that promotes efforts to meet the challenges of sustainable development.