Logistics and as such logistics real estate has undergone much change recently. Success in logistics and industrial real estate depends on having the building in the right location and on the right terms and price. Whether you are a user, developer, or investor, BNP Paribas Real Estate is at the forefront of market evolutions, and has the experience and tools to help your business succeed.
BNP Paribas Real Estate has brought thought leadership to the field and has helped investors and occupiers manage the growth in this sector and benefit from it.  
Whether you're looking to lease your warehouse space, purchase a modern production facility to diversify your investment portfolio, manage the profitability and long-term value of your current assets, or sell an existing asset , we offer a comprehensive range of services for the logistics and industrial sector including. These include Property Development, transaction and consulting, occupier solutions, International Investment Group, valuation, Property Management, and Investment Management.
The Logistics and Industrial Market
The industrial and logistics market has over recent years gained significant market shares in comparison to other assets and represents 20% of total commercial real estate in 2022 (versus 10% in 2010). The asset class has proven attractive thanks to strong relative pricing compared to other sectors, supported by steady occupier demand and rental growth. Growing E-commerce penetration and the need for warehouses to respond to the increasing demand from consumers have pushed transaction volumes up.
Thanks to a number of social, political and economic events over the past few years, investment in industrial and logistics has come to be viewed by investors as a safe and stable choice.
Main logistics hubs in Europe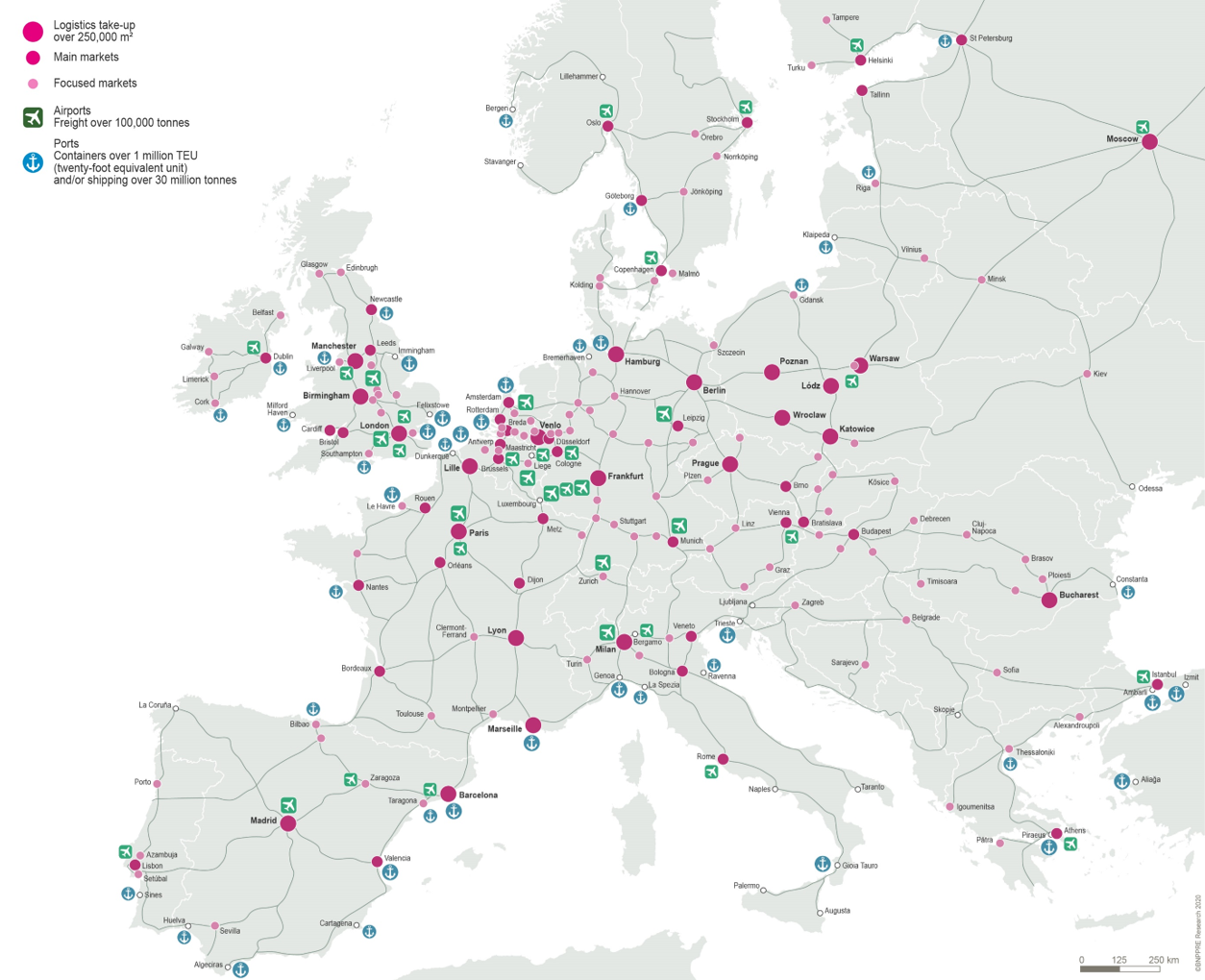 Q4 2020 figures
Investment Key Figures
Rental growth prospects remain attractive to investors. Consequently, capital markets recorded strong volumes across Europe despite the slowdown at the end of 2022 as prices adjusted.
Industrial and logistics reached €56 bn invested in 2022, greater than the annual average between 2017 and 2020.
Despite a strong year overall, Q4 experienced strong slowdown in investment.
It is the result of rapid adjustment in the macro financial environment with bond yield expansion and rising interest rates.
It created pricing uncertainty with yield decompression in most European countries.
Take-up Key Figures
The logistics market in Europe proved resilient despite a difficult political and economic environment. Low vacancy rates and limited land availability continue to push rents up and magnified by construction costs.
Take-up decreased by 10% in 2022 in the six leading European countries.
It maintained a high level above the 5-year average despite the difficult economic backdrop.
Market fundamentals are healthy with vacancy rates below 4% in most countries.
Prime rents increased by 12.1% over the last 12 months in Europe, notably supported by strong growth in the UK, Poland and the Czech Republic.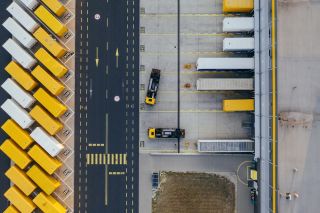 Discover our logistics market reports
As a leader in the European real estate market, BNP Paribas Real Estate offers a wide range of pan European research and market insights.
E-commerce
Consumers have changed how they shop and more and more people have been turning to online shopping. This has created an increased structural demand for warehousing space across Europe as retailers compete to be the fastest and most efficient delivery service. The Covid-19 pandemic has only accelerated this trend, as with shop closures and social distancing measures preventing people from shopping in store, online sales have soared. These new shopping habits are likely to remain even after the pandemic, altering how warehouses are constructed, run and located. With competition being based on the speed of delivery, this implicates labour and transportation within the industry, boosting demand for logistics space.
International Investment Group
As a dedicated point of contact for your cross-border transactions, we offer you a full range of services.
Last mile delivery
With retailers competing for who can deliver to the consumer the fastest, there is a greater call for last mile delivery. During the pandemic, many consumers were looking to have groceries delivered and with a notable surge in demand, the companies that were able to deliver fastest and in the most cost-effective manner, were the ones that flourished during the crisis. This has had the knock-on effect of encouraging more warehouses closer to town and city centres, serving the customer as fast as possible. In this way, companies might also establish dedicated logistics networks, with the aim of reducing costs and moving goods faster. Optimising the supply chain will as such be a major driver for industrial and logistics in the coming years.

Automation is going to become very well important for logistics and industrial, particularly driven by the substantial rise in online shopping. With retailer competing to have the fastest delivery time, such technology will become more common place in the supply chain
Reverse logistics
Reverse logistics is an area which many businesses have been reluctant to embrace, because of the costs involved with after sales product support. Now however, with a push towards sustainability and the circular economy, it is becoming increasingly present in the logistics supply chain.
Reverse logistics can help contribute to new sustainability challenges by reducing carbon emissions and waste. With many major European cities banning diesel engines, deliveries can be carried out by low carbon vehicles and be pooled to reduce the number of vehicles on the road. In this way, through the careful management of reverse logistics through various platforms, ecological costs can be reduced.
Waste reduction is also something which can be tackled by reverse logistics. The 2008 European Union policy, which prioritises the amount of waste that is generated, is a driving force for making reverse logistics more waste conscious.  As most waste ends up in transit at some point, and must be stored, reverse logistics can offer a key solution to its reduction.
Our trusted expertise at your service
Over 60 research analysts

in Europe to provide you with up-to-date real estate advice
Local knowledge and global experience
Throughout Europe, our logistics real estate experts have deep local relationships and a thorough understanding of their markets to help occupiers, developers, and building owners achieve their business objectives. Whether our investors are buying or selling, our teams have unparalleled experience with transaction sourcing and execution for European logistics and industrial real estate.

"The industrial and logistics asset class is changing dramatically and gaining market share compared to other asset classes." The industrial and logistics asset class is changing dramatically and gaining market share compared to other asset classes.
Expert advice to better anticipate the market
As purchasing patterns and technologies are evolving rapidly, it is sometimes difficult to keep up with the latest changes taking place in the logistics and industrial sector. At BNP Paribas Real Estate, we have developed a set of metrics to help you anticipate and be prepared for the future. We correlate the risk of future functional obsolescence to a handful of specific, measurable attributes that can be assessed on a building-by-building basis within a portfolio. As a result, we are able to provide you with leading-edge quality advice.
Traker
Traker is an operations consulting firm which focuses on modernising the supply chain of actors in manufacturing, retail and logistics. BNP Paribas Real Estate has chosen to acquire Traker in order to further diversify its logistics strategy and reaffirm its commitments to this asset class.
"We are proud to integrate BNP Paribas Real Estate, with whom we have been working for several years. We share a commitment to sustainable methodologies and a culture of excellence, leadership and boldness. This integration will allow us to increase our drive for innovation and value creation for our customers' supply chains, while opening up new development opportunities for our team," says Erwan Giraud and Mike Haziza, Traker's Founding Partners.
Lettings and Sales case studies
Connox
Laatzen (Q3 20)
Size: 50,000 sqm
Client: Connox
Mission: finding new location in order to centralise activities 
Zeleris
Madrid (2020)
Size: 45, 529 sqm 
Client: Zeleris (Telefonica)
Developer: AEW
Mission: leasing of logistics and cross docking for a new development by AEW "City DOX". 
Creating value in hotel real estate

BNP Paribas Real Estate offers a comprehensive range of services for the hotel real estate sector including…

Read more

New offices for new ways of working

Our relationship with our work and how it is done is turning everything we think about office spaces on its head. BNP…

Read more

Preparing for the new retail experience

BNP Paribas Real Estate can help you deliver on your retail real estate ambitions.

Read more