The New European Landscape
Globalisation has increased Europe's influence and importance as a location for international business. To stay strong or to expand in Europe, occupiers need to know what new considerations they have to build into their planning. These will not just be about real estate but will incorporate political, economic, security, legal and tax planning too. On top of that, new technologies, CSR policies, new ways of working… contribute to redefining real estate strategies.
In addition to that, they need to factor in the continuous changes to workplace perception, advances in digital technology, start-up spirit, agile working methods, a sharing culture, and an increased demand in property services. Occupiers often do not know where to begin and need to be advised accordingly.
Consistent real estate strategies through cross-disciplinary support
Whether you are looking to generate value from your real estate portfolio, or develop an outsourcing solution for a real estate department, our experts can help you optimise your approach, tailoring an "a la carte" support aligned with your business perspectives across Europe. Our operational teams act as an extension of corporate organisations. From strategic consulting to project completion, from administrative management to the most intricate transactions, we can assist you to generate value through your real estate portfolio and can be your trusted multidisciplinary real estate partner by your side all the way.
Our teams can support your organisation to define your real estate strategy on a national and international scale, allowing you to focus on your core business.
A complete and structured corporate service
Our teams ensure consistency, quality and risk management through one single point of contact. Granting you direct access to our complete offer structure, covering account management, lease management, strategic consulting, transaction management, project management and technical & facilities management.

In essence, our experts manage every part of the real estate life cycle to align it with the core business strategy of the corporate, allowing the customer to focus on business engagement with senior leaders in its business.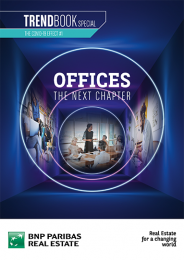 TrendBook Offices: the next chapter
What is life in our offices going to look like post Covid?

Take a deeper look at the trends, innovations and new ways of interacting with space that are going to affect our professional spaces.