Your partner in retail real estate
Are you looking to let your retail space or purchase a shopping centre, high street or retail park in order to diversify your investment portfolio? Or would you like to manage the profitability and long-term value of your current property assets? Or perhaps you are interested in selling an existing showroom?
BNP Paribas Real Estate can help you deliver on your retail real estate ambitions. We offer a comprehensive range of services for the retail real estate sector including transaction and consulting, valuation, property management, and investment management.

Retail is a sector that is able to adapt to changing trends, in response to current events, proposing new innovations for consumers. Retail now appeals to the consumer both digitally and physically and it is this multifaceted approach that demonstrates the strength of this asset class
Creating a hybrid retail experience: combining bricks and clicks
Our local and international retail departments can guide you through the European real estate market and provide you with innovative, revenue-driven solutions that anticipate the future of retail. Our EMEA team provides retailers and investors with a full range of services and consulting, from retail real estate development, and retail leasing and management, to analytic and strategic research and investment portfolio management, both for central and suburban locations.
Our teams in Europe possess in-depth retail property asset expertise, which includes:
        

High-street

         

Shopping centres

        

Retail warehousing (supermarkets, hypermarkets, discount stores, DIY, etc)

         

Retail parks

         

Outlet centres
Real estate today needs to understand digital trends to deliver the best physical retail experiences. BNP Paribas Real Estate understands these needs and works closely with investors, retailers, brands and companies to maximise your retail growth strategy. We offer bespoke solutions that help you transcend traditional sales drivers and achieve a true competitive advantage.
The experts at BNP Paribas Real Estate understand the need to adapt and stay on top of the market. The valuable retail insights we gain from local market intelligence allow us to constantly adapt our client strategy to changing business models with retail solutions that keep you on track for success.
International Investment Group
As a dedicated point of contact for your cross-border transactions, we offer you a full range of services.
Preparing for the new retail experience
The retail landscape has started its transformation a few years ago and has been more rapidly evolving within the last few months. Digital natives expect immediate access to products anytime and anywhere, but also seek deeper emotional connections to "their" brands. Companies are ramping up their online presence while also realizing the key importance of its "brick and mortar" physical footprint, i.e. its very shops' offerings. In today's world, retailers' goal is about integrating its digital channel into the physical shopping experience.
The rise of the digital retail experience
In June 2020, global retail e-commerce traffic stood at a record 22 billion monthly visits. Online shopping provides customers with an engaging experience that lets them virtually browse products, view special offers, and fill virtual shopping carts via interactive touch screens. QR codes can be scanned using a smartphone to obtain product information, promotional offers or get an easy link to a blog page. Moreover, new payment devices using near field communication are bringing contactless payment into the mainstream. For customers, digital retail technologies often offer more simplicity, save them time, improve selection, and help them find better prices. Meanwhile, connected shopping generates customer engagement and consumer loyalty and builds brand image.
Creating a hybrid retail experience: combining bricks and clicks
The most successful companies are those that offer their customers unique and personalised shopping experiencs. The modern retail experience involves a reinvention of the physical store, through imagination, connectivity and personalisation. Rather than shy away from new technology, smart businesses integrate digital innovations to improve the retail experience. Online trends such as webrooming (when consumers check out products online before buying them in the store) and click and collect (where shoppers purchase products online and then collect them from a local store) exemplify the hybrid way that consumers shop today.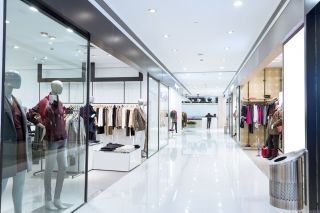 Discover our retail market reports
As a leader in the European real estate market, BNP Paribas Real Estate offers a wide range of pan European research and market insights.
Incorporating the idea of 'retailtainment' into commercial retail real estate
Browsing through items to buy is only one part of consumers' retail experience—when people go 'shopping,' they are also looking to be entertained, to enjoy themselves and be surprised.
The concept of 'retailtainment' means going further than traditional factors that influence buying decisions—such as colour, lighting and visual merchandising—towards elements such as how the atmosphere and environment can affect a purchasing decision. Retail real estate spaces must take into account emotional brand building—a combination of tangible, practical, operational and psychological aspects. Brand success is increasingly being measured by the degree to which a consumer can become part of the storytelling and lifestyle associated with the purchase or use of a product or service.
This approach applies to all types of retail outlets—from shopping centres seeking to define their consumer journey to boutiques and pop-up stores wanting to deliver a clear story via their in-store experience. Upon entering a shop, customers must be able to quickly grasp the personality of the experience, be delighted by the seamless, innovative and smart customer journey, and get inspired to share their positive impressions via social media.
As the international retail division of BNP Paribas Real Estate, we have a strong understanding of the on-going structural changes occurring in the retail sector. Our international network of experts speak your language and provide innovative and revenue driving solutions and strategies for your assets to improve customer journeys for all kind of retail projects.
Your European Partner in Logistics Real Estate

Whether you are a user, developer, or investor, BNP Paribas Real Estate is at the forefront of logistical market…

Find out more

Creating value in hotel real estate

BNP Paribas Real Estate offers a comprehensive range of services for the hotel real estate sector including…

Read more

New offices for new ways of working

Our relationship with our work and how it is done is turning everything we think about office spaces on its head. BNP…

Read more