Key figures
85%

of employees are proud to work for the company*

0.95

teqCO2/FTE greenhouse gas emissions per employee in Europe*

51%

of employees are women (in France)*

€918,000

allocated to partnerships and solidarity initiatives of associations, training organizations, universities dedicated to CSR and jobs in the city of tomorrow**
*BNP Paribas Real Estate, 2021
**BNP Paribas Real Estate in Europe, 2021
What is CSR for us: Inspire Real Estate 2025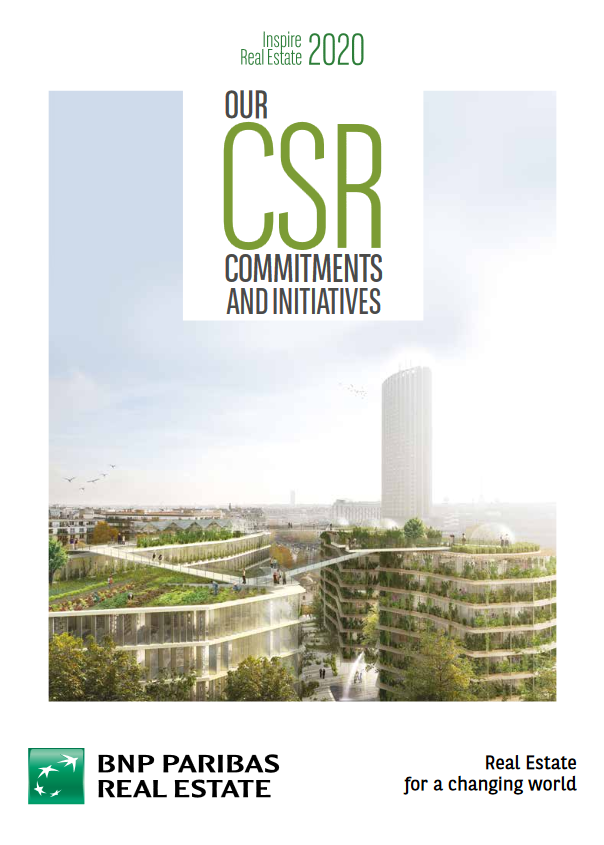 BNP Paribas Real Estate aims to satisfy its clients and partners needs by delivering innovative products and services that create shared value (both tangible and intangible) so as to contribute together to the development of a more sustainable society.
A strategy aligned with the United Nations Sustainable Development Goals
In 2015, the United Nations adopted the 17 Sustainable Development Goals (SDGs), with the ambition of transforming our world by eradicating poverty, protecting the planet and ensuring that all the people enjoy peace and prosperity.
BNP Paribas Real Estate has analysed the link between these goals and its Corporate Social Responsibility commitments, as defined in its strategic plan. Seven of these goals are included in the Group's current offering and six others are taken into account by the Inspire Real Estate 2020 strategy (CSR Report).
Discover the 4 pillars and the 12 commitments of our Corporate Social Responsibility Strategy
To build innovative product and service offers, along with our clients and partners, in an ethical and responsible manner.
To reduce the environmental impact of our real estate activities and to make environmental quality a lever of tangible and intangible performance improvement.
To value the development and commitment of our Employees.
To be a committed real estate sector player and to support local initiatives.

Real estate is reinventing itself to model a sustainable city: becoming soberer, more innovative, more humane, more solidary.
Economic responsibility: leading by example
As a business that combines all the expertise necessary to generate value from property assets, we are in a unique position to share our convictions, ideas, and experience in sustainability-related issues with the entire real estate industry. In the area of economic responsibility, we are committed to building products and service offers, along with our clients and partners in an ethical and responsible manner. We aim to ensure our economic responsibility by:
Strengthening partnerships and co-creation with our key stakeholders
Developing responsible and innovative service offers
Guaranteeing transparent ethical guidelines and governance
Our objective is to be exemplary in terms of compliance by applying the necessary expertise and processes to ensure ethical and transparent governance. In 2016, regulatory requirements and the prominence of the BNP Paribas Real Estate brand prompted the Compliance and HR Training Departments to create an e-learning module to help all employees acquire and integrate the essential rules of Anti-Money laundering, Anti-Corruption (Financial Security) and Professional Ethics applicable to their real estate business activities.
Sustainable Procurement Charter

BNP Paribas Real Estate - Sustainable Procurement Charter
PDF - 369Ko
Environmental responsibility: contributing to a greener real estate
We are also committed to reducing the environmental impact of our real estate activities and to making environmental quality a lever of tangible and intangible performance improvement. We aim to promote environmental responsibility by:
Addressing climate change mitigation and adaptation issues in our service offers
Reducing the direct and indirect environmental impact of our activities
Making the environmental quality of our products and services a lever for improved performance
100% of BNP Paribas Real Estate's commercial real estate production is environmentally certified. City Lights, a renovation project of 80,000 sq m of offices in Boulogne-Billancourt, France, was awarded with "Excellent" B BREEAM and "Exceptional" HEQ certifications.
Beyond certifications, BNP Paribas Real Estate innovates and anticipates future environmental needs. Within the framework of the "Reinvent Paris" competition, BNP Paribas Real Estate presented the Ternes project, which includes:
A smart grid connecting offices and housing
A car sharing solution for non-thermal vehicles
Terraces for urban farming
Wooden buildings with a low carbon footprint
A variety of flora that helps with local pollution and has a positive impact on biodiversity.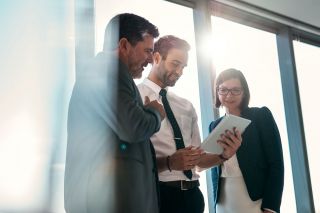 Inspire Real Estate 2025
Find out more about our commitments to the Sustainable Development Goals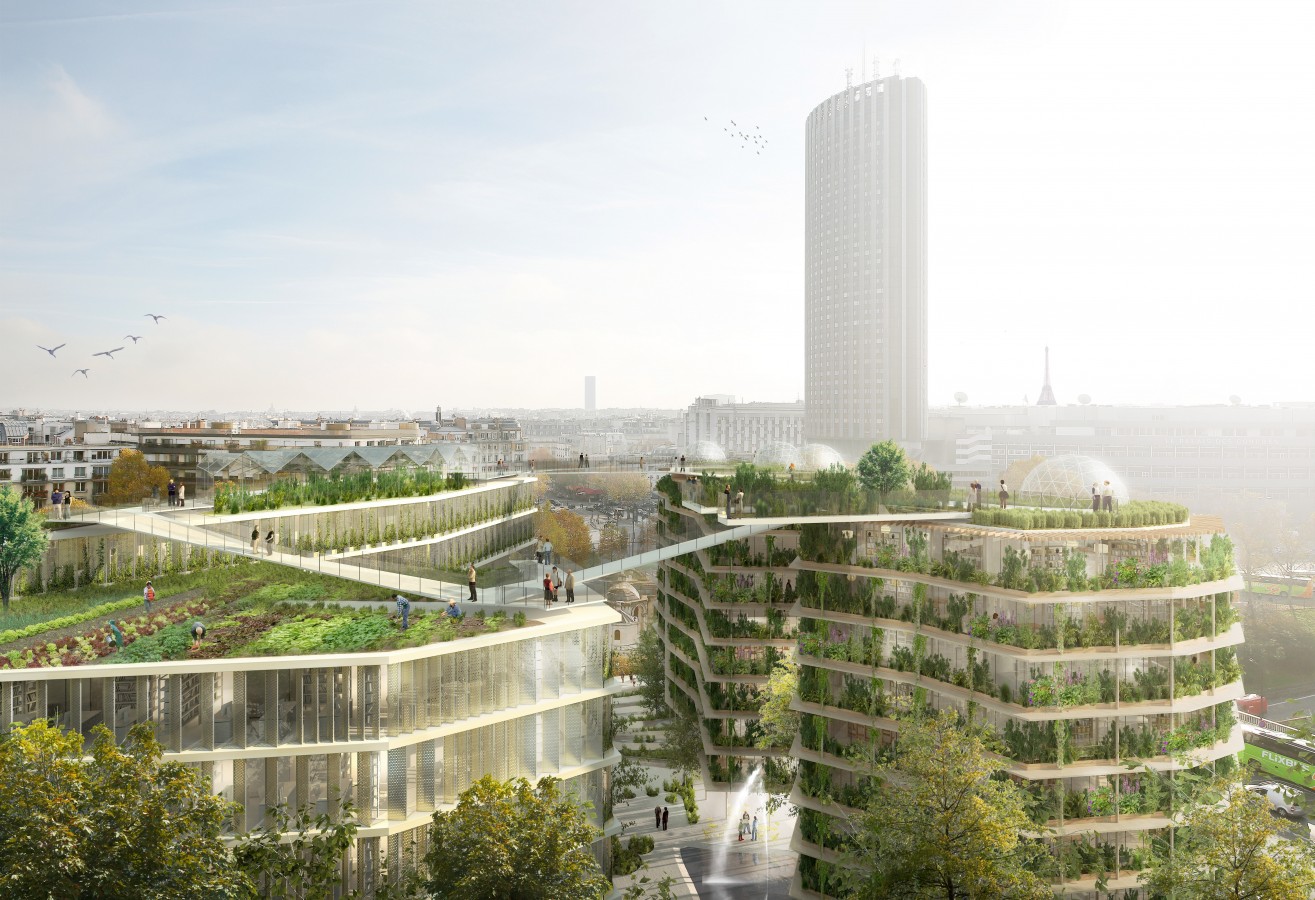 Biodiversity: "Make our planet green again"
In March 2018, led by the International Council on Biodiversity and Real Estate (CIBI) – the organisation in charge of the BiodiverCity® labels -, a collective of urban and rural players launched an international call to "make our planet green again" and integrate biodiversity in cities.  The first signing of the "BiodiverCity®" charter was organised at MIPIM - the international real estate exhibition in Cannes, with the presence of key executive from 40 real estate companies, including BNP Paribas Real Estate. The charter includes 10 key initiatives to integrate living things (fauna, flora, water, earth) into any new urban project.
Social responsibility: empowering people
People matter. This is especially true at BNP Paribas Real Estate, where our employees help us transform tomorrow's world and shape the real estate of the future. To bring out the best in our people, we are committed to contributing to their development. We work to be a socially responsible employer by:
Offering a healthy, flexible and innovative work environment that enhances the well-being of our employees
Promoting diversity, equal opportunities and employability of our teams
Empowering our employees to develop CSR skills
The Urban Farm
The rooftop at the headquarters of BNP Paribas Real Estate in Issy-Les-Moulineaux has become home to a 640 sq. m urban farm. The aim is to develop a new area of experimentation and education in the field of urban agriculture, and to also offer a space where our employees can relax.
Leaders for real estate
In September 2014, to accelerate the development of its best performing employees and meet the commitments of the Employer Promise, BNP Paribas Real Estate created Leaders for Real Estate, a talent development programme. Collective intelligence, and the ability to co-operate and innovate are at the heart of this talent development programme and will be the real key success factors for the participants. Forty employees were split into two groups: twenty French employees and twenty employees from other European countries were identified as potential leaders with excellent performance records. They were selected by members of the Board of Directors and the Human Resources Department using precise criteria as evaluated through annual appraisals and a specific assessment grid. A minimum of eight years of professional experience/two years minimum in their current position.
Civic responsibility: giving back to the community
As a committed real estate sector player, we support our civic responsibility ambitions by:
Promoting and disseminating CSR knowledge throughout the real estate sector and beyond
Favouring the development of local economies
Supporting collaborative initiatives
We aim to encourage architecture students to imagine sustainable cities and inspire synergy between students and professionals. In order to do so, We award the annual BNP Paribas Real Estate prize to young architects who consider changes in living and working styles as well as sustainability in their conception of tomorrow's architecture.