A structure adapted to all sources and origins of capital
Amongst foreign investors, European investors remain the most represented source of cross-border investment (45% on average over the past ten years). Capital flows coming from the Americas are another solid source for the European investment market (26%). However, new investors are emerging across the European real estate market. Indeed, Asian investors have shown a growing interest in Europe and capital flows from Asia (8%) increased by almost fivefold over the last 10 years, while Middle East investors are key players with a 6% share. The International Investment Group is set up to accompany investors from these regions in their real estate strategies across Europe.
(source BNP Paribas Real Estate)
A single "one stop shop" for your cross-border investments
As a dedicated point of contact for your cross-border transactions, we offer you a full range of services. We coordinate the actions of local brokers, and represent you within BNP Paribas Real Estate to deliver the best quality of service for all your cross-border transactions, in all asset types & strategies.
A team dedicated to international investors
The International Investment Group (IIG) team is your trusted partner and fulltime contact for supporting your capital flows throughout Europe. Our team of 30 professionals is fully dedicated to cross-border investment, with a deep understanding of our clients' needs across Europe.
Key figure
€28.7bn

in commercial real estate investment transacted (in 2020)
Adapting your real estate investment strategy
With access to international real estate opportunities tailored to your risk profile and investment strategy, our teams assist you in the acquisition of assets outside your domestic market, including on and off market opportunities and development projects.
We can sell your real estate outside your domestic market. We work with local investment teams to ensure an efficient marketing of your property and maximise its value outside your home market.
We can sell your real estate domestically and widen your target group to foreign investors. We have global access to privileged clients to help you widen your target investor pool.
Post-transaction
Because our partnership doesn't stop when the transaction is completed, IIG will also be your privileged point of contact for complementary services.
A look at some of our highlighted deals
Vendome, Saint Honoré, Paris, France
In the very centre of Paris, we achieved a record transaction amount of €1bn, entirely off-market, between a private investor and a sovereign wealth fund / Q4 2016 / 26,800 sq m.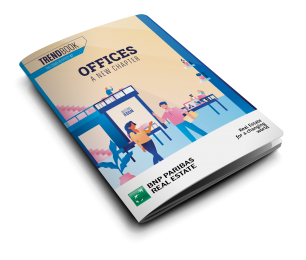 Download the TrendBook "Offices: A New Chapter"
In this TrendBook, find out what changes are happening across Europe and what exactly being back in the office now looks like.