Inspire Real Estate 2020
BNP Paribas Real Estate has launched its new CSR strategy, identifying 12 CSR commitments in the domain of corporate economic, environmental, social and civil responsibilities, after conducting an online survey of 6,600 internal and external stakeholders throughout Europe.
The leading real estate adviser said it had taken the opportunity to review and update its sustainable development and CSR strategy following a number of recent global agreements in sustainable development, climate change and future national and European regulations. 
In February, BNP Paribas Real Estate launched a materiality analysis in order to define its new CSR strategy.
The company invited key stakeholders to respond to an online survey across 11 European countries where it is present: internal partners (employee representatives and shareholders), business partners (investors, users, local authorities, planners, suppliers and service providers), market regulators (certification bodies, regulatory authorities, professional federations and associations) and opinion leaders (the media, analysts and associations).
53% of respondents considered BNP Paribas Real Estate's social responsibility approach to be "pioneering or engaged", while 39% considered it to be "moderate".
Stakeholders also ranked 28 priority issues (identified by the company) in order of importance. This ranking was then used to produce a materiality matrix: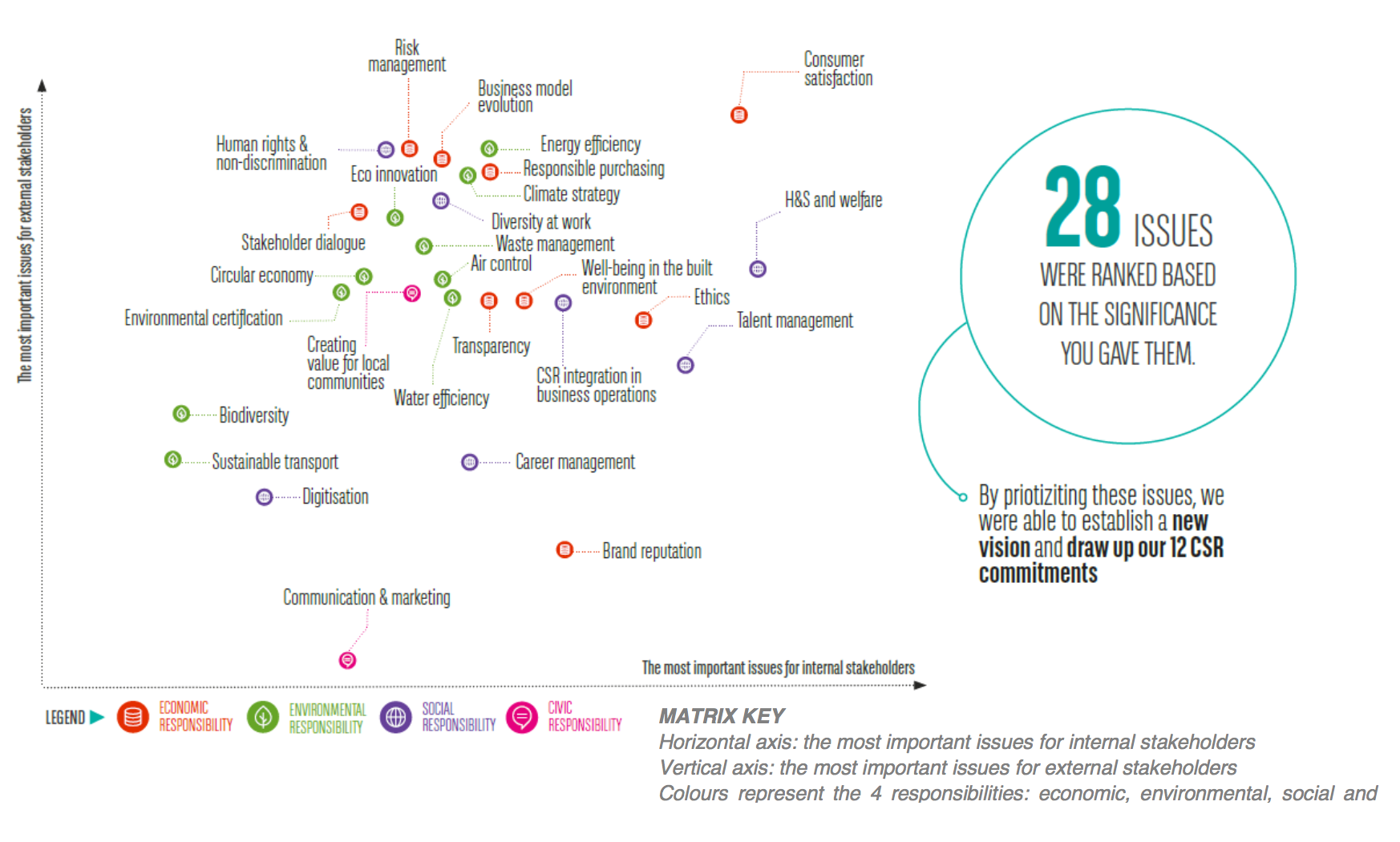 The BNP Paribas Real Estate CSR management is in the process of defining performance objectives and indicators that will provide a gauge of these commitments and enable a continued dialogue with stakeholders.
Catherine Papillon, Global Head of Sustainable Development/CSR at BNP Paribas Real Estate said: "CSR represents genuine performance and innovation leverage for the company. It enables us to engage differently with our clients. It also provides employees with a sense of purpose in their work, strengthens loyalty and enables us to attract new talents". 
Download the document

strategie_csr_-_bnp_paribas_real_estate_en.pdf
PDF - 454Ko
International press contacts