EIPF stands for European Impact Property Fund and is an open-ended institutional real estate investment fund launched in November 2020 by BNP Paribas Real Estate Investment Management (REIM). It invests in all property sectors, from corporate offices to residential, hotels and logistics. 
The fund is managed by BNP Paribas REIM Luxembourg and therefore takes the form of a Sicav-SIF*, an investment product specific to the Grand Duchy. Unlike the traditional retail Sicav**, which is open to all retail investors, EIPF is reserved for international institutional investors.
As of October 2021, barely a year after its launch, EIPF has raised €300 million in equity commitments, thanks in particular to the Dutch insurance company a.s.r., which acted as a cornerstone investor*** at the fund's launch. BNP Paribas Cardif, a subsidiary of the BNP Paribas Group, has also committed to the fund as part of its positive impact investments, as well as other French, Italian and Finnish institutional investors.
"We are a trusted long-term partner for European institutional investors. Our daily challenge is to draw on our local market knowledge to offer investment solutions in Europe, tailored to the specific requirements of each of our clients" - Henri Romnicianu, Global Head of Institutional Sales BNP Paribas REIM
EIPF has adopted a core investment strategy, i.e. the fund targets properties in rare and sought-after locations, occupied by quality tenants, which provides its assets with fairly safe returns with a relatively low risk profile****. The fund has already secured transactions in France, Italy, the Netherlands and Germany in various sectors such as residential, logistics and office. 
EIPF has already started to pay its investors and aims to achieve a stable and recurring distribution through a geographically diversified allocation. The fund is currently making progress on new investment opportunities in four countries.
*Sicav-SIF: société d'investissement à capital variable - specialised investment funds
**Sicav : société d'investissement à capital variable - specialised investment funds
***Pillar investor
****Investing in UCIs (Undertakings for Collective Investment) carries a risk of capital loss
A strong environmental ambition
The reduction of greenhouse gases (GHG) is a major issue for the preservation of our planet and real estate has an important role to play in this. In France, residential and commercial buildings produce 24% of GHGs and consume 43% of the energy used*. On a global scale, the real estate and construction sectors are responsible for more than a third of greenhouse gas emissions (39%)**. Aware of the environmental challenges facing the sector, more and more investors are willing to commit to the fight against global warming and to make responsible real estate investments. Taking ESG*** criteria into account is even becoming a decisive consideration in the allocation of institutional investors in the same way as financial performance, which is not in fact contradictory. 
It is in this vein, and also to be in line with BNP Paribas Real Estate's CSR (Corporate Social Responsibility) commitments, that EIPF wants to become the first European Core real estate fund to comply with the Paris Climate Agreement, which aims to limit global warming to 1.5ºC and to become carbon neutral by 2050. As such, EIPF is one of the very few real estate funds eligible for Article 9 of the SFDR**** regulation, which designates products with a sustainable investment objective and which must publish the results obtained in this respect. 
In this context, BNP Paribas REIM has developed a tailor-made action plan that will help to achieve the fund's objective of reducing GHG emissions by 40% across its European portfolio over the next 10 years. To achieve this, EIPF is implementing a "best-in-progress" approach. Unlike a "best-in-class" methodology that targets new assets delivered to the latest standards, EIPF's "best-in-progress" approach aims to improve the environmental performance of existing buildings in all property sectors. 
In detail, EIPF will invest in existing assets and carry out energy renovation work on them to bring them up to the latest environmental standards. This includes, for example, installing better insulation or changing technical equipment such as ventilation, air conditioning and lighting systems. The fund will also ensure that assets are climate-proof. It will also educate building occupants by raising awareness of environmental issues and explaining how to reduce their energy consumption.
"The launch of EIPF almost a year ago was a crucial step in our ESG strategy. With this innovative and responsible fund, we want to reinforce our CSR commitments by adopting an investment approach dedicated to climate impact. This is an unprecedented approach in the European real estate market, and one of which we are very proud" - Nathalie Charles, Deputy CEO of BNP Paribas Real Estate and Global Head of BNP Paribas REIM.
The fund has also set up a detailed climate reporting system with the aim of quantifying its positive impact on buildings, measuring the success of the reduction in greenhouse gas emissions and estimating the contribution of assets to the low-carbon transition. All these factors make EIPF an ideal product for institutional investors looking for a meaningful investment.

* Source: Ministry of Ecological Transition
**Source: World Green Building Council 
***Environment, Social and Governance
**** European Commission's Sustainable Finance Disclosure Regulation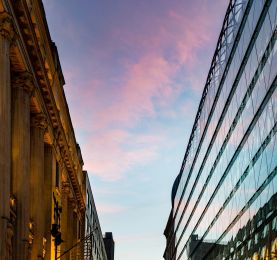 Creating Value
BNP Paribas Real Estate Investment Management: creating value over the long term
Find out more
EIPF acquires an office building in Milan and a logistics platform in the Netherlands
Last summer marked an important turning point in the recent history of EIPF. In July 2021, BNP Paribas REIM made the fund's first real estate acquisition. It is an office building in Milan (Via Benigno Crespi 26) that houses the Italian headquarters of one of the top 10 Swiss listings. The building will eventually become the first asset that EIPF will align with the Paris climate standards. 
"This first acquisition is an important milestone for EIPF, the first pan-European real estate fund to align with the 2015 Paris Climate Agreement by having a positive and measurable impact on the climate. In addition to providing recurring income to our investors, the building is fully in line with the fund's climate strategy: we expect to significantly exceed our 40% greenhouse gas emission reduction target on this asset (thus contributing to a better scenario than the International Energy Agency's 2°C trajectory) in the coming years thanks to our three pillars: capital expenditure, operating expenditure and stakeholder engagement" - Laurent Ternisien, Chief Client Officer of BNP Paribas REIM and CEO of BNP Paribas REIM Luxembourg.
The asset is located in the Maciachini district, adjacent to the Scalo Farini project, which aims to become the third largest park in the Lombardy capital by hosting more than 300,000m² of green spaces to act as an ecological filter for the city. The building consists of tw buildings connected by a central body offering a surface area of approximately 10,100 m². The building is fully leased to a renowned occupier operating in the luxury sector, through a long and stable lease, in line with the Core strategy conducted by BNP Paribas REIM for this fund.
BNP Paribas REIM also recently acquired on behalf of EIPF the DHL Pharma Campus, a logistics platform located in the Bjsterhuizen business park in Nijmegen, the Netherlands, in a sale and leaseback transaction. 
The logistics centre has a total surface area of approximately 35,000 m² with approximately 31,000 m² of warehousing and 1,000 m² of offices. The 25-year-old campus was modernised and expanded 21 years ago. It is leased to DHL under a 10-year green lease. Located at the gateway to Germany and with good access to major European motorways, the asset is strategically located. 
"The DHL Pharma Campus, located in one of the focal points for logistics in the Netherlands, is the EIPF's first investment in the Dutch market, an attractive location for real estate investments due to its strong economy and central location in Northern Europe. As such, BNP Paribas REIM intends to increase its investments in the Netherlands in 2022 in the healthcare, logistics, residential and office sectors," comments Isabella Chacón Troidl, Chief Investment Officer of BNP Paribas Germany and Member of the Board of Directors of BNP Paribas REIM.
 
EIPF continues its roadmap
EIPPF does not want to stop here and should gradually continue to build up its property portfolio across Europe, which over time will be upgrded with better facilities and managed in a sustainable way. 
"Climate initiatives have become increasingly urgent. EIPF's philosophy is to create a core fund that seeks to upgrade buildings in a number of geographical areas and asset classes, updating them with energy efficient technologies, equipment and regulations." Nehla Krir, Head of Sustainability and CSR at BNP REIM
EIPF is therefore an ideal investment for institutional investors who wish to invest their savings in geographically diverse assets in Europe while helping to combat the climate transition through the fund's environmental strategy. BNP Paribas Real Estate Investment Management (REIM) has already proven its ESG commitments, being one of the first real estate companies in Europe to publish an annual ESG report and to receive a green award for one of the best green office funds in Europe.
Newsletter
Get the latest news from BNP Paribas Real Estate with BuildUp!
Sign up