How will virtual reality revolutionise the real estate sector?
Immersive digital technologies such as virtual reality (VR), augmented reality (AR) and mixed reality (MR) are transforming the way we design, buy and sell, and maintain real estate. Traditionally the video games and entertainment industries have led the way in virtual design, but now other industries such as the real estate sector are starting to incorporate ideas from the entertainment industry in order to   build cutting-edge, immersive experiences for their clients. What can we do to take virtual reality in real estate to the next level?
To explore the subject further, BNP Paribas Real Estate's Chief Innovation Officer, Kevin Cardona, hosted a panel of speakers which included Florian Couret, Head of Digital Innovation at BNP Paribas Real Estate.
They were joined by Frédéric Lecompte, Co-Founder of VR production house Backlight, Hervé Fontaine, Vice-President of Virtual Reality B2B and Business Development at HTC Vive, Florent Pelissier, Product Marketing Manager for HoloLens and Mixed Reality at Microsoft, and Morgan Bouchet, Director of Innovation and Digital Content at Orange. Here are some of the points they discussed…
What are virtual reality (VR), augmented reality (AR) and mixed reality (MR)?
Immersive technologies aim to immerse the user in a digital environment with which they are able to interact.
The immersive technologies most known today are:
Virtual reality (VR)
Augmented Reality (AR).
Virtual reality and augmented reality are similar in some important ways:
They both use the same type of technology.
They help users to experience virtual environments in greater detail.
They will shake-up all sectors and industries including real estate, personal service and training.
The main difference between VR and AR is not really about what they are fundamentally, but how they are used. Virtual reality usually means that the user wears a headset to glimpse a real 3D environment, while AR adds virtual elements to the real world via apps for phones, tablets and soon glasses.
When you combine the two, we are talking about mixed reality (MR). The simultaneous use of AR and VR can help industry players gain a surprisingly detailed immersive experience of real estate projects.
Where can you find the best examples of VR and AR?
With the technology still in its infancy, not every industry has started to use virtual reality technology. But to many of the industries that have, it is already proving a valuable asset. While the real estate sector is pioneering in many regards, there is still much to learn – and indeed, many of these lessons may come from other sectors such as:
The entertainment industry are leading the way in VR and AR. Vive Studios is currently producing the world's first feature-length VR film, while video games companies are also experimenting with VR – PlayStation has already released its own VR headset.
Journalists are starting to venture into VR to make news-telling a more immersive and even interactive experience. The Washington Post also used a VR campaign to ensure their readers stayed subscribed.
In marketing, VR and AR is inspiring the next generation of experiential campaigns. IKEA used virtual reality to help people decide what to buy, by allowing them to see their fully-built furniture in virtual reality.
In engineering, virtual reality is helping technicians to plan designs, figure out maintenance strategies, perform stress tests and much more. The automotive and aerospace industries use virtual reality to plan and test new designs before putting them in production, cutting costs considerably.
VR is used in healthcare to train students and doctors in delicate procedures, by allowing them to practice on virtual bodies before working in real life.
And in education, VR and AR are helping to shape the next generation of learning. From classrooms to corporate training seminars, students can play with models, experience situations and watch interactive movies all in virtual reality.
How is the real estate sector using VR and AR?
The real estate sector was quick to adapt to the technology when it first emerged, and many real estate professionals utilised 3D photography and 3D video to great effect, creating interactive walk-throughs of the interiors of their buildings. This allowed potential buyers and investors to see inside a premises from their computer screens, gaining a sense of the building's space, style and atmosphere without having to make a physical visit.
As Florian Couret points out, there is no replacing the insight that can be gleaned by personally visiting and exploring a building in real life. But with virtual reality to enhance the experience, real estate professionals can add something new to the sales process. For instance, VR allows buyers and investors to browse multiple properties to narrow down the list before making a (potentially expensive and time-consuming) site visit. It also offers a realistic representation of the building to refer back to later, or that buyers can show to their own clients and stakeholders. Better still, the building doesn't even need to exist – with virtual and augmented reality, buyers can tour a construction that is still being developed.
The wider construction industry is also implementing virtual reality to great effect. VR is helping to train staff on everything from site safety to difficult and specific plumbing problems, meaning virtual reality is helping the construction industry improve the safety, maintenance and time to market of new buildings.
What possibilities does virtual reality hold for the real estate sector?
BNP Paribas Real Estate, in partnership with Mimesys, was the first company to experiment with a form of virtual reality known as holoportation. At the 2018 Viva Technology Exhibition, we introduced this revolutionary idea to audiences, transporting them inside real locations and allowing them to move, explore and interact with their environments. With holoportation, real estate agents could theoretically take their clients anywhere in the world using only a virtual reality headset and 3D cameras.
But as well as offering buyers and investors the chance to explore a building remotely, VR allows users to explore far beyond the general vicinity, giving them the opportunity to see the outside of a building, its campus, and the city around it. These perspectives can help buyers understand how a property looks, feels and fits in with the surrounding architecture, its location in relation to the environment and how it is supported by local infrastructure. For instance, with VR, you could judge the distance between your front door and the nearest train station, or see how your building's façade looks from a distance.
And it's not just marketing where virtual reality is supporting the real estate sector. Architects and developers are now starting to use virtual reality as a key component in their design processes. According to Hervé Fontaine, the rapid development of technology is allowing designers to work in simulated environments, where they can experiment with different shapes, designs and materials. This technological solution offers many benefits – among them, the ability to bring the client into a simulation to show them how different styles and features will look in real time, then quickly tailor the design to their specifications. The architects can also carry out a range of stress tests, ensuring their designs can be made safer and more energy efficient. As working in virtual reality becomes increasingly popular, we can expect to see buildings completed in faster times and much closer to client specifications – perhaps even with more radical designs.

The 'geeks' (the people who build virtual reality experiences), tend to come from the world of video games and advanced techniques. There are very few 'geeks' in real estate at the moment, but we might start to see more of them if we can get our two different cultures to meet.
What's next for the real estate sector?
One of the biggest challenges for the real estate sector is to stay ahead of the curve in VR and AR design, and to start to adapt to mixed reality. As Hervé Fontaine says, these technologies will one day become as ubiquitous as touch-screens are today, meaning customers will increasingly expect VR experiences to be more widely available, more immersive and with new features, such as greater interactivity.
Therefore, the real estate sector should look to start attracting top VR talent. Frédéric Lecompte of Backlight says that VR, AR and MR will soon be in all industries, but some industries are more attractive to VR professionals than others.
Kevin Cardona points out that many choose to go for the video game and entertainment industries, because these industries usually have more exciting cultures. If the real estate sector is going to compete with these firms, it should start to look at its company culture, taking more inspiration from other industries as a way of diversifying its technological offering.
Hervé Fontaine also points out that VR experiences are about more than great graphics and sound – they must be emotional too. Like video games and movies, the real estate sector should look to build gripping storylines into their VR experiences. A walk-through of a building should not just show the building, but create a feeling in the audience's mind by using storytelling. In turn, Hervé Fontaine believes that designers who want to create virtual realities with artistic merit will start to look at the real estate market as a great place to express themselves.
Other content you might be interested in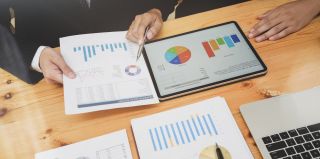 Learn more from our publication
BNP Paribas Real Estate provides in-depth documents to give you an overview of the major trends affecting the European real estate market.