The first Holoportation experience in the real estate sector
Once only conceivable within the plot of a science-fiction novel, holographic tele-transportation is making an appearance in the workplace thanks to BNP Paribas Real Estate's holoportation experience. Investors across the world can now schedule holographic meetings with their real estate broker regardless of where he or she is based. Mimesys holographic capture technology allows users to project a real-life representation of themselves in order to engage in an interactive and personalized virtual reality meeting anywhere in the world. No awkward avatars here, only real people.
This innovation has been built in collaboration with the startup Mimesys, creator of the first holographic meeting platform and HTC VIVE™, the world's leading premium VR platform.

The implications of this unique technology on the real estate sector are tremendous. It's no longer about just seeing each other, it's about truly interacting with one another: one user can reach over and hand a document to his or her client, after which he or she sketches a detail directly onto an architectural blueprint. The level of engagement seen in those meetings far exceeds all the existing ways to meet remotely.
So how does this technology work? Imagine you're looking to invest in an asset somewhere in Europe but don't have the time to take several long-haul flights across the continent. No problem, you can visit these assets from a BNP Paribas Real Estate office. You put on your HTC Vive headset and immediately find yourself immersed in a meeting room featuring a map of building 3D models from which you may choose to explore. You find your holographic broker already waiting for you in this virtual space. You can now both get down to business. By simply pointing at any given building, you can not only get your hands on it to reshape or resize it, you can actually teletransport together directly inside of it to explore the location out as it would appear in real life. Does the client want to see other options? Within mere seconds, the broker can teleport both of them to another city to check out a new building.
Presented at Mipim 2018, BNP Paribas Real Estate is showcasing the London-based project "Parker Tower", allowing clients to visit a never-before-seen state of the art virtual reality experience designed by Arforia.
"Innovation is in our DNA, and our holoportation experience is all about revolutionizing the client experience. This project is perfectly in line with BNP Paribas Real Estate's objective to be at the forefront of new ways of working. By consistently being on the cutting edge of technology, we provide the full range of our business lines with the best, most up-to-date resources from which our clients can benefit.
From investors to occupiers, to individuals or urban planners, BNP Paribas Real Estate actively investigates the needs of its entire clientele base when developing new technologies", indicates Thierry Laroue-Pont, Chairman of the Management Board of BNP Paribas Real Estate.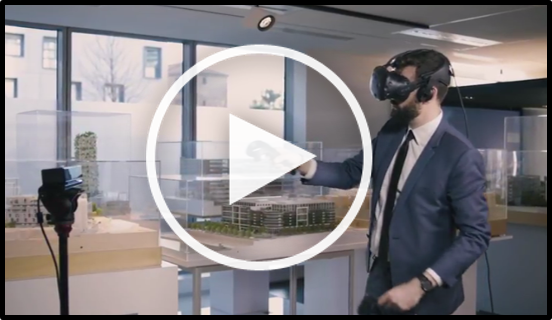 Click here to view the presentation film
Download the press release

Press release
PDF - 423Ko
International press contacts