During the 20th century, the increasing scarcity of materials used for construction multiplied by 34 times, according to a report by the UNEP (United Nations Environment Programme). The building itself is responsible for 13% of waste and 22% of CO2  emissions worldwide. Faced with these numbers, real estate actors have taken hold of the subject, and thankfully there are a multitude of solutions. 
The Green Building Observatory (OID) regularly publishes reports in order to give those in the industry the right tools and guidelines in order to be able to implement various circular economy practises. 
A number of methods have as such emerged, driven by certain laws including the French energy transition law for green growth which has fixed objectives for recycling and how to enhance the building sector. What's also growing in importance is the optimal recycling of waste and the eco-construction of buildings. Proof of these significant movement, lies in the number of promising start-ups, which have emerged in the field of recycling. Hesus for example has just raised €10 million, and Démoclès which has been founded by different actors from the industry, proposes sustainable demolition. Two terms which were perhaps contradictory only a few years ago.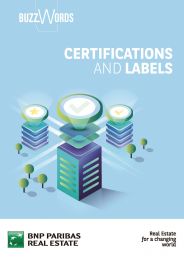 Buzzwords // Certifications and Labels
It is a fact that labels and certifications are a guarantee of quality and trust for investors and occupiers in the real estate sector. But how can these tools be identified and evaluated in the face of a sea of acronyms?
Download this Buzzwords here
Constructing the « city on the city » means building on the existing
The idea of using existing materials is one that is still very recent. Indeed, according to Le Moniteur, of the 42 million tonnes of waste and demolition rubble produced every year by the construction industry, a growing amount is being recycled but only about 1% is being reused, meaning to be reinjected back into the industry without being transformed. The good news however is that things are changing in that area too. The proof being that in September 2020, during the MIPIM Urban Forum, thirty or so companies, including BNP Paribas Real Estate, launched the Booster du remploi (Reuse Booster) which is the biggest initiative in favour of the circular economy for construction sites in France. 
Each member thus pledges to reuse material from demolished buildings that don't need to be retransformed, such as wooden floors, windows and doors, for their real estate projects. With the extraction of materials and resources, as well as the lack of land present in many European capitals, the idea of reusing what already exists is a subject of key importance. This idea is not just limited to materials, but also concerns the conversion of existing buildings. BNP Paribas Real Estate has for a number of years been working towards this objective, with its strategy for reconverting historical and emblematic buildings, such as Grands Moulins de Pantin or the skyscrapers in Boulogne-Billancourt in the Parisian suburbs. 

Another demonstration of this commitment is Métal 57, the new headquarters of BNP Paribas Real Estate. The building, constructed in 1984 by the architect Claude Vasconi and previously used as Renault's factory, was set for demolition. BNP Paribas Real Estate is as such giving it a new lease of life. As Caroline Sainderichin, Deputy Director of Tertiary Property Development at BNP Paribas Real Estate points out, "With Métal 57, we wanted to build the future through a truly sustainable engagement that preserved its heritage. It is an urban and architectural challenge. BNP Paribas Real Estate aims to meet this challenge in order to make Métal 57 a symbolic building for the next generation of office buildings, full of life, sustainable and inclusive."
Tidea is therefore to convert a building, filled with history and industrial architecture into a contemporary office building, and a centre of innovation and ideas. Métal 57 has been conceived in line with the ideas of the circular economy, with bricks from the existing building to be used for a mural in the inside passageway. What's more, the project will be also be characterised by its social engagements and its environmental approach. The aim is to achieve such labels as HQE and BREEAM.