The selected initiatives thus reflect recent investment decisions and their potential to be replicated. Among the recently selected projects is the #Curve real estate programme, designed by Chartier Dalix Architects and developed by BNP Paribas Immobilier Promotion Immobilier d'Entreprise. This 24,000 m² building is built in a wooden structure and is a perfect model of environmental excellence. Head to Saint-Denis on the outskirts of Paris to discover this exceptional project, a clear example of BNP Paribas Real Estate's environmental ambitions.
With #Curve, BNP Paribas Real Estate has embarked on a new way of building to optimise the carbon footprint of buildings, from their design to how they operate. 
Ambition4Climate brings together projects implemented by major companies to reduce their carbon dependency through know-how, innovations or varied and reproducible technologies. Among the projects selected are the leather goods manufacturer Hermès, which is currently building its first positive-energy production site in Louviers, Valeo, which will switch 100% of its French sites to LED lighting by 2022, and, most recently, #Curve, a wooden-framed building, to be delivered in 2020 in Saint-Denis by the BNP Paribas Real Estate development division. As Olivier Bokobza, Deputy Chief Executive Officer of BNP Paribas Real Estate in charge of Property Development, explains, "Thanks to its wooden frame and energy efficiency, #Curve is positioned as a response to the necessary reduction in carbon emissions from the real estate industry."

Thanks to its wooden frame and energy efficiency, #Curve is positioned as a response to the necessary reduction in carbon emissions from the real estate industry

Get your copy of the Cities of Tomorrow TrendBook
Like the future Arboretum campus in Nanterre, #Curve is part of a new generation of large-scale real estate programmes built in wood and thus contributes to the imperative reduction of greenhouse gas emissions from the real estate industry. Today, no one can simply theorise about the building of the future and, as such, #Curve is emblematic of BNP Paribas Real Estate's commitment to providing the operational means for a positive impact through the construction of virtuous buildings.
Located in Saint-Denis in the ZAC de la Montjoie, #Curve stand out, both for its bold architectural signature (designed by the Chartier Dalix agency) and for its innovative bioclimatic construction method, which reduces greenhouse gas emissions. The seven-storey superstructure integrates wood and concrete (for certain cores) as well as load-bearing walls made of CLT (a prefabricated cross-laminated timber material), overall ensuring a carbon storage of 4,150 tonnes of CO ²eq (i.e. approximately 580 Paris-Sydney return journeys by plane). Similarly, the use of low-carbon concrete for the four basement levels saves almost 1,570 tonnes of CO ²eq (equivalent to 220 Paris-Sydney return flights) compared to a traditional infrastructure. Another key argument in favour of wood construction is that the prefabricated framework of the #Curve building allowed for it to be installed in record time, without causing noise pollution within the neighbourhood. 
Occupied mainly by the Regional Health Agency (ARS), the #Curve provides a total of 24,000 m² of new offices (1,960 workstations) and services, 1,200 m² of open-air gardens, 210 m² of accessible terraces and 257 parking spaces.
Thanks to its environmental performance, #Curve is 40% below the requirements of RT 2012 in terms of its energy needs. The building has also obtained HQE certification, the Effinergie+ label and the E+/C- label.
In addition, the choice of biosourced or eco-designed materials is now a necessary prerequisite. As Catherine Papillon, Director of Sustainable Development and CSR at BNP Paribas Real Estate, points out, "From the design phase of a building, we must strive to ensure that real estate projects are consistent with BNP Paribas Real Estate's environmental ambitions in order to guarantee the successful implementation of solutions to mitigate the impact of buildings on the natural and human environment. 
To find out more about the performance of the #Curve building and to discover all the projects selected by Ambition4Climate, visit their website.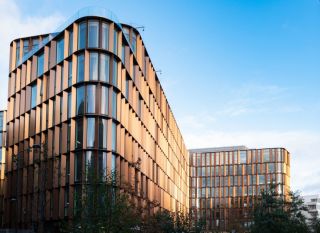 Property development made-to-measure
The cities of tomorrow are being built all around us today. They are smarter, sustainable, innovative and tailored to our ever-evolving ways of life.