The health crisis revealed the importance of certain professions and local businesses, the clear winners of lockdown. In particular, the supermarkets which belong to large corporations. Indeed, local artisanal shops knew how to respond and came out strong on the other side. But what about the shopping centres which focus on retailtainment, a trend which sets entertainment at the centre of the customer experience and leads to redesigning the sales outlet? How have they adapted for their reopening and how can the model be reinvented in the coming months?
Local came out on top during the health crisis
With the Covid-19 health crisis, the e-commerce sector experienced an unprecedented evolution with +61% for pick-up services and almost double the sales with a nearly 90% rise in home delivery services. Nevertheless, consumers are looking for ways to consume more meaningfully and responsibly while caring for the planet, themselves and for others. In a study carried out by Ifop for BNP Paribas Real Estate, we can see that local businesses recorded high numbers of customers during the lockdown; 35% of those surveyed even plan to increase footfall after the crisis.

Those who have succeeded in merging the customer experience, which can only be done from the physical and digital point of sale, will come out on top in this crisis. Everything rides on being where the consumers are, and supporting them in their everyday lives
Local is good, but not at any cost!
What if the solution were to construct commercial concentration points and take back the "village squares" so that the stores could be profitable in the long-term? Faced with ecological challenges in the logistics sector and in order to respond to consumers' expectations, "commerce clusters" should be created in order to decentralise commerce and create some smaller local shopping areas instead. This could become a desirable and sustainable model. The commerce of today operates using networks and e-commerce is heavily involved in this process.
How has consumers' behaviour changed?
Before the health crisis hit the planet, the trend for retailtainment was as its peak as a way of responding to consumers' changing behaviour, brought about by the emergence of the experience economy and the arrival of new generations who favour new modes of consumption. Ensuring a lasting value proposition had to include an enriched customer experience inside the catchment areas. The development of digital technologies allowed for the stepping up of gamification. This was mostly the case the large shopping centres who had to continually demonstrate their inventiveness in order to attract customers. As an example, Xanuda in Madrid, has an indoor ski slope and L&T Osnabrück in Germany has installed a surf machine. Through these unique customer experiences, large shopping centres were able to create real living and leisure spaces. Furthermore, retailtainment was also a way of reviving spaces that weren't being fully utilised and redefining the consumer experience. What behaviours are consumers going to adopt in the coming months?
The main question revolves around how consumers will return to these large shopping centres. As Thierry Bonniol, Director of Retail France, at BNP Paribas Real Estate says, "As soon as the period of incertitude has disappeared, these places will continue to develop". When will community life reappear? "Perhaps there will be two types of consumer, one who feels more adventurous than the other. However, I don't see this having any effect on these activities. They are going to have to adapt and things will go back to normal in the coming months."
While in peripheral territories, mostly in remote areas, shopping centres offer the most attractive and diversified services across different levels: cultural space or a place to spend time while being able to shop and eat. Public services have also set up there, for example the Post Office. Retail parks are also highly sought after. Consumption is an identity factor and shopping centres play a big social and societal role, which goes beyond the simple act of consumption. These are fully fledged living spaces.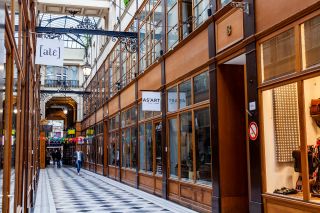 Our specialities: Retail
See more about retail
Are we moving towards a gradual return to shopping centres?
Even though the crisis has proved profitable for small shopping centres who heavily rely on the local element, large shopping centres that are established as real mixed destinations in terms of leisure, consumption, culture and socialisation will also regain their popularity. The CNCC (National Council of Shopping Centres), with Procos (Federation for the Promotion of Specialised Commerce) and Commerce Alliance (the leading professional organisation for personal goods) say that they are ready to reopen the doors to these places, while strictly adhering to the imposed safety measures.

Incidentally, as spaces of social diversity, shopping centres generally represent the demographic change in areas. The rising amount of people driving cars coupled with peri-urbanisation mean that populations in suburban areas are more mobile. Around half of shopping centres are small which meet the needs of the local clientele, according to a study by the Banque des Territoires. The CNCC reported in an interview conducted by LSA magazine that during the lockdown period, 80% of shopping centres stayed open so that the supermarkets and the pharmacies could continue to function, ensuring solidarity. 

For their part, large shopping centres appear as "enchanting" places which are going to have to demonstrate once again their inventiveness and creativity in order to adapt in the short and long-term.

Thierry Bonniol concudes, "In my opinion, those who have succeeded in merging the customer experience, which can only be done from the physical and digital point of sale, will come out on top in this crisis. Everything rides on being where the consumers are, and supporting them in their everyday lives."