The buzzword of the moment is flexibility and for many in the real estate sector, and indeed outside of it, this is the direction we are heading in. Many companies and employees have seen the benefits of adjustable working hours and being offered a choice of different locations to work from and are ready to make these a permanent fixture of our working lives.
The Covid-19 pandemic has taught us a lot in a short space of time and there is a significant amount of information that we must go through before we can really draw conclusions. It is the moment however to take an in-depth look into what is happening. This is why BNP Paribas Real Estate has created a special TrendBook focusing on the effect of Covid-19 and what it means for our places of work. 
Filled with opinion pieces from international experts from BNP Paribas Real Estate and across the sector, this edition covers their perspectives of everything from co-working to the investment market.  
The company is at the heart of our working lives
"More generally, I believe that the company is going to become a destination in which we will find employees, clients, service providers, and future employees. A meaningful space with high added value which enriches social connections and encourages productivity, especially when it is intelligently orchestrated, with the right balance of remote working, to give flexibility and an increase in professional energy."
Anne du Manoir, Head of International Human Resources
The office building
"The Covid-19 pandemic has undoubtedly shaken our office buildings, but the foundations are still holding strong. In reality, this is not going to be the only event that will affect our society and our professional lives so whilst our office buildings must adapt, they will not be completely reinvented."
Thomas Charvet, Head of Commercial Property Development at BNP Paribas Real Estate
Co-working and flexibility
"Largescale remote working has allowed us to test and legitimise work beyond the walls of the company. It has also allowed us to enhance and provide exposure for business districts, co-working spaces and other third places."
Paulo Diaz, CEO Southern & Western Europe, Middle East, Africa, Brazil, IWG (Regus, HQ and Spaces)
Investment in Europe
"This has been a very valuable time for us and solidified the predictions we had made before the crisis. I feel we are ready for future challenges, as we too have incorporated flexibility into our way of working."
Dominique Jones, CEO and General Manager of BNP Paribas Real Estate Investment Management, Italy
According to a Yougov/Okta survey, for many European employees, the idea of completely abandoning the office is not one they are drawn to. For 57% of those surveyed, they would miss the daily exchanges with colleagues, which makes the case on a permanent basis for an office building, albeit one that adapts to changing trends. As Robin Dunbar, Emeritus Professor of Evolutionary Psychology at the University of Oxford succinctly sums up, "Physical contact is part of the system that we use to establish our relationships, our friendships and our family allegiances."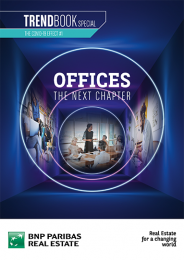 TrendBook Offices: the next chapter
What is life in our offices going to look like post Covid?

Take a deeper look at the trends, innovations and new ways of interacting with space that are going to affect our professional spaces.
Download our TrendBook here