Companies provide structure in uncertain times
Even before the announcement and implementation of the lockdown, our main aim was to ensure the safety of our employees and to reassure them. We were able make observations and act on them by taking note of what had already been done in Asia and in Italy in order to better adapt the organisation of our services across Europe. 

The work undertaken by our IT teams, allowed us to quickly improve the capabilities of our remote working tools and to continue working at the pace we had been accustomed to
Throughout the lockdown period, the priority was to be aware of team morale, our teams remained very motivated, despite the more complicated work conditions (looking after children, housing conditions which weren't always conducive to working from home). Direct line managers were careful to stay in constant contact with their teams and were ready to adapt workloads to any unexpected circumstances which arose.

Communication has also played an important role in reassuring and responding to each individual's problems, both on a pragmatic and emotional level. This can be summed up in two words: reassure and rally.

I think that the podcasts that were made by each member of the management staff were widely appreciated. These podcasts reinforced social bonds despite the distance. The Pulse study carried out during the lockdown confirmed that more than 85% of employees appreciated the way in which BNP Paribas Real Estate handled the lockdown situation, from the communication plan to the personalised support and health management provided. Empathy and understanding which are already part of the company's DNA became even more ingrained.

The gradual move back to the office was also planned with this and the health measures in mind: social distancing, supplies, mandatory mask wearing, and hand sanitiser at everyone's disposal. Flexible working hours and promoting new ways of getting to work while the public transport is still limited.   

Our objective was to organise going back to the office, while also reassuring our teams. 
Despite the social distancing measures and the strict enforcement of health protocols,, we have seen what a real pleasure it has been for our colleagues to be together again. Even though some are still anxious about leaving their homes and of coming back to work, they are happy to reconnect with their colleagues, have social connections and spontaneous and enriching interactions ,that Webex, Zoom and other video conferencing tools could simply never replace.
 
Are we moving towards a hybridisation of work organisation?
During the lockdown we noticed a new appetite for remote working and an acceleration in the digitalisation of our tools. Throughout this lockdown period, our company proved its resilience. The last remnants of opposition to remote working disappeared and, in the end, remote working has been going very well. I think that our company culture which is based on trust, proximity and empathy contributes to this.$
 
Now this begs the question about the future of a more regular coordination between the office workplace, third places and the home office. "Only remote working" wouldn't be effective in the long-term in my opinion.

As always, the question is simply about balance and how to adapt according to personal situations and different activities. We expect to adapt our remote working policy in the coming months. Even though the lockdown period has reassured us about the ability of our organisation to adapt, I think we shouldn't act too hastily, nor succumb to a trend and push remote working too far. Involvement, commitment, and company culture are pivotal to social interactions and the pleasure of working together. Collective productivity and well-being are boosted by these same factors.

Obviously, all of this is going to be subject to a deep thought process in the set-up of the premises and particularly that of our future headquarters Métal 57. Perhaps also more widely on the role that office real estate must play during this transition.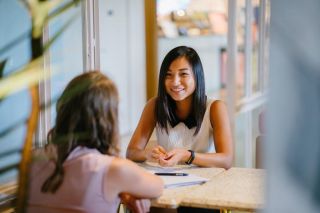 Join us
Find out more about working for BNP Paribas Real Estate
See more
"A company is a destination"
What should we expect from an office building? The headquarters will obviously be considered the flagship, a strategic location which has strong potential and is representative of BNP Paribas Real Estate: a showcase office for our expertise which promotes our values.

We can see this clearly in the retail sector, where the omnichannel approach dictates a hybridisation of distribution. The exclusively digital companies want to have a physical presence. I think that we are going to implement a similar way of working for corporate real estate. 

More generally, I believe that the company is going to become a destination in which we will find employees, clients, service providers, and future employees. A meaningful space with high added value which allows for the preservation of social connections and provides what remote working cannot.

I believe that the underlying trend – obviously reinforced by the health crisis – is the merging of HR concerns with those of the real estate sector. The human-being is now more than ever an essential component of real estate projects.