French people declared in an Ifop study for BNP Paribas Real Estate which was released in April 2020, that they limited online orders in favour of local businesses (27%) during the lockdown. It also gave them the opportunity to try out what local businesses had to offer (57%), and to change their buying habits (27%). According to the same study a third of them want to continue to buy from local businesses once the lockdown was over. Of course, we must remain wary of these declarations, as evidence still shows a large demand for online sales platforms. Can we still consider this awareness as a golden opportunity for the town centres, sometimes forgotten in favour of big retail parks and suburban shopping centres? Will this evolution be fleeting, or will it endure?

For those who are worrying about a drop in activity, I would answer that the consumers are still there! Consumption is continuing.
Complex predictions that need to be put in context of the unusual circumstances
All shops reopened on the 11th May in France, apart from the department stores and shopping centres of more than 40,000m2 Therefore, it makes sense that smaller shops, those usually in city centres, would be "faring better" in this gradual recovery. A "peak in consumption" could be triggered by those catching up ("revenge shopping") for the French population who were able to save during the lockdown. It is also important to note that the closure of cultural spaces, like bars and restaurants could have allowed people to use part of their "pleasure" budget for other types of goods and services. However, in uncertain situations, it is perfectly valid to ask ourselves if the public will consume as they did before or if they will prioritise saving. According to the same study that was mentioned earlier - Ifop for BNP Paribas Real Estate, French people have confirmed that they want to continue being careful and to save as much money as possible (84%). Incidentally, even though accounts where money is readily available are prioritised (Livret A savings account, LDD sustainable development savings account), real estate comes in second place. In a nutshell, there are numerous variables and the first findings must be taken lightly and put into perspective.
On the other hand, it's important to take into account those who lost their source of income or who can't afford to consume in the same way as before. The anxiety that comes with finding yourself in busy, confined places could also deter some consumers from going to a shop and encourage them to prioritise pick-up and online deliveries. Nevertheless, it's time for adaptation and in the first days after the lockdown measures were lifted French people started coming back to the town centres and the high street. Preventative measures were strictly adhered to with distancing lines on the floors, the use of visors or plexiglass, online orders for collection, masks, gloves etc. France remains the country where demand is higher than its European neighbours. A crucial point for short-term recovery. According to INSEE, in 2018, the volume of the actual consumption of French households per inhabitant is over 7% more than the European Union average. Will this marginal tendency to consume be the saving grace for city centre retail?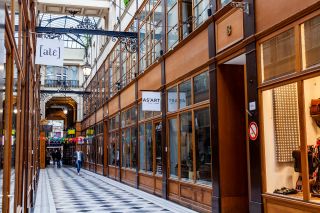 Our specialities: Retail
See more about retail
"E-local" and "Phygital" commerce: will these trends prevail?
Even though e-commerce has fundamentally transformed and sometimes disrupted the physical commerce sector, it's not time for confrontation, but for the hybridisation of distribution channels. Omnichannel services are multiplying and becoming the norm so much so that today we are talking about phygital commerce (a term combining "physical" and "digital"). The customer who is at the centre of distribution strategies wants a purchasing experience without disruptions. E-commerce is therefore a golden opportunity for local businesses. We saw this during the health crisis, delivery or pre-order services allowed spaces that were too small to accommodate the public, while also adhering to the social distancing measures to free up space in their shops. Local businesses have the possibility of dematerialising their goods while also stimulating the local economy.
The commercial desertification of some city centres before the crisis was because of many factors and can't only be blamed on the success of e-commerce. The commercial thoroughfares of the big cities like London, Paris, or even Barcelona, the well-known high streets, continued and will continue to be highly sought after. Supported by tourism, these high streets should experience a difficult recovery, however they're still considered as strategic and prestigious places that brands want to capitalise on. Apple stores or Starbucks are a concrete example of this, this is also the case for luxury shops.
Giants of the sector like Amazon, the frontrunners in the digitalisation of commerce and retail are also looking for physical stores. The city centre isn't dead, it can be reclaimed. This can already be seen by the large food companies who adapt by setting up local shops according to the catchment area (Carrefour City, Carrefour Express, Carrefour Market etc.) the customer can order essential products online for pick-up and make other purchases in the shop, then collect the order. The experience becomes consolidated and multi-functional. Why not think about providing similar options for other sectors (textile, sports shops, decoration etc.), with pedestrian or cycle pick-ups available in the town centre? The idea being to respond to the expectations of the consumers, according to their day-to-day needs and their area, in line with the health measures and the desire to "localise". The buying experience has an added value which online shopping can never offer.
Even though it's still difficult to make predictions, city centre retail has many assets that can convince consumers, retailers and landlords. Thierry Bonniol, Director of Retail France for BNP Paribas Real Estate says, "For those who are worrying about a drop in activity, I would answer that the consumers are still there! Consumption is continuing. Of course, the situation must be handled delicately over the next few months, but it's not going to stop anytime soon and the local businesses will find themselves coming out on top. This crisis has incited French people to help each other and to share as much as possible. Grouped orders are growing and local shopkeepers and artisans have been able to enhance their work and continue to work during this period. This has brought about heightened awareness of the value of labour and more responsible and civic-minded consumption. I believe that this should strengthen proximity commerce, at least for the food industry. For other sectors for whom local production is not an option, we can see the emergence of new ways of "doing business" and new economic models. Commerce has always existed, it will need to adapt and to find a new way to prosper".