The opportunity to establish a presence in Madrid with Alcalá 544 and Alcalá 546 in a new area dedicated to innovative companies
Alcalá 544 is located in Madbit, a new Madrid business park located on a former industrial estate and positioned 12 km north-east of the city centre and 5 km from the airport. With its tremendous development potential, this fast-growing technology hub will enable the Spanish capital to expand its tertiary sector offer (between 500,000 and 600,000 m2 of new offices are planned in the long term) and thus assert its position as a major innovation centre, following the example of Barcelona's @22. 
Madbit has already attracted a number of start-ups and large companies (including General Electric, IBM, 3M, Roche Laboratories and of course L'Oréal) looking for a dynamic location in southern Europe. In all respects, Madbit meets the requirements of major occupiers in terms of the quality of the urban environment, mobility and the range of services on offer. It has excellent transport links with several bus lines, four metro stations, self-service bicycles and access to the four main Madrid arteries: the M-30, A-2, M-23 and M-40. Alcalá 544 is also located at the foot of the Torre Aria metro station and 5 km from the airport. 
Another advantage of being in this international high-tech district is the excellent fibre optic network of Telefónica, the Iberian operator itself being located in Madbit. 
The business district also has the advantage of being a very lively area with restaurants, after-work venues, hotels, shopping centres (Alcalá Norte and Arturo Soria Plaza), parks (Quinta de los Molinos, Parque Paraíso and Quinta de Torre Arias) and sports facilities. These numerous facilities, combined with the proximity of residential areas, allow Madbit to create a new urban centrality, which is a crucial for attracting and retaining European entrepreneurs and the best talent.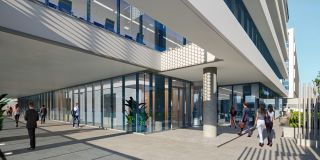 Learn more about Alcalá 544
Find out more here
Alcalá 544: flexibility, connectivity, well-being and international visibility
It is at the heart of this new high-tech hub in Madrid that this project, developed in co-development by BNP Paribas Real Estate and Therus Invest, will be delivered in 2022. Fenwick Architects is in charge of this ambitious and assertive project for L'Oréal and the lucky next tenant of 544.
From the outside, this new building complex seems to float above the street because of its pure and airy lines. This lightness is evident from the very first seconds inside the building, which is accessed via two entrances, one on the Dedalo side and the other on the Alcalá side. Literally bathed in light and greenery, the reception area sets the tone with its fluid and airy atmosphere, carefully selected materials, soft shades and designer furniture. 
The five floors of offices offer a flexible working environment that is both chic and comfortable. Everything here is designed to adapt to new behaviours and to promote the well-being of future occupants: full-length windows offer beautiful panoramic views of the new international business district and provide maximum natural light, which is known to play a crucial role in the physical and psychological well-being of users.
The design also includes a number of user-friendly spaces - meeting places that stimulate exchange and collaboration - as well as a superb landscaped rooftop with a magnificent view of the Quinta de Torre Arias park. 
In terms of services, Alcalá 544 is equipped with three car parks, a charging station for electric vehicles and parking spaces for bicycles, thus encouraging low-carbon mobility. The building also has changing rooms and a cafeteria for coffee breaks throughout the day. 
 
Finally, it should be noted that LEED Platinum Sheel&Core certification will reward the performance and numerous facilities of this new building complex, which is definitely at the forefront of tomorrow's Madrid offices.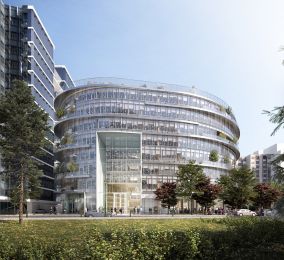 Property development made-to-measure
The cities of tomorrow are being built all around us today. They are smarter, sustainable, innovative and tailored to our ever-evolving ways of life.
Find out more here