From Churchill to James Bond: reviving British heritage
Located at the eastern end of St James's Park in Central London, The OWO is a place steeped in history. Built in 1906, this Edwardian neo-baroque building was designed by architect William Young to embody the power of the British Empire. Winston Churchill, Lord Kitchener and David Lloyd George all worked there, but these former wartime headquarters also inspired famed novelist Ian Fleming (who worked there for the naval intelligence services) for his character of James Bond. The OWO has featured in several Bond films including Octopussy, A View to a Kill, Licence to Kill, Skyfall, and most recently No Time to Die.
In 2014 it fell to the Indian Hinduja Group to write the next chapter of the story, and the legend now continues in a supremely elegant style. The OWO will soon be home to a 5-star 120-key hotel, operated by Raffles Hotels & Resorts (part of Accor Group), which will offer its hotel services to 85 private residences within the building. To oversee this superb 54,000 m² renovation, the Hinduja Group has enlisted the services of award-winning practice EPR Architects, along with a hand-picked team of experts from the Museum of London's Archaeology Department, to preserve and enhance the wonderful historic fabric of the original Grade II*-listed building.
 
New York-based interior designer Thierry Despont will oversee the hotel design for what will be the first Raffles Hotel in the UK. With past projects including the high-profile renovation of The Ritz in Paris and Claridge's in London, the unveiling of Despont's creative vision for The OWO is highly anticipated, and is set to be flavoured by the iconic aesthetic heritage of the Raffles brand.
The OWO Residences themselves will be conceived by 1508 London, a luxury interior and architecture design studio whose clients have included Four Seasons, The Lanesborough and Carlton Tower Jumeirah. Individual residences will be carefully crafted to combine architectural heritage with ultra-high-tech comfort.

The OWO is one of the most prestigious and high-profile developments to have come to London in recent memory. It's far more than just a luxurious development of branded residences; it has created a new destination in Whitehall in the former Old War Office building. Anchored by the Raffles Hotel, one of the most iconic hotel brands in the world which sets the standard for luxury travel, The OWO creates that sense of place rather than being just a residential development. As such, it will offer its residents the highest levels of service and security.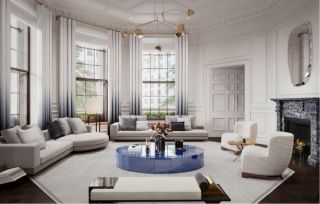 Learn more about The OWO by Raffles
The transformation of an iconic listed building, with luxury residences serviced by Raffles Hotel
Find out more here
A Spectacular Revival of Edwardian Style, with 5* Raffles Services to Match
The OWO's future residents and will enjoy a truly spectacular journey through the building. Private residences will be accessed via a majestic principal entrance lobby, or through a discreet private doorway thrillingly dubbed 'the spies' entrance.' Inside, residents will be greeted by breathtaking oak paneling, architectural moldings and mosaic flooring, all crafted to complement the original Edwardian style and fabric of the building. Bespoke kitchens by Smallbone of Devizes, handcrafted in Wiltshire, will incorporate top-of-the-range Gaggenau and Miele appliances. Fabulous ceiling heights of up to 4.4m and beautifully appointed terraces will add opulence to light-filled living spaces, and bathrooms will be clad in marble with brass detailing and Waterworks fittings.
Each of the residences, from the pied-à-terre studio to the five-bedroom penthouse, will be unique in layout and specifically designed to suit its exact location in the building. The duplexes and penthouses nestled inside the iconic corner turrets, for example, will be specially configured to show off elegant architectural curves from within.
From a lifestyle perspective, The OWO will offer residents and hotel guests world-class and unsurpassed levels of service in addition to a breathtaking range of amenities. A five-star private concierge will be on hand 24/7, and the building will also house an immersive spa, fitness studios, private reception rooms, a private cinema screening room and a collection of eleven restaurants and bars.
The OWO is a place of extraordinary heritage and history at an unequaled location, whose meticulous revival will reinstate it as a destination for London and the world.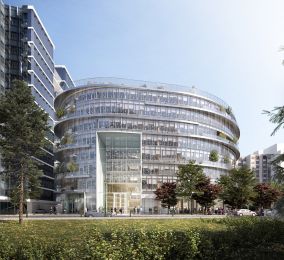 Property development made-to-measure
The cities of tomorrow are being built all around us today. They are smarter, sustainable, innovative and tailored to our ever-evolving ways of life.
Find out more here