A new way of interacting with office space
Remote working is now an integrated part of many employees' working week and in turn influences the layout of office space, how it is managed and the vacancy rate of various assets. This means that real estate as a whole has been altered. At the end of 2020, in the midst of the Covid-19 crisis, BNP Paribas Real Estate published its first publication dealing with the subject of the impact of Covid-19 on offices.  This second edition, which also includes a variety of in-depth interviews, offers an insight into the situation in Europe, allowing us to understand what the post-Covid office looks like now and what it may go on to become.  
Hybrid is the new normal
Lockdowns may have been lifted in the majority of European countries but remote working has become an integral part of many people's working week. The workspace has therefore been reimagined with greater use of technology. Well-being, comfort and productivity are now combined with hybrid working models. Indeed, the office remains central and valued by companies who see it now as a destination. For employees, housing must also adapt with the development of dedicated rooms and third places now offer a bridge between remote and physical work. 

Across Europe the most common working week consists of two days of remote working. This ultimately affects how offices are used, meaning that they are perhaps smaller in size, but offer greater levels of flexibility. Offices will be more accessible, better connected to different transportation methods and more adapted to different types of interactions.
More resilient multi-functional assets
Mixed-use buildings are now essential in allowing collaboration between occupiers, investors and public partners, which leads to the creation of a more resilient city. The building must now fulfill several needs and be able to adapt over time and in relation to the types of activities that are taking place within it. In a context of densely populated urban areas, and a continuing interest in large city centres, multifunctional assets have come into their own and are seen as a sensible choice for the future. By integrating ESG criteria into their construction and management, they create interesting economic and environmental performance prospects.
On average, 24% of the total building area in the EU (28 countries) is non-residential. Nearly a third (30%) of this non-residential space is made up of offices (private and public). Offices thus represent a significant part of the total built surface area in Europe, even though they are only used during working hours. Capitalising on how buildings are used is therefore in the interests of many and these types of mixed-use buildings can even become iconic. 
 
The office is ready for the future
Across Europe in 2021, activity in the real estate markets returned to what could be considered as almost normal. During the second quarter of that year, real estate investment volumes increased by 70% compared to the second quarter of 2020. Each part of the real estate market has indeed been affected by the pandemic, however investment in offices has remained stable thanks, in part, to the implementation of remote work. The return of solid GDP growth on the continent in 2021 has also created employment in the tertiary sector. A workforce increase of 11% is expected across 13 identified countries over the next ten years.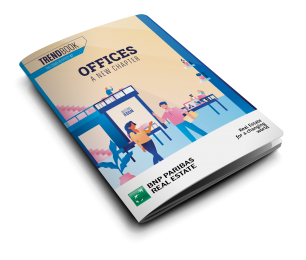 Download the TrendBook "Offices: A New Chapter"
In this TrendBook, find out what changes are happening across Europe and what exactly being back in the office now looks like.
Download the publication