What does the future of post-Covid office look like?
Over the past two years, the real estate industry has faced unprecedented challenges. Remote working has become widespread, requiring employees and businesses to adapt and prove their resilience. As people return to the office across Europe, it is time to question the relevance of the traditional office model and understand the changes that are affecting the sector.
Inside this TrendBook, you will find: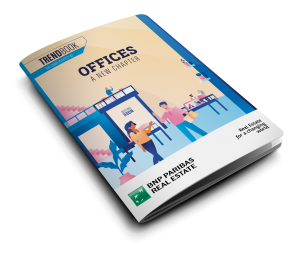 Get a free version of the TrendBook Offices: A New Chapter
Preempting future needs
While working remoting has now become an integral part of many corporate strategies, office real estate has evolved to incorporate a new hybrid environment:
12% of employees worked from home in 2020 in Europe, compared to 5.4% in 2019
Q4 2021 sales volume increased in many markets (+27% to +46% depending on the country)
Hiring is expected to increase by 11% over the next few years, making office space more than necessary to accommodate this additional workforce.