The world is changing quickly and communications along with it. The rise of new work patterns is redefining the office, both in terms of design and collaborative ways of working. Actors are therefore being pushed to stay ahead of the curve and invent new ways of communicating remotely, and seamlessly.
Enter holographic meetings. Using holograms and mixed-reality technology, people are now able to be in the same room, even if thousands of miles apart. BNP Paribas Real Estate is pioneering the use of this innovative new technology in the real estate sector with DARE (Digital and Augmented Real Estate), a solution created in collaboration with Mimesys.
We sat down with Rémi Rousseau, CEO of Mimesys, the French-Belgian start-up behind a solution to bring 3D holograms to the world, and transform the ways in which we communicate for the better.

What's great about BNP Paribas Real Estate is that by working with us, they're showing that they're willing to invest in this type of future, that they have a long-term vision for the real estate market. They want to play an active role in the building of this technology.
First of all, could you give us the elevator pitch for Mimesys?
Mimesys is the leader in holographic communications. You might remember Princess Leia's hologram in Star Wars. Well, that's what we're doing. We're developing the technology to stream people not as video, but as a 3D representation of themselves, remotely, so that you can communicate as if you were with the person in the same room.
This totally changes the way we conduct remote meetings. Today, you're very limited as to what you can do together. Tomorrow, you'll have superpowers: the ability to be with other people, to feel their presence, and to be able to interact and collaborate with them remotely.
Can you tell us a bit about your background, and how and why you decided to develop a project like Mimesys?
I studied engineering in France, at l'École polytechnique. I've always loved making new things. I worked at FABERNOVEL, an innovation consulting firm, for four years before deciding to try things on my own. Back in 2012, a teenager called Palmer Luckey launched a Kickstarter for his VR device, the Oculus Rift, which was fantastic. This kid came out of nowhere and built a headset that teleported people into a different world. And so I decided to develop a project using the same kind of capabilities: a surgical training software in virtual reality.
This was my first foray into VR. I ended up creating a company that we sold two years after in order to focus on Mimesys. Mimesys was born when I first met Davy Loots, a Belgian developer and entrepreneur, through Reddit. He was also an Oculus Kickstarter backer and was playing around with the technology. Davy built a new 3D format to record his family as holograms, building video souvenirs and memories for virtual reality. It was brilliant! We both realised the huge potential of virtual reality for communications. We started discussing how we could make the idea a reality and finally launched Mimesys in 2016.
What technologies are you using to power Mimesys?
We're leveraging different technologies. First, we are using depth cameras, such as the Kinect or the kind you find on the latest smartphones, like the iPhoneXs, for face recognition. These sensors are able to see the world in 3D. Our solution relies on the combination of these depth sensors with augmented and virtual reality technologies (AR/VR). And we're pretty lucky since there are amazing hardware options today,, which might replace smartphones as communication devices in the next 10 to 20 years. The last technology we're leveraging is 4G, and soon 5G, which allows for great connectivity, anywhere.
How do you see this technology evolving? And how could it affect the way we communicate or work?
Telepresence—the ability to communicate with someone remotely as well as if they were present—has been a thing for 20, maybe 30 years, but it wasn't very practical. With business travel on the rise, its environmental impact is dramatic. We need good alternatives to jumping on a plane. I also think the user experience of remote communications is not quite right yet and video conferencing doesn't offer users a seamless experience. It's practical, it's better than not doing it, but it's still not great from a human experience standpoint. It goes back to preferring to interact with someone in person.
I think the technology that we're working on can definitely become the best way to conduct a meeting, or simply to interact remotely in the future. It will unleash an absolutely fantastic trove of possibilities. Remote work will be as good as being in the same room together. You will be able to fill the empty chairs in your office with holograms of colleagues. A great telepresence experience will be a game changer. Flexible, remote working will become all the more relevant. It is going to transform office work and design, and the way we live as a whole. We won't have to stick to cities because that's where jobs are.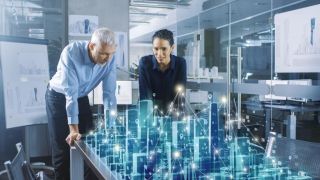 Introducing DARE—a new way to connect
BNP Paribas Real Estate has officially launched DARE (Digital Augmented Real Estate) a collaborative tool inspired by the most impressive cinematographic special effects. This highly innovative solution reinvents traditional models of work by breaking the boundaries of how people collaborate thanks to Mixed Reality and Holographic technology.
Find out about our DARE solution
What stage of development are you in now, and what key forces have enabled Mimesys to flourish?
We are still in beta, but so is the AR/VR industry. The technology works, but we're now focusing on building concrete use cases that will make the technology really relevant for the future. It's a creative process to ask yourself, 'Okay, now that we don't have the constraints of the physical world, what can we do?' The answer is different for every industry, but we're working with a variety of industries, including the real estate business, to understand how this technology can be seamlessly integrated into their day-to-day activities. The big question for every business is: at what point in the future does it make economic sense to deploy this?
Our goal is to package the solution in a very pleasing, accessible, practical way for the user and be ready for the AR and VR boom, something we anticipate happening in the next two or three years.          
Adoption might take some time, both on the hardware and usage side, because people are used to their phones and tools like Skype. But we're confident that this will happen within the next decade.
How did the collaboration with BNP Paribas Real Estate come about? What has it brought to your business?
It started a little over a year ago. A team at BNP Paribas Real Estate was working on a variety of VR offerings. They came in and saw what we were doing and said, 'Wow, this is great. How can we apply this to real estate?' We collaborated to build a real estate experience in which an agent could remotely meet with a potential buyer in a property that they want to sell, in virtual reality. In other words, teleporting those people to a new place that might not exist yet and it worked very well.
What's great about BNP Paribas Real Estate is that by working with us, they're showing that they're willing to invest in this type of future, that they have a long-term vision for the real estate market. They want to play an active role in the building of this technology.
What makes your technology a good fit for the real estate business?
Real estate is about space. So is our technology. It allows its users to interact with space, people and information in a new way. And in real estate, an interaction between two people can lead to a large deals. Enabling this interaction, at any time, can have a huge value.
It's also about reinventing the broker-client relationship in the future. People in real estate travel all the time. They have to check properties and meet clients. We think a lot of it could be done remotely. That's what BNP Paribas Real Estate wants to show, and they want to demonstrate that they're already thinking about customer relationships in the future, about building deep human connections remotely.
To describe it more concretely, during the remote meeting through Mimesys, the real estate agent could display a 3D map of an apartment and the neighbourhood it's located in, giving the potential buyer a lot of valuable, compelling and concretely visible information. It can come in especially handy when the property is not yet built.
What were people most excited by when they saw your solution? What did they like the most?
I think people were excited by the fact that it was possible, which is something we see a lot with our technology. People discover that we are not so far from Star Wars or Minority Report, and it's quite a big realisation. They get it when they see it. Before, they might be thinking, 'Okay, it's a concept. I've seen it in movies'. But when they actually experience it, the tone changes: 'Oh my god. It's real!' It's not on a lot of people's radars. Knowing it's possible and that it's closer than ever, that's what really makes people enthusiastic.
What are the next steps for Mimesys?
The next steps are continuing to develop use cases. There's always new hardware with new platforms, and every time something new comes out, the technology leaps forwards in terms of quality and experience.
We're planning to raise additional funding, with the goal of building different setups that will deliver outstanding user experiences. We know that not every customer is a tech fan and we have to come with an easy-to-set-up solution, something that would be really simple and that I hope could become as iconic as its Princess Leia predecessor.
Other content you might like: