BNP Paribas Real Estate Development supports investors and property owners wanting to build, renovate and increase the value of their commercial or residential properties. Carole de Matharel is in charge of the development of key mixed-use projects, from the call for projects stage right up to the signature of contracts. Here she shares with us her perspective and vision of the real estate of the future, one that should be reversible, flexible and sustainable.
What is reversibility in real estate all about?
Our main concern with reversible buildings is the sustainability of our real estate projects. We want them to instigate change in the way we use a building, whilst taking interaction with space into consideration. In other words, it's delivering offices today, that can become something else tomorrow, such as housing units or retail outlets, for example. Or indeed, housing units or hotels that can be transformed into offices or other types of buildings, without major renovation or rehabilitation work, as the building would have been designed to be able to adjust easily.

Another understanding of reversible buildings consists of a chronotopical approach to cities, i.e. buildings capable of providing for different purposes and activities according to the life of the project. For example, the 17&Co building we are designing in Paris, Porte de Saint-Ouen, will be able to accommodate a karaoke open to all in the evenings, and, thanks to its modular spaces, various activities during the day, such as meeting rooms connected to offices nearby. This is known as mixed use. Another major project, the METAL 57 building in Boulogne-Billancourt, was designed with a sustainable approach in mind, taking into account future structural evolutions. This modularity also applies to short spaces of time and last minute requirements in order to meet occupants' needs. 
 
What is BNP Paribas Real Estate's position on the subject?
The real estate sector is in the midst of profound change. Revolutions in ecology, digital technology and interactions means that change is already underway! BNP Paribas Real Estate, as a corporate citizen that strives for impact, must take into account the question of real estate reversibility, inasmuch as it enables us to answer the environmental and societal challenges local authorities must face, while reinventing buildings and breathing new life into neighbourhoods.
Thanks to flexible design, changes in the use of reversible buildings can be conducted very simply, without impacting the structure, and this seriously reduces the carbon footprint. Moreover, having a mixture of different uses according to the time of day make it possible to maximise the different spaces in a building. This means meeting the growing needs of urban populations in terms of diverse and varied infrastructures without building new constructions, while preserving the fertile zones that are essential for the protection of biodiversity. Reversible construction therefore represents one of the essential tools available to us in our conception of the more sustainable and resilient cities of tomorrow.
Since when has the question of reversibility in real estate been on the cards?
Despite the fact that the question of reversibility in real estate has been on the cards for certain local authorities in calls for projects for about ten years, its implementation is still in its infancy and today, only a few buildings can claim to be totally reversible.
The topic is however gaining momentum! To start with, the health crisis has lead us to call into question the cities of tomorrow. During the lockdowns, certain spaces were practically abandoned such as offices and shops, whilst meanwhile there was a severe shortage of medical spaces or those linked to public services. Today when designing a real estate project, we must think about the needs of the future to avoid constructing a building that will become obsolete too quickly.
The question of the ecological transition that makes it necessary for us to create responsible real estate with a zero-carbon target in mind is becoming more pressing. We must be able to recycle our property assets better, not destroy and rebuild them when we want to use them for something else.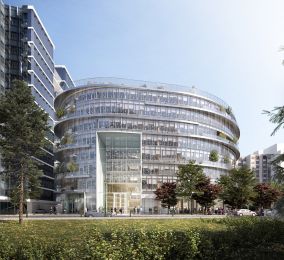 Property development made-to-measure
The cities of tomorrow are being built all around us today. They are smarter, sustainable, innovative and tailored to our ever-evolving ways of life.
Find out more here
Has BNP Paribas Real Estate's Property Development department worked on a reversible real estate project?
We have been working for several months on a call for projects for the city of Cachan, a project for new mixed-use buildings. The tender documents specified that the buildings were to be 100% reversible. This really is the first time ever that a call for projects from a local authority has been as clear and strict on the question. I am proud to be able to announce that we were selected to carry out this project!
The Cachan Pluriels programme will be an environmental example and will hopefully become a showcase for the sustainable city of tomorrow. We have worked in such a way as to put quality at the very heart of the construction, while making the whole project as virtuous as possible, with, for example, bio-sourced materials, open living spaces for residents and of course, totally reversible office spaces.
To make this possible, we worked hand-in-hand with the very best architects and technical design offices to make the reversibility of buildings as simple as possible for each change of use, with the aim of giving them several lives over the long term. Cachan Pluriels is just the first step for us in becoming developers for reversible construction, which is still in its teething stages. This experience will help us in the future, with acquired or reinforced skills that we'll be able to capitalise on for other projects.
Furthermore, we have developed an in-house research and innovation lab with the help of architects and external partners. This lab helps us verify the feasibility of our projects and facilitate the implementation of positive and sustainable initiatives.
What are the setbacks in the construction of reversible buildings?
I'd say that there are different types of setbacks: technical, financial and legal. Technically, these buildings are extremely complex, what with questions relating to ceiling and floor heights, vertical circulation layout, depth of spaces and facades, that are subject to different norms for office, residential of retail premises. Little by little, we have been able to find technical compromises that we'll be able to apply to other construction projects  in the future.
What is the future for the construction of reversible buildings?
The most important question we have to answer is that of the adaptability of our buildings over time. What future do we want to give them? Haussmannian buildings in Paris are a perfect example because they have been around for centuries and have been able to transform into apartments, offices, shops and various services. The objective is that the new buildings of the future have the same capacity! It's a huge project but the key to achieving resilient real estate. Today it's a given for all stakeholders that it is counterproductive to demolish a building only to rebuild it differently, and in some cases for the same use. Rebuilding the city on the city is a meaningful notion that should help us achieve more virtuous, carbon-neutral constructions. 
For all these reasons, local authorities and even investors will certainly favour reversible buildings in calls for projects. So, it's in our interests to anticipate this reversibility when building new constructions. Even if this isn't part of the initial request, it is our duty, as committed developers for sustainable and resilient cities, to reflect on how to include this aspect in all our projects as much as possible. We must be proactive in this area and promote it among local authorities, public decision-makers and private investors.