So why then has the office sector showed such resistant? Indeed from Q1 2021 to Q1 2022 office investment increased to reach €27.2bn, an all-time high for a Q1, 20% above its 5-year average. This momentum is seen across most European countries, in Germany total investment between Q1 2021 to Q1 2022 rose by +180%, in the UK by +128% and in Italy by +560%. There were notable exceptions to this though with investment in France dropping by -32%, the Netherlands by -53% and Ireland by -88%.
The office has found a new purpose
With companies doubting the raison d'être of an office, take-up of this asset class diminished. With large subsections of staff working remotely, for many it seemed counterproductive to require office space, or certainly the same amount of space that was required pre-pandemic. 
However, as countries have largely returned to a near normal way of life, and restrictions have been drastically reduced, the future of the office has become a lot clearer. Investors and occupiers have as such been able to once again appreciate the clear benefit of an office building, and the unrivalled benefits that it brings with it. 
Offices have of course changed due to the effects of the last two years, but this has only served to increase their appeal. Employees now find themselves in workspaces that offer greater flexibility, increased collaboration and better-suited services. This is also combined with a hybrid working week and tailor-made solutions, with a split between being in the office and working from the home office or co-working and corpoworking space. This new way of working has placed the office as a central beacon, one that gives employees the opportunity to come together and benefit from the services that can only be offered physically, which in turn contributes to their well-being. 
This has had a ripple effect on how the office is viewed. Companies can now use the office as a sort of marketing tool. An emblematic building such as Google's 6 Pancras Square can be used to attract new talent and solidify the image of a company. Investors have also been able to appreciate the resilience of this asset type and the fundamental needs for these structures, particularly within a city that is better connected than ever before, to other asset types, services and amenities.
Proving their resilience through their adaptability
Unsurprisingly then, the occupier market across Europe has begun its recovery, kicked off by a positive upward momentum for take-up in Q2 of 2021. Most markets are demonstrating a strong rebound in volumes, like Dublin (+841% vs. Q1 21), Warsaw (+167%), Central London (+132%), Rome (+105%) or Munich (+83%).
As such, Q1 of 2022 take-up has largely returned to pre-Covid levels, exceeding the long-term average for most markets. 
It came as no surprise that vacancy rates across Europe increased dramatically during 2020 and into the first half of 2021, but thanks to the take-up recovery, they are now stabilising. What is however notable is the distinct split between offices that are well located, with easy access to transportation and those that lie within suburbs, and are harder to get to.  
This only goes further in highlighting the appeal of well-connected offices, which offer their occupants easy access to the towns and cities around them. With a greater focus on how we move around cities, whether that be by electric scooter or public transport, a city which is better connected and offers a plethora of services is increasingly sought after by its inhabitants. Coveted offices will therefore be those that fit into this new city dynamic. As a result of the health pandemic, we now require buildings to offer more than just one service. An office building which is open to the city, which can be used for different functions depending on the time or day, is one that will likely cement itself as a highly regarded asset for occupants, tenants and investors alike. With office prime rents experiencing an upward trend, particularly in cities such as Dublin which has increased by +104% since 2012 and Berlin +95%, competition for the most attractive assets can be fierce.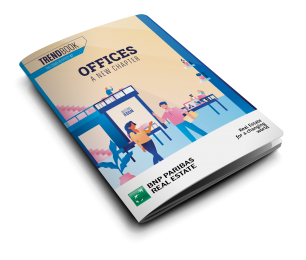 Download the TrendBook "Offices: A New Chapter"
In this TrendBook, find out what changes are happening across Europe and what exactly being back in the office now looks like.
Download the publication