European Logistics Market: Property Report
As the global recovery is expected to gain significant momentum in 2018, this BNP Paribas Real Estate report looks at the more universal growth of the economy, meaning growth that is faster and more evenly distributed across European countries.
Particularly in Central and Eastern Europe (CEE) has the fastest growth been seen, with Romania posting economic growth of 7% in 2017.  Poland is also expected to see increases; 3.5% in 2018 and 2.7/5 in 2019
The leading logistics occupier markets have all now accomplished historic volumes of transactions. First the UK and Germany in 2016. In 2017, France, the Netherlands and Spain concluded the year with all-time highs stimulated by a favourable economic backdrop plus strong demand from e-commerce and the retail sector.
The investment market achieved new record levels, outperforming offices and retail despite an overall lack of high grade assets. Market drivers included GDP growth, new entrants such as Asian investors, large corporate deals and further yield compression.
This positive growth has been made possible by activity which has reached historic volumes. In the 21 European cities monitored by BNP Paribas Real Estate, we have seen a significant increase in take up for warehouses over 5000 sqm (+9% in 2017 vs 2016). It is particularly thanks to growth in internet sales and domestic demand rising, that the European logistics sector is receiving this boost.  What's more, the sector is predicted to grow another 10% in 2018.
Net prime yields in 2017 – Warehouses over 5,000 sqm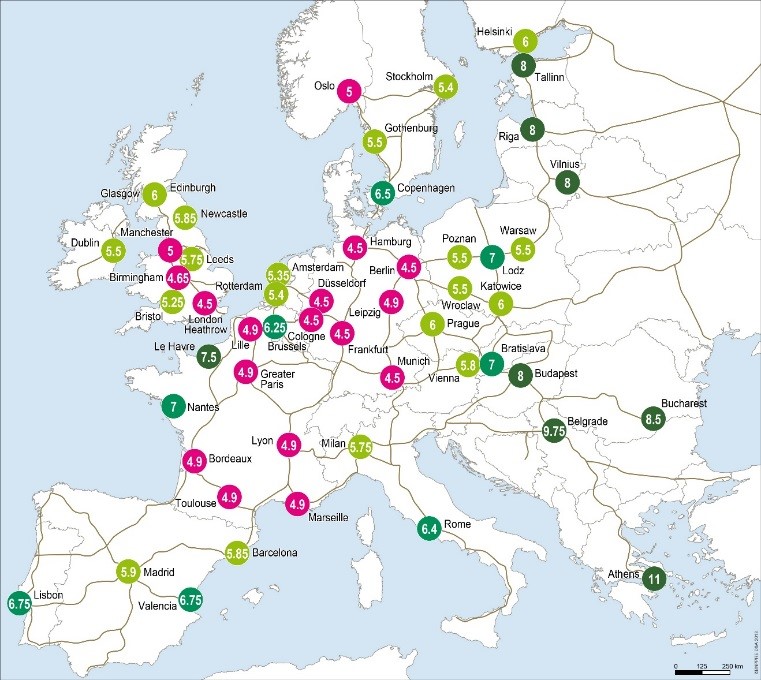 European Logistics Market: Interview with Vincent Robion Head of Research Logistics Europe and Anita Simaza Director European Logistics (The Netherlands) at BNP Paribas Real Estate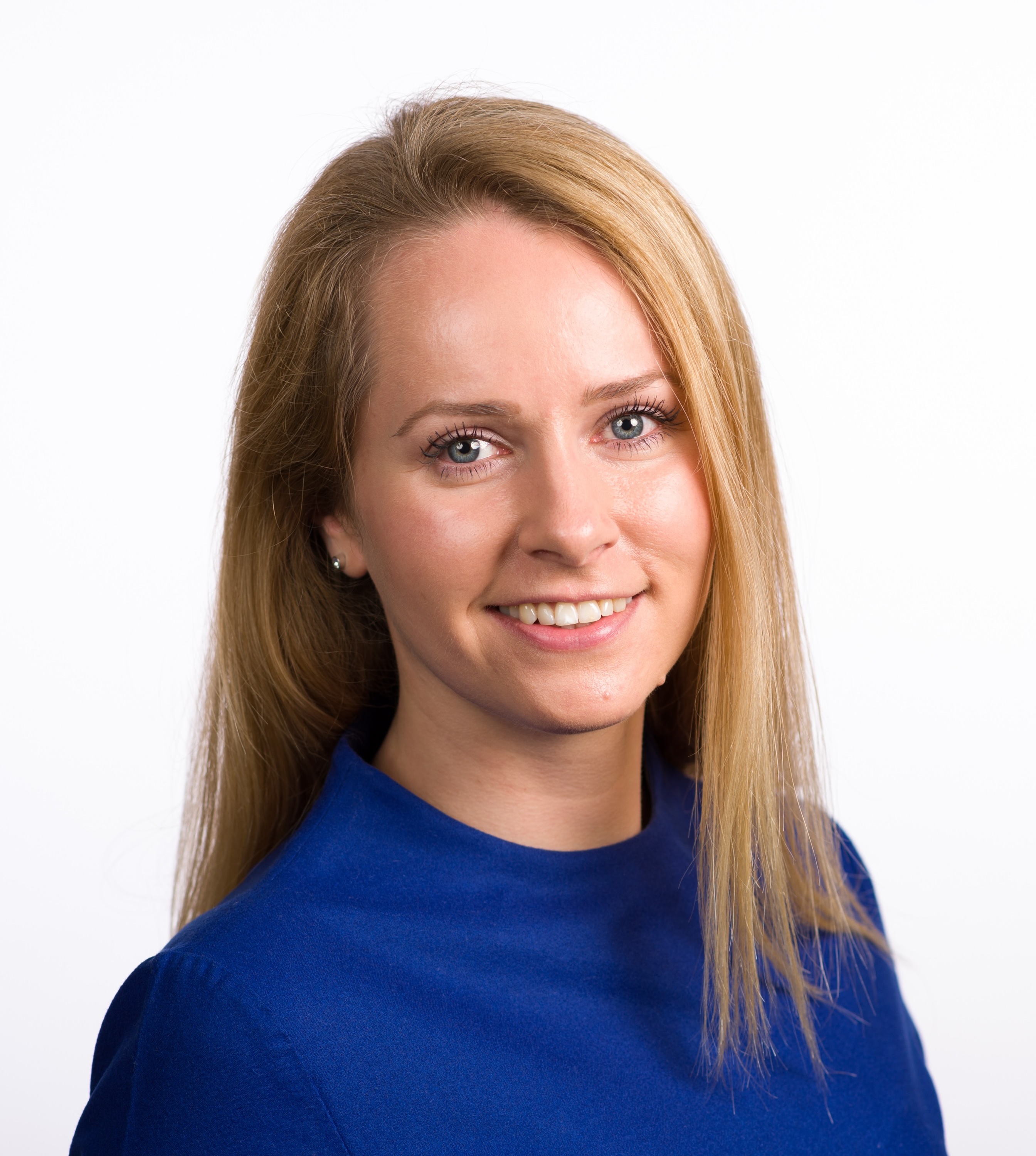 Here, Vincent and Anita share their thoughts on the European Logistics Market Property Report and consider how the logistics sector is evolving.
What are the main takeaways from the report? 
VR: One thing that is outstanding is the level of investment across all countries. In the three biggest countries; France, the UK and Germany historical records have been reached. It is important to take into account that last year we had more than €12 billion invested from a corporate deal so that's about 30% of the total volume of investment. If we take France alone and take off the level of investment from corporate deals, we still have a 16% increase in investment in the country, and that's the case in most European countries.
Logistics is developing due to several drivers; e-commerce being one of them. This market is getting more mature and being included in the strategies of investors, a trend that five years ago was not as prominent.
If we look at the movement of transactions, take-up is strong, especially in Germany where it is directly linked to the economy. We've had a good level of GDP increase in most countries and that is reflected in the level of take-up and logistics activity in Europe.
Most European countries have reached their highest level of investment ever. France, Germany and the UK account for around 65% of the total investment in Europe. It has been such a good year thanks to certain financial conditions; interest rates remain low and there is still a gap in prime yields between logistics and other assets such as retail and offices, which are naturally favoured by investors. Logistics assets have become more attractive, thus attracting the attention of a wider range of investors willing to diversify their portfolios.
AS: Last year was an exceptional year for real estate logistics for multiple reasons, one of which was a very strong occupational market, including high tenant demand, continuous growth of e-commerce, limited supply and low vacancy rates, which in most core markets are at sub-frictional levels.
From an investment point of view, the transactional volumes reached the highest level ever on record, in part because it included several platform transactions. However, even if we exclude these, the transaction volumes were still above the long term average as we continue to see an increased depth in the market and appetite for the logistics sector from investors.
E-commerce is a now one of the key demand drivers for logistics space. There is an interesting analysis by Prologis whereby they estimated the impact of traditional retail vs e-commerce on logistics demand. They compared €1 billion spent through a shop and €1 billion spent through a website. They found that selling products through a website resulted in about three times more need for warehouse space as opposed to the same goods moving through a conventional shop. This is because online sales have additional steps in the supply chain and the warehousing network is more complex.  To put it simply, as we shop more online, there is an increasing need for logistics space.
There is currently no single country where demand from e-commerce is waning or even stable. Taking the UK as example, which has among the most advanced e-commerce networks, the volume of online sales continues to grow on a yearly basis and forecasts are for consumers to shop more online. In comparison, Romania which has the lowest internet usage and the lowest e-commerce activity, has a lot of growth potential. So companies are really benefitting from consumers changing their shopping habits.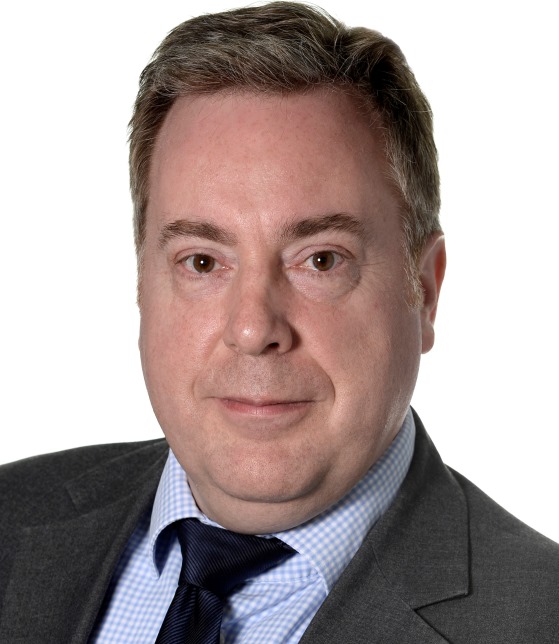 What positives can you take from the report?
VR: In terms of Spain and the Netherlands , if we go back to 2004 these two countries were coming out of a recession. In 2015, they had a significant increase in the market, then again in 2016 and now it is really at full strength. When we analyse the market we have to take a wider view, Spain and the Netherlands have bounced back after some difficult years and have now recorded some of the strongest market increases over the past two years in Europe.
What are your predictions for the European logistics sector in 2018?
VR: After an exceptional increase in 2017, the investment market is expected to recuperate regular levels across Europe. I think whilst it will naturally go down, we will still be above the average market volumes, so it's still going to be a good year.
AS:  Very positive. I think the development of the logistics sector as a core asset class will continue to go from strength to strength, supported by both occupational and investment markets. Parties which sold large portfolios last year are now building their new portfolios and we have newcomers in the market from Asia, Africa and North America, who are looking to build their platforms. The overall depth in the market is increasing and it is also encouraging to see various risk profiles competing in the market. I think there will be an increased range of opportunities on the market in 2018, but I can't see how it will be sufficient to satisfy the entire demand, so it is quite likely that competition will continue.
Can the logistics sector cope with this increased demand? Is it sustainable?
AS: I believe the characteristics of the current cycle are unlike the previous cycle. Firstly, the occupier market fundamentals are very strong and are fuelled by growing e-commerce, with a robust outlook for continued growth in online sales. Secondly, the supply of new stock particularly on the speculative side is generally good. Thirdly, we have a deep investor market with a higher level of capital compared to the previous cycle and investors are genuinely less reliant on debt.
I think no matter what happens outside of the logistics sector, out of all the asset classes, logistics will perform among the best. As consumers shop more online, occupier demand for logistics real estate will increase, which in turn will make investors feel incredibly safe investing in the sector as it provides a genuine underlying drive for expansion
How has the retail sector impacted logistics recently?
VR: There is a strong growth in Europe in terms of e-commerce, above 10% per year. This boosts the market thanks to increased confidence and the greater amount of space required for warehouses. Demand for e-commerce is not just for large units, but for a wider range of warehouse sizes, reflecting a reorganisation in the supply chain, with more and more consumers buying products online.
At present it is said we are on the cusp of a robotics revolution in warehouses, do you think this will soon be a reality and if so how much will it change the logistics market?
VR: The use of robotics in the logistics sector is already a reality, whilst some might be concerned it will take over the human role, it is actually extremely important to increase productivity. Both worlds are going to work together in different, complimentary ways.
AS: Robotics are already being used in a number of warehouses, and they will become more present in the logistics sector. All models of transportation and delivery of goods aim to achieve economies of scale. When we look at e-commerce, which typically involves the consumer ordering a variety of smaller goods which they want delivered fast, online retailers are needing to look at new approaches to build economies to scale in their supply chains, and this is where robotics come in. Robotics in the warehouses improve the speed and consistency at which the goods can be delivered, significantly reducing operational costs. E-commerce companies don't really compete with each other on price, but on a time basis. For example, for a company to be able to deliver a product in 24 hours, they need to be incredibly efficient.
Interestingly the adoption of robotics hasn't meant less employment as warehouses with robotics generally employ a high number of people. Where robotics will impact logistics is by the building of more multi-level buildings which are better adapted for allowing robotics to move the goods around the warehouse. 
Do you see any issues arising during 2018 in the logistics market?
VR: The main issues relate to new developments and supply. There has been a lack of supply for a while now, so having a good level is not always easy. Speculative developments are important but the challenge is having them in the right locations.
AS: In my view the potential issues that we will see are more likely to be opportunities. For example, we see some thoughtful new speculative development coming through. However, I see that it comes off the back of very low vacancy rates so it will provide a 'breathing space' for tenants, because in the absence of available space, they have needed to rely on Build-to-Suit solutions, which slow down their expansion speed. These new developments also provide a fantastic opportunity for investors to acquire a higher return investment in the current low cap rate environment.
Why is this happening in Europe and not America or Asia?
AS: Europe provides good value; interest rates are low and we have a very safe political environment. Even though the economy's growth is not great, it's still there and stable. There are a variety of institutions in Europe that have supported economic growth, which means there is confidence that if there were to be some set-backs, these organisations would continue to assist the market.
Why are Asian investors now interested in the European logistics market?
VR: There are new financial opportunities, it's a matter of diversifying. Over a period of 18 months between 2016 -2017, €18 billion was invested by Asian investors.
AS: Asian buyers have been clearly present in the market competing for either large platform opportunities or core assets. There are several reasons for why they are interested in Europe. Firstly, they have been and still are structurally underweight to the logistics asset class in Europe. Secondly, they have seen e-commerce grow rapidly in Asia and they believe in the continued e-commerce growth in Europe, providing a fundamental growth engine to the sector. Thirdly, Asian investors are globally savvy and Europe provides good value, with stable political environments, low interest rates and attractive market characteristics.
How are countries in the CEE contributing to the logistics market, what's changing?
AS: CEE is an integral part of the European industrial and logistics supply chain. It has for many years been a key location for companies to base their production operations in, due to lower costs. Over the last two decades, there have been major infrastructure investment particularly in roads and together with good land availability and competitive labour costs it has fuelling the growth of the logistics sector. Poland has over the last cycle unquestionably grown to become a core logistics market in Europe, also being one of the most populous countries in Europe. The economic growth has been stable and with solid fundamentals together with e-commerce potential, the region in my view offers a variety of attractive opportunities in logistics real estate.