The logistics market witnessed a significant growth recovery in 2021. Driven by household consumption and investment by companies, the market has seen a surge in demand, particularly in the digital sphere where 25% of global investment has been received.  
René Jeannenot states that, "BNP Paribas Real Estate predicts that growth should continue into 2022, despite the fact that the International Monetary Fund has slightly reduced its prediction for the biggest countries. There are notably a few factors that are affecting this change, including the situation in Ukraine, inflation and the difficulties impacting the supply chain." 
Despite these changes the unemployment rate across Europe hit its lowest ever figure since official Eurostat statistics agency began compiling data in April 1998. 

E-commerce is not the only driver for the growth in the logistics market but it is the main one. In France for example the market witnessed a +15% increase in one year and previsions for the end of 2021 stood at €130 million. This means that ecommerce is, for the foreseeable future, going to carry the logistics sector.
How does logistics integrate into the city of tomorrow?
According to Séverine Chapus, "When constructing a city you must combine all the different parts of the logistics chain so that the city works as a system. How do we consume, distribute and manage environmental expectations in a way that works and helps form the city and the urban environment?"  
Indeed, over the last few decades the trend for building housing and offices within cities has pushed logistics activity further from city centre. Now, with new expectations surrounding urban logistics, the activity is returning to the city centre and becoming part of the city's ecosystem. 
As Séverine Chapus points out, "As a developer, we are looking at how logistics can be brought back into our urban metropolises. One way of doing this is looking at structures inside the city, which are no longer used, such as factories or warehouses. The idea is to then convert them, whilst ensuring that their activity remains within the 'productivity' scope, therefore boosting the idea of a productive city."
Another important part of real estate project planning is looking at the mix of different activities and parts of the real estate chain. This comes down to small details such as, when you leave your home, is there a delivery truck that passes in front of you. As Séverine Chapus explains, "These 'conflicts' can be managed by looking at the times at which different parts of the city operate. Delivery trucks will be present in the morning for example, so what times do certain activities take place? It's therefore about looking at these activities and the times they take place and figuring out how to allow them to work together."
Building upwards means more breathing space within cities
With new global objectives put in place to reduce artificialised land, vertical logistics buildings have become a logical way of reducing the space occupied by this asset class.  
Séverine Chapus clarifies this by explaining, "By creating multi-storey logistics buildings, we are able to create more green spaces in cities which are going to be enjoyable to experience and are also going to help fight against climate change." 
A multi-storey logistics asset could potentially have a mix of different companies, including a ground floor with high ceilings for small logistics companies and above, space which can be easily sectioned up for small to medium sized companies.

We have really taken the time to think about what occupiers are looking for. This also includes how we move around cities, and something we have thought about it how carparks can be used. We ideally need to think, from the start, how carparks are going to evolve over time. If we ensure that the height is right and that there is a water point on the ground floor, we are able to not only restrict the space to cars but also to think about how it can be converted into a logistics space or a workshop.
Logistics activity across Europe
Take-up in Europe increased by 29% across all markets in 2021. Germany (8.2 million m2) and the UK (6 million m2) have shown very strong increases in terms of take-up. France, Poland and the Netherlands have also seen significant increases. This is very important going into 2022 as rental growth is a strong theme within the market and this underpins the strong capital across Europe. All markets are showing strong growth in terms of take-up which is putting pressure on land supply and an average vacancy rate of 3-4%, which is even lower in the UK. 
Craig Maguire points out that, "Average rents across Europe were achieved over the main capital cities. There has been an average growth over Europe of 3.4%, showing that the fundamentals are very strong. The strong performers this year have been Birmingham in the UK (+7%) and Paris (+5%). Because of the pressure on land supply and a low vacancy rate, we will see rental growth move forward."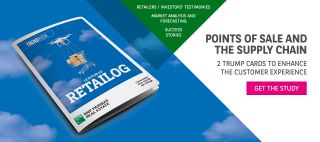 Retailog TrendBook
Download our TrendBook which looks at the relationship between retail and logistics...
Download the TrendBook here
Investment within the continent
In terms of the investment cycle, we saw a record year of about €65 billion of take-up across the European market. This represented a 51% increase from the previous year, and also a significant increase from the years before Covid.

In terms of where investment went, €19.4 million went into the UK, followed by Germany (€9.9m) and France (€6.7m). The UK has the strongest growing e-commerce market and has rental growth of 5-7%, which is attractive for all investors around the globe. There is also strong increases in take-up in Spain, Italy and the surrounding markets of Central Europe and Sweden.
As we go forward into 2022, BNP Paribas Real Estate predicts that there won't be any slow down in global capital from Korea, Australia, North America and Europe. Portfolio premium will also continue to be attractive as we are seeing about 10-20% portfolio premium on all pan-European portfolios, meaning a significant amount of trading is likely to take place during 2022.
Newsletter
Get the latest news from BNP Paribas Real Estate with BuildUp!
Sign up