Waste reduction is a major issue for the preservation of our planet, and the construction sector has an important role to play. According to ADEME (Agence de la transition écologique or Agency for ecological transition), two thirds of the waste generated in France in 2016 came from construction sites *. Aware of these challenges, real estate players are committed to favouring circular economy projects, which help to reduce greenhouse gas emissions.
The circular economy is based on seven actions, as setout by as ADEME:
- Ecodesign
- Industrial and territorial ecology
- The functional economy
- Repurposing materials
- Responsible consumption
- Repairing or extending how long something can be used for 
- Recycling
During a conference focused on the "Positive Impact" cycle, which took place as part of BNP Paribas Real Estate's sustainable development week, two circular economy projects were presented.

It is on the basis of these seven actions that we have defined a proactive and structured circular economy strategy for BNP Paribas Real Estate, with operational roadmaps for each specific business line. This policy applies both to our internal operations and to the way we design, renovate and manage buildings
Green Side in Romainville: favouring the circular economy
The Green Side building, consisting of 33 apartments, is located in the Youri Gagarin district in Romainville. In 2020, the project obtained the NF Habitat HQE circular economy certification for its design phase. This is the first operation in France to obtain this residential certification. 
The implementation of HQE standards requires better acoustic and thermal insulation, lower energy consumption as well as healthier and more secure housing. "But beyond these certification requirements, BNP Paribas Real Estate has decided to go further by applying various circular economy based methods", explains Carol-Anne Viet, Deputy Residential Development Program Director. First, the building was analysed, meaning a full scan of its components and equipment was carried out. This makes it easier to preempt when equipment or elements of the building must be repurposed, upcycled or recycled. 
To build Green Side, recycled materials were used including paint, low-carbon concrete and even window boxes made mainly from recycled plastic bottles. The residence will also include a single-storey building, which will serve as a storage room for bikes and bulky items. This room will be detachable from the main building in order to allow the materials to be used elsewhere if necessary. 

There are still obstacles to carrying out such projects. But many of these are human because the hardest part is getting people to break their habits and come out of their comfort zones. You have to have the will to do it, and in particular the political will. Another problem is that it isn't easy to source materials from the circular economy, it has taken us a long time to find them.

Making a lasting commitment with the Reuse Booster
The construction industry produces 42 million tonnes of waste ** and rubble from demolition or deconstruction every year, three times more than household waste, of which less than 1% is reused. From this observation came the Reuse Booster a collective initiative formed by Groupama Immobilier with many clients of the real estate sector, of which BNP Paribas Real Estate was one of the first members.
The project was formed thanks to a community keen to develop this project, and increase the reuse of materials, thus reducing the carbon footprint of the sector.  
"The idea of reusing materials was well structured, but not the demand," says Anne Keusch, Director of Sustainable Development and Innovation at Groupama Immobilier. "By increasing demand, we can accelerate the idea of reusing materials in order to make it a customary practice in real estate and construction!" Anne Keusch enthuses.
In addition to the help and support provided to public and private clients to encourage the reuse of materials, the Reuse Booster has made it possible to make requests via a digital platform called "Looping". The site, a true hub of supply and demand, makes material needs visible, so that suppliers can identify and respond to a need expressed by owners. The platform also offers an impact measurement tool. The integrated calculator delivers an assessment of the water, carbon and waste savings.
At BNP Paribas Real Estate, seven construction projects are currently using the Resue Booster: the future headquarters of the company Métal 57, Métropolitan Square in Lille, Tribequa in Bordeaux, Boulevard des Dames in Marseille, Gagarine in Romainville, Zellige in Rueil Malmaison and 17 & CO.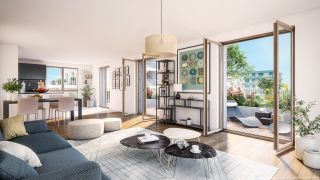 Property development made-to-measure
The cities of tomorrow are being built all around us today. They are smarter, sustainable, innovative and tailored to our ever-evolving ways of life.
FIND OUT MORE HERE
17 & CO at the Porte de Saint-Ouen
17 & CO is an operation won by BNP Paribas Real Estate in 2017 in the "reinventing the metropolis of Greater Paris" competition. This innovative and ambitious project aims to restore the Porte de Saint-Ouen, through a building that will promote a mix of different interactions: 8,000 m² will be allocated to offices including 1,000 m² of start-up incubators, 4,5000 m² will be dedicated a co-living youth hostel and the building will include many shops, restaurants and even a karaoke area. Another 4,500 m²  will house a 100-room hotel.
Alongside this mixed-use programme, 17 & CO also has strong environmental ambitions with the desire to build responsibly. It is with this in mind that the operation has secured the services of the Reuse Booster.
600 m² of the building will be able to benefit from repurposed materials. 34 requests for materials (lighting, sanitary, cable tray, etc.) have been made on the "Looping" platform for all trades and 10 offers have so far been received; a few more are still to come. As Alexandre Lecointre, Principal IE Promotion Project Manager points out, "We should continue to see more of these initiatives because it is working very well. We just need to change our working habits and also to share our experience with employees to reassure them about the quality of repurposed materials which can sometimes be a mental barrier ".
In addition to being eco-responsible, the circular economy can create financial gain for the real estate project. A consultation will be launched by the end of the year to calculate what savings might be made on 17 & CO.
 

I have the feeling that a company like ours is a company with a mission, that being mission being to reduce our environmental impact, and the circular economy is one of the ways of carrying this out.
* https: //www.actu-environnement.com/media/pdf/news-35407-chiffres-cles-dechets-2019.pdf
** https: //boosterdureemploi.immo/le-projet/