What is the gig economy?
As more people are choosing to go self-employed and freelance, the gig economy has become a hot topic of conversation.
Today, almost half (44%*) of workers in the EU are part of the so-called "gig economy", meaning they work for themselves rather than as full-time employees of companies.
Going self-employed or freelance is by no means a new idea. However, with the recent proliferation of internet and mobile communications, it has become easier than ever to be, or hire, a one-man band. This is just as well – with rapidly evolving technology, businesses have found themselves needing greater agility and fewer long-term commitments.
This, in turn, has encouraged many businesses to hire fewer full-time employees and instead outsource for services as and when they require them. As this practice has become common worldwide, it has given birth to a phenomenon called the gig economy – and now businesses can find freelancers in all shapes and sizes, from photographers to HR managers to CEOs.
The rise of co-working spaces
With a reduced need for full-time staff, many businesses have sought more flexible office spaces. Some are using hot-desking, introducing remote working, moving into smaller premises or sub-letting unused space, while others opt to go office-free entirely and instead utilise coworking spaces when they need them.
Coworking spaces are managed offices that can be hired by companies on daily, weekly or longer leases. Companies can choose how many seats they require, from one to 100 or more, and can scale up and down as needed. On days when the company requires a lot of freelance support, they can simply hire extra seats.
Between 2012 and 2017, the number of co-working spaces worldwide increased by more than six times to 13,800 locations.
In BNP Paribas Real Estate's latest office trends report, WATCH OUT #3, CEO and Founder of Bureaux á Partager, Clément Alteresco says that many companies have started to integrate co-working into their business strategies. Some, like Orange, have even turned their own offices into co-working spaces.
Cleément Alteresco says there are three main benefits for companies who choose co-working: "First, it helps them optimise unoccupied space.
"As much as 20–40% of space in offices isn't being used."
"Second, companies cannot maximise the value of their assets during renovation work or reorganisation."
"And third, co-working can help companies introduce innovation by welcoming start-ups, who can inspire new ways of working and new organisational methods."
Increased personalisation of offices
At the other end of the scale, the gig economy is encouraging some businesses to invest more in their offices and headquarters than ever before. Afraid of losing their best employees to the world of freelancing, businesses are going to great lengths to make their offices seem cool and desirable in a bid to attract top talent to work exclusively for them.
This means the office space itself has evolved from being a place to work, to a recruitment and talent retention tool. The function of the office is no longer just to give staff a place to work, but to offer them the kind of opportunities they could not find elsewhere: to learn, to work alongside other professionals, to socialise and to utilise the latest technology.
What does the future hold for the workplace?
The big question is which type of office will become the dominant player in the market: flexible coworking spaces, or highly-tailored headquarters?
Perhaps it will be a mixture of both. Internet advertising company Criteo took the innovative approach of sub-letting unused space in their own offices to start-ups. This allowed them to make the most of their space and technology, while also fostering an atmosphere of creativity, and created a new revenue stream for the company.
Thierry D'Haillecourt, Vice President of Real Estate at Criteo, gave an interview with BNP Paribas Real Estate for our report on flexible working spaces, WATCH OUT #3. He said: "At our headquarters on Rue Blanche in Paris, we hosted BlaBlaCar in its early years.
"Subletting allows us to make the best use of the available space, while at the same time being assured that we can reclaim this space in the event of an increase in staff."
Whatever the future eventually looks like, with working patterns unlikely to revert to the standard working day, and demand for coworking growing, the reinvention of office space is set to continue.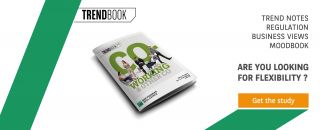 Retailog TrendBook
Download our TrendBook which looks at the relationship between retail and logistics...
Download the TrendBook here...