A solution developed in collaboration with leading interactive, real-time 3D content platform UNITY
BNP Paribas Real Estate is using the Vivatech event to unveil WIRED (Wearable Immersive Real Estate Dataroom). This cutting-edge 3D data visualisation tool allows users to immerse themselves in an augmented simulation of the city in its past, present and future versions. Intended for the clients of BNP Paribas Real Estate, this pioneering clone of the city will enhance their market understanding and decision-making.
A new way of using data to travel in time and space
With WIRED, BNP Paribas Real Estate connects real estate assets with all the data on the city. The aim is to offer a comprehensive overview to existing and prospective customers of a building and its surrounding area.
To achieve this, the tool aggregates the data of BNP Paribas Real Estate and combines it with public  open data, such as that of local authorities. The system can currently visualise 10 million buildings within their environment.
Richard Malle, Deputy Head of Business Services, Research - Innovation – Data de BNP Paribas Real Estate remarks: "WIRED is a pioneering digital twin technology combining a comfortable experience with in-depth analysis. Its strength lies in allowing the user to be immersed in a city, its neighbourhoods and its buildings. It provides access to the best real estate, socioeconomic, and environmental information, thanks to exceptionally high-quality internal data enhanced by external information.Its flexibility allows for the sharing of targeted, prospective analysis, reaching markets without being constrained by location or time. .
This data also covers several timeframes: the tool includes transaction history for districts dating back to 1997, but also forecast data up to 2030, so that users can experience the city as it was in the past and is expected to be in the future, thanks to data on major urban planning schemes, transport or changes in macroeconomic and property fundamentals.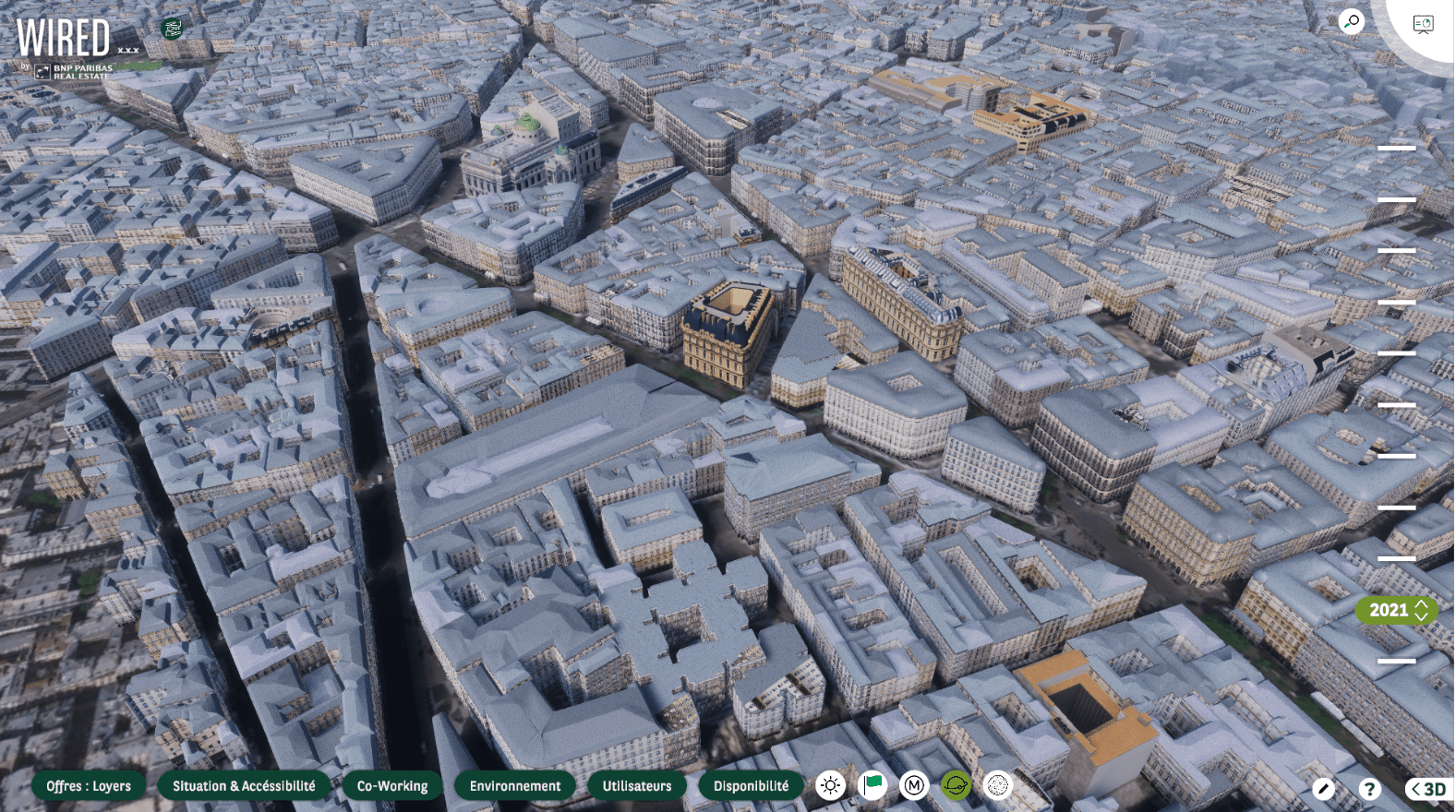 A fully immersive solution in collaboration with Unity
Part of BivwAk!, the transformation hub of BNP Paribas, the tool was developed in collaboration with UNITY, the world's leading platform for creating and operating interactive, real-time 3D (RT3D) content, which allows creators, ranging from game developers to artists, architects, automotive designers, filmmakers, and others to make their imaginations come to life. The success Unity has achieved in gaming has helped drive adoption of Unity in other industries. In architecture, engineering, construction, automotive, transportation, manufacturing, film, television & retail, RT3D allows users to not only interact with buildings and objects that don't exist yet, but also better understand existing conditions through a rich visual experience.
WIRED can currently clone the Greater Paris area from 2020 to 2030. However, it aims in the coming years to extend its scope of analysis to the whole of France, and then to Europe, thanks to a dedicated team of 15 people including 3D developers and 3D designers. These talented technical and creative staff reflect how the banking and real estate professions are evolving.
The tool aims to become cross-platform and incorporate virtual reality and/or augmented reality in the future.
A real estate investment innovation for the clients of BNP Paribas Real Estate
Thanks to this innovation, any BNP Paribas Real Estate employee can generate a swift, accurate, 100% immersive and mobile analysis to shed more light on the real estate decisions of clients.
By integrating the different aspects of the real estate market, WIRED can answer the questions of future investors and occupiers remotely, through a more sustainable and less costly experience.
Various 3D data visualisation projections have already been presented to BNP Paribas Real Estate clients, showing the benefits of this solution:
A foreign investor is interested in Greater Paris and wants to compare it to other European markets:

WIRED can be used to decipher specific features of different cities in detail, to calculate the trend of key fundamentals such as values over the next few years and to visualise the targeted assets, today and in the future - all remotely.

A client wishes to enquire about a large property scheme in the Paris region:

WIRED can be used to travel through time and space around the project, and to find out about the construction phases year by year in the district.
Eric Siesse, deputy general manager of BNP Paribas Real Estate Transaction concludes: "This new and immersion tool, which seeks to serve our clients, will enable our teams  to better respond to their questions and needs.  The fact that the data is supplemented with accessible open data in real time by our consultants, makes  the tool particulary accurate in its market analysis. We are convinced that these operational innovations are essential in  ensuring the flexibility  and efficiency of our business lines, and we are proud to be able to continue to revolutionise the market". 

VIVATECH 2021: BNP PARIBAS REAL ESTATE LAUNCHES WIRED, THE FIRST IMMERSIVE REAL ESTATE DATA ANALYSIS TOOL
PDF - 708Ko
International press contacts