Anticipating the office of tomorrow
For Nuveen, this new platform is now an essential tool for increasingly efficient management of its commercial real estate assets in Europe. It will allow us to better understand the changing needs of users over time and space, in order to design flexible and adaptable office spaces, and to offer innovative solutions at a time of changing work practises.  The platform will initially cover all office assets held within Nuveen's Cityhold Office Partnership (CHOP), Central London Office (CLOF) and European Cities (ECF) funds. It will be rolled out in 2021 and 2022 across its entire European office portfolio, the majority of which is in the UK, Germany, the Netherlands, France and Italy.
According to Nick Deacon, Head of European Offices - Nuveen Real Estate, "We believe that offices will continue to serve a purpose, but that they will not be able to continue to function as they have in the past. Occupier expectations have risen dramatically over the last five years. Technology, sustainability and well-being are now at the heart of their needs, and these trends have only accelerated with the pandemic. The office sector must therefore reinvent itself to remain relevant. It has to go beyond what is currently on offer - users are looking for what they cannot get at home. BNP Paribas Real Estate's European expertise and premium property management experience make it the ideal partner to achieve this. "
The Covid-19 pandemic has effectively nuanced, shaped and accelerated trends that had slowly emerged over the past decade. Collaborative working, urban centricity, connectivity, flexibility, reversibility and well-being at work have firmly and permanently established themselves at the heart of management, recruitment and talent retention strategies for many organisations.
To carry out this ambitious project, Nuveen has joined forces with BNP Paribas Real Estate in the form of a strategic partnership, thus creating an integrated solution that places the user at the centre of its concerns. 
 
A pan-European project
For Nick Deacon, there is no doubt about the relevance of this new property management model. He reminds us that "Today and in the post-Covid world, this 'client-centric' approach is more relevant than ever: for owners, employers and employees, the issues of social ties, health and well-being are paramount. Our service management platform has been designed with this in mind, to be as close as possible to the expectations of tenants, and to offer services that are not only an asset, but are now considered indispensable. In concrete terms, the platform will offer innovative services related to sustainable development, technology, connectivity and of course more traditional property management elements such as building maintenance and upkeep or rent and service charge collection.
Deployed across the European office portfolio, it will be headed by Nicolas Bastid, Senior Portfolio Manager for Nuveen in Paris, and Andy Booth, Senior Portfolio Manager for Nuveen in London.  On the BNP Paribas Real Estate side, the partnership will be led by Antoine Delomez, Account Director, Grégoire Tripon, Head of Business Development - Europe, and Steve Harber, Head of Property Management UK, from Paris & London.

Property management has evolved from simple property administration to the management of tenant relations, putting people back at the heart of our business
The creation of the Human Estate
Csongor Csukas, Head of International Property Managment for BNP Paribas Real Estate is delighted to have been selected by Nuveen to accompany them in this project. This new premise highlights how Property Management is able to work alongside the investor in a stronger way than before Covid-19 struck. According to Csongor Csukas "BNP Paribas Real Estate shares the same care for people as Nuveen. Beyond traditional property management, we are particularly attentive to human interaction and the user experience. The quality of the services offered to users is central to our thinking and the solutions we propose on a daily basis. Property management has evolved from simple property administration to the management of tenant relations, putting people back at the heart of our business, as we summarise in our "Human Estate" concept. This new approach to real estate puts the individual at the heart of the reflection to make the building more human: without them, the building has no reason to exist. 
In order to focus on people, it is all the more necessary to know them and therefore to develop "Human Learning". The interests of investors, occupants and users are aligned, since a user who is happy at work is a committed employee who will deliver a quality service and contribute to the success of his company. Each stakeholder in the user experience is therefore led to develop its awareness of the human element and to develop a close, quality relationship. The office then creates a fulfilling ecosystem that encourages interaction, innovation and creativity.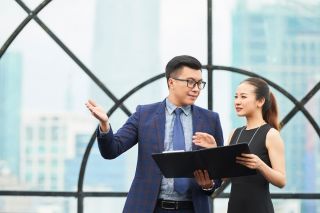 Property Management
As a trusted partner for our clients in providing technical assistance, rental management, follow-up and general optimisation of services to occupiers, the property management team at BNP Paribas Real Estate is becoming more and more service-oriented with the goal of improving performance and productivity to better respond to evolving client needs in a digital landscape.