SIGRID DUHAMEL JOINS BNP PARIBAS REIM AS THE PRESIDENT OF BNP PARIBAS REIM FRANCE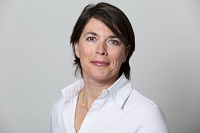 Sigrid Duhamel joined BNP Paribas REIM France in July and succeeds to Jacqueline Faisant, effective 29th September 2017. In her capacity of President of BNP Paribas REIM France, she will manage a team of 150 people, encompassing fund raising, development and marketing, fund investment, disposals and asset management as well as all functional activities. Sigrid Duhamel is also a member of the Executive Committee of the Investment Management business line of BNP Paribas Real Estate.
BNP Paribas REIM France is approved by the AMF*. In recent years it has strengthened its position as a major market player. BNP Paribas REIM France is part of the Investment Management business line of BNP Paribas Real Estate. "Sigrid will continue the extremely successful development of our French activities for private clients as well as institutional investors. By having the client at the heart of our activities, she will maintain and enhance the diversified investment strategy of BNP Paribas REIM. Our track record is based on long term outperformance and we define our success by the performance we deliver to our clients" states Barbara Knoflach, Global Head of Investment Management for BNP Paribas Real Estate.
Prior to joining BNP Paribas REIM France, Sigrid Duhamel was President of CBRE Global Investors France. She was formerly Corporate Real Estate Director of Groupe PSA, where she managed the global real estate portfolio.
Sigrid Duhamel is French and Danish. She is Civil Engineer and graduated in 1990 from Ecole Spéciale des Travaux Publics (ESTP). She earned her MBA from INSEAD in 1995.
* The AMF (Autorité des Marchés Financiers) is an independent public authority responsible for ensuring that savings invested in financial products are protected, providing investors with adequate information and supervising the orderly operation of markets.
Download the document

Press release - Sigrid Duhamel_ENG
PDF - 376Ko
International press contacts