Faced with demands that relate specifically to each sector of activity, Property Managers have begun to transform their practices, becoming more versatile and flexible. So, from Technical Managers to Building Managers, the Property Manager has metamorphosed into the perfect mediator between the building, its owner and its occupants. The Covid-19 health crisis has only served to reinforce this state of affairs as the Property Manager has been able to develop transversal knowledge specific to law, finance, human resources, communication and other much more technical areas. Impacted by digital technology and the rise of the smart building, property management has adapted by using data to optimise how we interact with a building. What's more, the role has become increasingly focused on building and maintaining solid relationships. 
Indeed, the strength of this profession lies in its commitment and availability to tenants. For at the heart of the system, whether physically or remotely, the Property Managers know better than anyone else how to facilitate the management of the building's services in order to meet everyone's expectations as best as possible.
 
Property Managers: Third party mediators and facilitators
Companies have understood that property management now focuses on the value of how we interact with real estate assets. Intrinsically linked to the experience of being at work, it makes it possible to promote the social link between employees and to enhance the value of spaces for greater flexibility. It is therefore the user experience (UX) that is now at the heart of such strategies. This includes internal social networks, relaxation areas, sports halls, and access to shared services such as the concierge, hairdressers, restaurants, dry cleaners, crèches, etc. The services offered within business premises have been developed to provide more advantages for its occupants, including looking after their well-being.
Thus, the fundamentals of hospitality management, initially designed for the hotel and restaurant industry, now apply to the company. Hospitality Managers and Customer Experience Managers have emerged to facilitate the development of third party services that are conducive to meeting, sharing and productivity. While this enhances the company's image, thereby attracting new talent, it also helps to build loyalty internally. 
While one might think that the post-Covid office building will be less service-oriented, this is not the case. Quite the contrary! Investors and tenant companies are now questioning how to make better use of their m² in a post-Covid world, and it appears that the health crisis will have accelerated the trend in terms of flexibility and the hybridisation of space. A certain number of landlords now wish to improve the quality of their buildings by transforming parts of their building into flexible space, thus creating the optimal conditions for tenant loyalty and positioning their buildings in line with market trends.
These new property management functions are helping to make the building a new space that fosters commitment, a place for an experience that corresponds to a company's values. The office is designed as an area of creativity and immersion, where collaboration is valued. If tenants are able to understand and use to their advantage the tools available to them, such as controlling the temperature and air quality, the Property Manager is able to further their commitment to the building. Social intelligence and empathy are the new skills which Property Managers must excel in, in order to bring a human side to a building's management that technology cannot provide. 
 
Adapting to technical progress
The Property Manager is therefore able to analyse the overall state of a building and suggest ways to improve its management (energy performance, sustainable development, security, space optimisation, etc.) and also to place people at the heart of this system, thanks to technology.
PropTech does not see itself as a competitor to "human" planning but rather as an indispensable partner in its implementation. The exploitation of data has therefore become an activity in its own right. The more technology develops within smart buildings, the more property management has to adapt and offer new services. By collecting data on customer satisfaction, it becomes simpler to offer personalised and efficient operating modes.
This allows tenants to connect with spaces and tools more spontaneously and to devote time to other things. In short, property management is made up of constantly evolving professions, capable of responding to precise needs, whilst bringing needs into one central place. 
What are the development prospects for property management in companies?
Trends related to well-being and personal development are continuing to grow in importance. Property management has also been a driving force behind well-being labelling schemes for company buildings. Green management also seems to be finding its place at a time when issues related to sustainable development and carbon footprint management (waste management, biodiversity, reduction of consumption, circular economy, etc.) appear to be central and valuable for assets. Environmental certifications are also of growing interest to investors.
Of course, the development of digital tools and software is inexorably continuing its race towards progress and improved ways of using it. The Property Manager is becoming a real conductor whose already multifaceted priorities will continue to expand, becoming human, service and experience focused.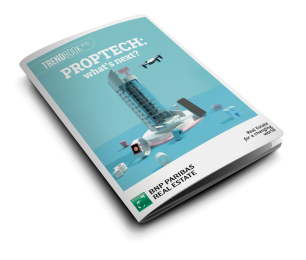 Download the PropTech TrendBook
Find out how sustainability, investment and collaboration are being changed across Europe.
Download the TrendBook here