1 - The office property market is proving resilient
Since the Covid-19 crisis, the office property market has been facing unprecedented events, both in the way buildings are used and in the relationship between occupants and their workspaces. Demand for office space in Europe fell sharply in 2020 and volumes are now below their 10-year average. This decline in volume, which began before the outbreak of the pandemic, accelerated in Q2 and Q3 as lockdown measures were imposed across Europe. As such, volumes fell by 41% compared to 2019, according to estimates by BNP Paribas Real Estate. 
Despite this, the impact of the Covid-19 crisis on prime stocks in Europe should remain extremely modest. A decrease of around 1-3% on average is expected. The main business districts will remain the most sought-after sectors and prime offices, the most attractive assets for occupiers. With strong pre-pandemic fundamentals, between low vacancy rates and rising rental values, the office property market is expected to show resilience.
 
2 - Office property remains a must
This global experience has called into question more than ever before our ways of working. Will the role of the head office evolve? The health crisis is now accelerating trends, particularly in terms of the hybridisation of spaces. While office buildings, and more particularly the head office, may well undergo transformations in terms of layout, they will remain essential. Indeed, the latter contributes to a tenfold increase in creativity, interaction, a sense of community, innovation and of course corporate culture. Head offices remain the "mother ship" of any company.
3 – Will remote working become widespread?
In order to respect the health measures and social distancing implemented since the beginning of the health crisis, remote working is now becoming a permanent feature of employees' daily lives. It meets their expectations and the trend is prominent on a European scale. According to a survey conducted by Yougov/Otka of 6,000 employees in the United Kingdom, Germany, France and the Netherlands, 55% of respondents believe that their productivity has increased, as working from home gives them more autonomy in organising their working day. However, the experience of working from home is not to everyone's liking. Returning to the office is essential for the well-being of many employees. The idea of 100% remote working, which some companies are considering, is not ideal for everyone. An Ifop survey carried out in December 2020 for the SFL revealed that employees would like to be able to work an average of 2.1 days a week, but no more. Finding the right balance is therefore vital.
4 - The flexibility of spaces is essential
The office building will now have to respond to a new dimension of agility. Indeed, moving towards flexible spaces makes it possible to offer a greater hybridisation of interaction and thus enhance collective, creative and collaborative intelligence. The flexibility of the layout of spaces according to how they are used and purposed is thus likely to be reinforced. To meet the challenge of "more rather than less m²", office buildings must prove to be resilient.
5 - Security is key element for the office building
The safety of people, which has been accelerated by the current crisis, will have to meet new expectations. Indeed, these relate primarily to air quality, the modularity of workspaces, the adaptability of office furniture, the privatisation of spaces and the optimisation of how people move around an office building. Our office buildings will now have to be designed to adapt to extraordinary events such as the health crisis we are going through, and the security aspect is now a priority.
6 - Property Management, an essential role in the property ecosystem
Throughout lockdown, Property Managers have been in a central position for tenants and investors to ensure the safety of people, while also supporting the economy. Property Management has thus had the opportunity to reassess the essential needs of the industry's players, in particular by closely monitoring the gradual return to work. This was undertaken not only to support clients, with recommendations to enable them to return to work, but also in order to be better prepared for future crises.
7 - Investors remain confident in offices
The office investment market was the sector most impacted by the Covid-19 crisis in 2020, after the hotel sector. It represents €65 billion and recorded a drop of -43% over one year.
The downward trend in prime office yields, which has been underway for several years now, has come to a halt in most markets.
Throughout Europe, each market is responding according to its fundamental characteristics and not only to government decisions or the health impact of the Covid-19 virus. However, commercial real estate should continue to play its role as a safe haven and demonstrate its resilience. Office property will remain one of the preferred asset classes for investors, simply because it corresponds to a fundamental need for wealth generation in multiple sectors of activity and because it is based on a proven legal and economic system, making it easily adaptable.
8 - User paths at the heart of the discussions
The office has always been in a state of flux. While it will remain a strong asset, Covid-19 may well accelerate some trends in how it is used. Indeed, if 100% of the workforce is not on site, its function will naturally change and what happens there will take on greater meaning. Offices will be used for meetings, social interaction and become a place where corporate identity will be central. The space must be attractive, functional and provide the tools and experience that the home cannot offer. In addition, the office building is a reception area, which also requires specific pathways. The question of meaning and added value thus involves identifying a different welcome and service offer according to the type of visitor, whether they are candidates, prospects, customers, employees, service providers or local residents. In addition, the flexibility of the layout according to interaction will undoubtedly be reinforced.
9 - Players in the sector are even more committed to responsible property ownership
We have found that companies who have taken environmental, social and governance (ESG) criteria into account, have suffered smaller declines than companies that have chosen not to engage from the beginning of the health crisis. With the development of e-commerce in particular, urbanisation needs to be rethought to develop sustainable and inclusive city solutions: extra-urban mobility, smart city solutions, investment in public infrastructure, focus on public safety and health. For example, the health crisis is raising awareness of the responsibility of real estate with regard to the environment and society. The sector contributes to greenhouse gas emissions, artificial soil and environmental fragmentation - factors that erode biodiversity - as well as to the exploitation of natural resources. More than ever, the issues of climate change, biodiversity and the circular economy must be placed at the heart of the debate for a positive environmental and social impact.
10 - Technology at the service of the office
Technology is part of a rationalisation process. By getting to know when and how workspaces are used, it is possible to adjust them to varying needs. This can and should apply to all office buildings. Start-ups and innovative companies are now developing tools to enable building occupants to adapt, vacate or expand depending on the economic situation. Innovation also involves the modularity of workspaces. Finally, technology will help the office building to achieve greater flexibility, but it will also need constant updating and serve as a mechanism to ensure that the office building fulfils its main objectives; being ready for change, bringing people together and providing the right service for its occupants.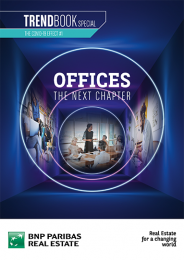 TrendBook Offices: the next chapter
What is life in our offices going to look like post Covid?

Take a deeper look at the trends, innovations and new ways of interacting with space that are going to affect our professional spaces.
Download our TrendBook here