Technology and changing supply chains pave the way
E-commerce has been a key driving force in logistics real estate for the past 20 years. But the technology that it underpins is bigger than on-line retailing. E-commerce started 20 years ago with the advent of Enterprise Resource Planning (ERP) systems in the late 1990's, enabling retailers and distributors to have a better view of inventory and orders.  Over time, the sector and product has matured to the point where "same day delivery" and "XXL" facilities can co-exist alongside much smaller city-distribution buildings.
Throughout the process, location is of strategic importance and proximity to population and transportation is paramount. Good locations are generally those with the best access to key delivery routes via airports, ports and major transportation hubs with proximity to labor, consumers, and transportation connectivity. The BNP Paribas Real Estate team works with an internally developed methodology: The "E-Commerce Indicator" to estimate the impact on behalf of individual buildings and clients.
Main logistics hub in Europe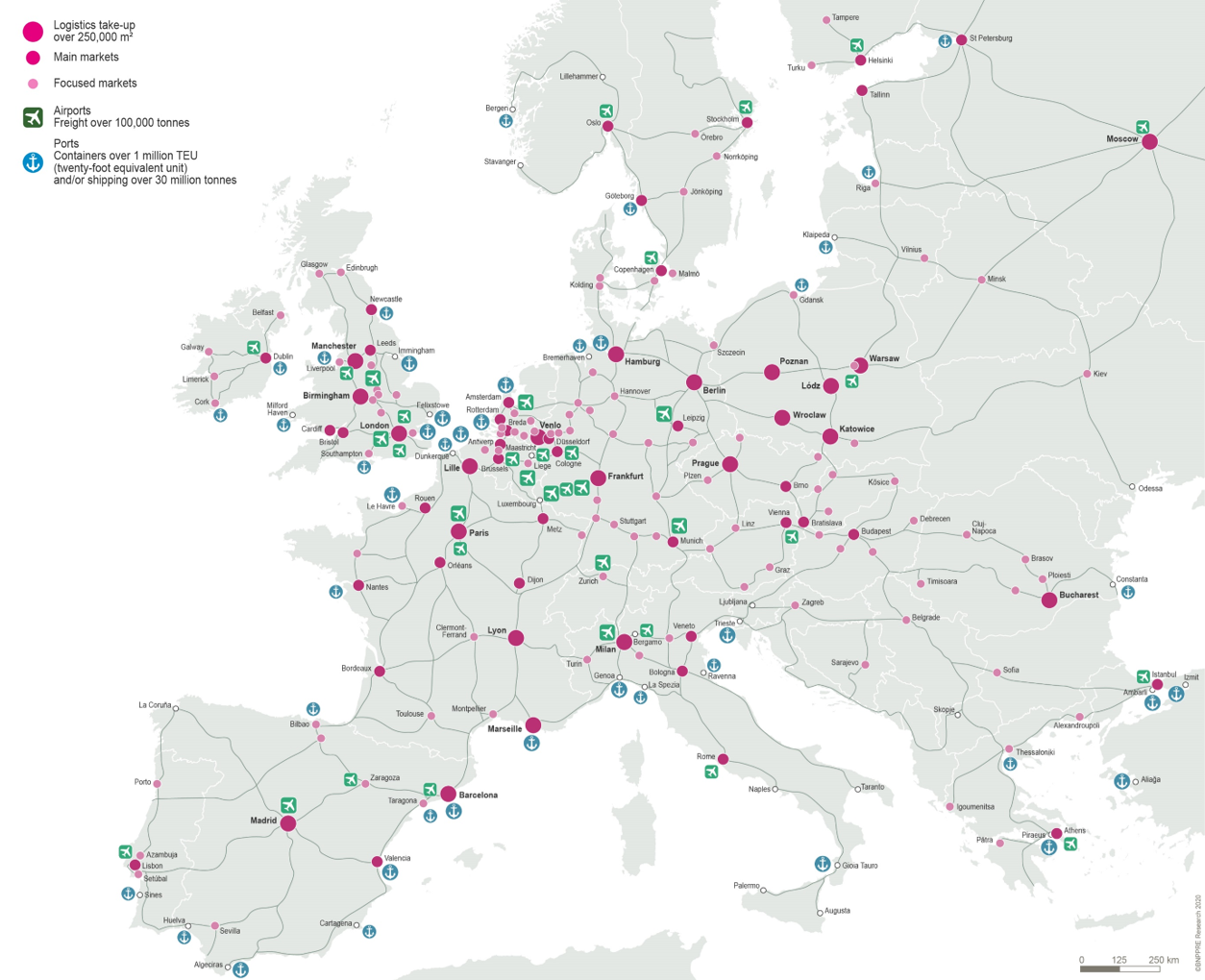 Q4 2020 figures
The warehouse of the future
Innovations in automated delivery will further shape consumer purchasing habits and supply networks. The trend toward bigger warehouses will also likely continue as relatively cheaper warehouse space replaces more expensive retail space. Modern logistics real estate buildings will continue to incorporate such features as higher floor-to-ceiling height (as warehouse handling equipment can stack goods higher), more mezzanine, more power, electric dock doors, LED lighting and ESFR sprinklers to name a few. The market will also see more hybrid logistics systems, including shared warehouses, aerial warehouses hosted on roofs and mobile warehouses hosted on moving vehicles.
The logistics revolution
Urban logistics remains an economic and ecological challenge. The last mile to deliver a package represents more than 20% of the total delivery chain cost, while freight transport often accounts for a quarter of a city's CO2 emissions.
Drones have been touted as one possible alternative for future supply chains. There are many other changes currently taking place that will have just as large an impact on supply chains and how real estate space is used.  These include the Internet of Things, driverless cars and 3D printing to name a few. 
Your European partner in logistics real estate
Logistics has been changing and so has logistics real estate. Success in logistics and industrial real estate depends on having the building in the right location and on the right terms and price. Whether you are a user, developer, or investor, BNP Paribas Real Estate is at the forefront of market evolutions, and has the experience and tools to help your business succeed.
BNP Paribas Real Estate has brought thought leadership to the field and has helped investors and occupiers manage the growth in this sector and benefit from it.  
Whether you're looking to lease your warehouse space, purchase a modern production facility to diversify your investment portfolio, manage the profitability and long-term value of your current assets, or sell an existing asset , we offer a comprehensive range of services for the logistics and industrial sector including property development, transaction and consulting, occupier solutions, International Investment Group, valuation, property management, and investment management.
Our trusted expertise at your service
Over 50

research analysts in Europe to provide you with up-to-date real estate advice
Local knowledge and global experience
Throughout Europe, our logistics real estate experts have deep local relationships and a thorough understanding of their markets to help occupiers, developers, and building owners achieve their business objectives. Whether our investors are buying or selling, our teams have unparalleled experience with transaction sourcing and execution for European logistics and industrial real estate.
Expert advice to better anticipate the market
As purchasing patterns and technologies are evolving rapidly, it is sometimes difficult to keep up with the latest changes taking place in the logistics and industrial sector. At BNP Paribas Real Estate we have developed a set of metrics to help you anticipate and be prepared for the future. We correlate the risk of future functional obsolescence to a handful of specific, measurable attributes that can be assessed on a building-by-building basis within a portfolio. As a result, we are able to provide you with leading-edge quality advice.
Download the report

European Logistics Market – Property Report Q4 2016
PDF - 2.4Mo
A look at BNP Paribas Real Estate Supply Chain & Logistics projects across Europe
Letting, Czech Republic
Our local experts acted on behalf of a leading corporate electronics manufacturer in securing 4,500 sq m of production space in Brno.
Investment Advisory, France
BNP Paribas Real Estate worked in exclusive mandate for the sale of the largest French logistics portfolio of around 540,000 sq m.
Site Selection & Tenant Representation, Poland
BNP Paribas Real Estate represented the owner to renegotiate a lease contract with a logistics operator (16,000 sq m in Grodzisk Mazowiecki, in the Warsaw region) to negotiate the expansion for an automotive tenant to a BTS, including project management of the construction (12,750 sq m of warehousing and production facility in Legnica, Lower Silesia Region).
Valuation, Slovakia
BNP Paribas Real Estate teams valued two logistics parks with a combined area of 130,000 sq m as a part of the commercial advisory related to the acquisition of a pan-European industrial portfolio.
Valuation, Sweden
Our Swedish Global Alliance member, Newsec, acted on behalf of Bockasjö when they sold three properties of 116,000 sq m in prime logistics area to a new jointly owned company with Alecta named Logistikfastigheter Sverige AB.