BNP Paribas Real Estate Research said the moderate economic growth seen in Europe had proven resilient despite some adverse shocks. Economic activity in the UK remained healthy at the beginning of 2017, driven by strong domestic demand as well as exports, thanks to the fall of the pound against other major currencies. That's why a respectable GDP growth is expected in the UK for 2017, levelling off at 1.8% compared to last year. The Eurozone should enjoy growth close to 1.6% in 2017, a slight decline compared to last year (1.7%), mainly due to political uncertainties such as negotiations around the UK's exit from the European Union, and national elections in France and Germany.
In 2017, some key economic drivers to watch out for in real estate markets. First of all, inflation is likely to rise significantly to circa 2.5% in the US, over 3% in the UK, where currency movement is also playing a role, and to circa 1.5% in the Eurozone. This is good news for rental revenue growth, which will be impacted upward for years to come. Also, central bank policies will remain supportive of the economy. In both the Eurozone and the UK, base rates are likely to be stable throughout 2017. Also, government bond yields should still remain low this year, although they have risen markedly in recent months.
Samuel Duah, Head of Real Estate Economics at BNP Paribas Real Estate, said: "The rise in many European sovereign bond yields has occurred on the back of both expected increases in inflation and anticipated improvements in economic conditions. For this reason real yields have remained stable and have even fallen in some countries. This underpins our belief that prime office yields in the European gateway cities are unlikely to rise in 2017, despite record low levels. In fact we anticipate that some cities will see further marginal compression in 2017, particularly in continental Europe."
Richard Malle, Global Head of Research at BNP Paribas Real Estate, said: "Besides the relatively good health of most occupier markets, total returns are expected to be particularly robust in numerous European cities for 2017, supported by significant capital growth."
In 2017, as we expect capital losses for offices in Central London, total return (including income return and capital growth) is anticipated to be negative (circa -5%). In Spain, a double digit total return is again expected (13% in Madrid and 11% in Barcelona) thanks to a good orientation of all economic and property fundamentals. Total return will remain robust in most major cities of Germany, led by Berlin (+12%), thanks to down yields and up rents. In the Paris Region, total return should be again respectable, especially in La Défense (+12%), which shows the highest potential of growth in the Paris Region over the coming years.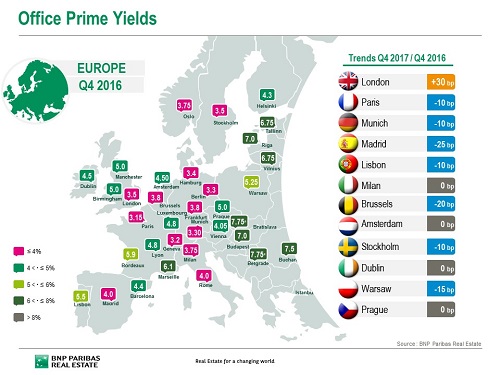 Download the document

bnp_paribas_real_estate_forecast_press_release
PDF - 364Ko
International press contacts
Nicolas OBRIST

Amira TAHIROVIC - HALILOVIC