Novartis Campus: Well-Being in Real Estate
When the French branch of the international pharmaceutical company, Novartis, began its search for a new campus to house its 3 divisions; one of their biggest concerns was creating a space that responded to its desire to promote well-being at work. With the help of BNP Paribas Real Estate, the resulting project, "Novartis Campus," offers 42,209 sq m of prime office space in the Rueil-Sur-Seine business district in Ile-de-France, next to Paris.
The project includes extensive services for occupiers and seamlessly blends into the surrounding city all while earning an exceptional environmental quality rating. Learn more about how the project came to fruition below.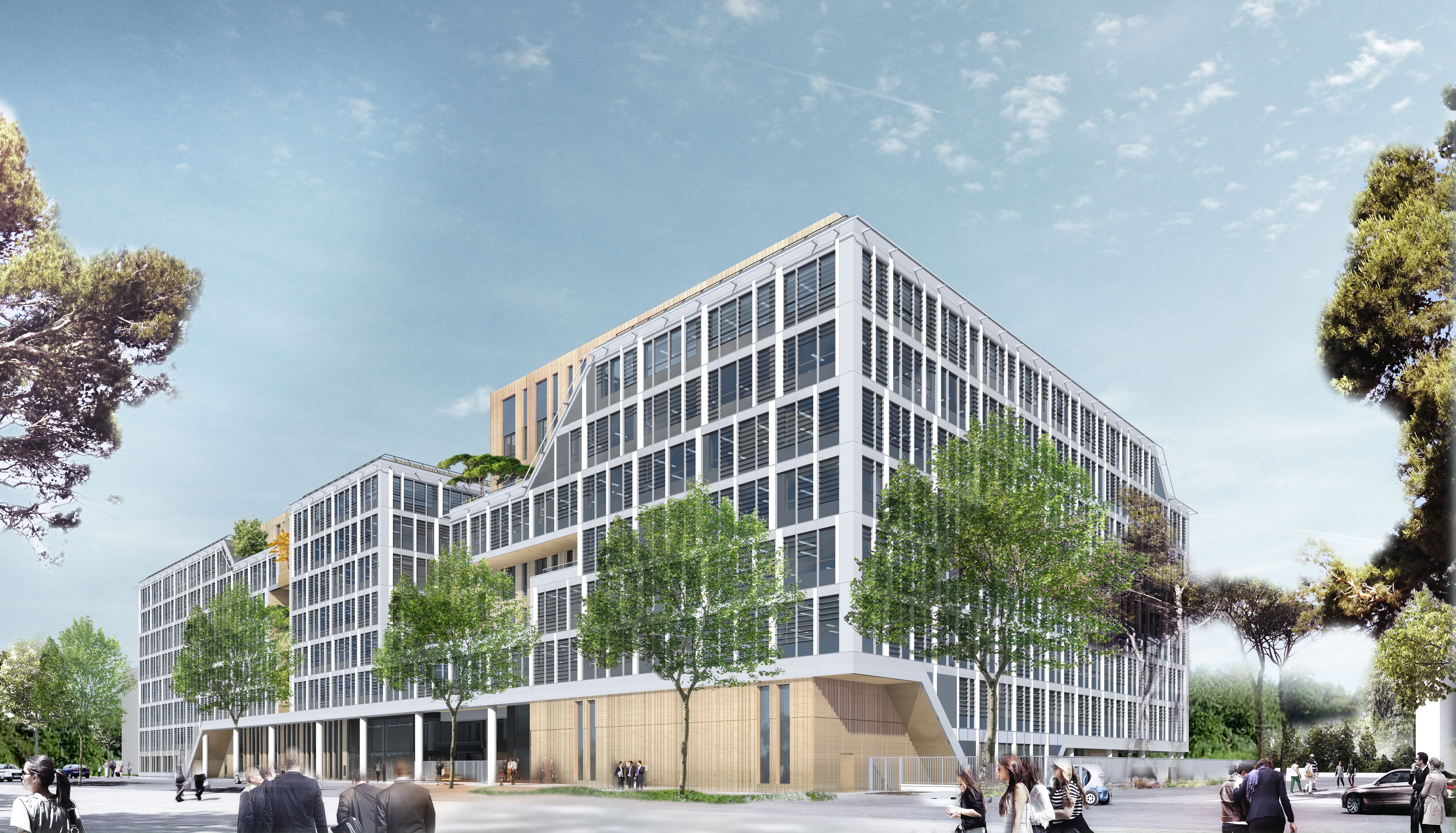 Project Vision
Novartis is a global company with strong values in health and well-being. "Be Healthy" is its flagship programme designed to inspire employees to achieve optimal health. Every year the "Be Healthy" celebration week highlights the link between physical health and emotional well-being. In addition, the company has received numerous awards for its health initiatives aimed at employee happiness and productivity, including the Global CEO Cancer Gold Standard and the Value-Based Health Award from the Institute for Health and Productivity.
In its search for new headquarters, the company wanted the building to represent the company's core values of employee happiness and well-being.
In fact, Novartis isn't alone, BNP Paribas Real Estate has identified a major trend in real estate today is the concern for occupier well-being. The goal is to offer services to occupiers so that they can be both productive and happy in their office environments. In addition, well-being services help companies both attract and retain talent. BNP Paribas Real Estate has implemented such services at its own headquarters (link to Innovation street) and in offices around the world to experiment and discover new services for occupiers to achieve optimal performance and well-being.
The BNP Paribas Real Estate Property development team used their expertise and insights drawn from global research to develop the project. In responding to the brief, the Property Development team at BNP Paribas Real Estate conceived a building that could represent what is possible for Well Being in real estate and highlight the importance of services for occupiers in improving productivity and performance.
To answer this request, BNP Paribas Real Estate consultants considered a number of elements: Design, environmental impact, location and service offerings.
Discover the BNP Paribas Property Development team's service offerings
The resulting campus was designed by the architecture firm Quadri Fiore and consists of a ground floor, 7 upper floors and 4 basement levels. The building is located in the heart of the Rueil-Malmaison district, where neighbours include CAC 40 companies, and remains a mere 4 km from La Defense and 8 km from central Paris. In addition, the Campus offers over 4,253 sq m of services for occupiers and has full HQE exceptional rating and an excellent BREEAM certification.
Over 4,253 sq m of services

for occupier Well-Being

 Fitness area, Club Lounges, Espresso bar, Cafeteria, restaurants

80% of areas receive direct natural light

2000 sq m of green space: landscaped patio and terraces

                                                     
A design that considers energy efficiency

HQE Exceptional Certification

BREEAM Excellent Certification

Effinergie+ label, 40% more efficient than the French standard
A building that blends into the city

Located in the heart of a business district, near Paris

Street level designed to enhance circulation of traffic.
"Novartis has always been a forerunner when it comes to considering well-being for employees. In answering the client ask, we considered our own commitment to occupier happiness. In practice, this meant incorporating a maximum amount of services: from a fitness centre to an espresso bar, and going beyond traditional services to consider environmental elements. The building itself is equipped with 2000 sq m of green spaces and terraces adding to general comfort and ensuring continued success at work."
                                      Laurent Kaisin, Property Development manager, BNP Paribas Real Estate
Well-Being at work in Tomorrow's Real Estate
The Novartis Campus is a symbol of the transforming needs of Real Estate projects today. It's no question that well-being at work  has become a priority for companies adapting to changing working methods. From construction companies, to real estate property development and property management firms, "well-being" is now considered to be a game changer. To meet that challenge, BNP Paribas Real Estate consultants included a comprehensive service plan for the project and included a mixed use of space to maximise the buildings green spaces and exposure to the city while retaining excellent energy certifications.