BNP Paribas REIM's Next Estate Income Fund III (NEIF III) secured further €50 million equity commitments from two new European institutional investors in the first quarter of 2022. Total commitments to date stand at €568 million, giving it a total investment capacity of over €900 million.
NEIF III was launched in 2017. It is a pan-European open-ended fund managed by BNP Paribas REIM. It provides institutional investors with an international diversification in the office sector across the key cities of the Eurozone, with a clear ambition to make environmental and social issues central to its strategy. The fund aims to build a diversified portfolio of modern office buildings with a systematic environmental certification in use (BREEAM Very Good or equivalent minimum), to generate a regular and stable income with a target income distribution of 4% net per annum and a low risk profile.
The fund already benefits from a well-established portfolio and a rapid deployment timeframe with high visibility for new investors wishing to join the fund on the next closings.
NEIF III targets assets with a good level of environmental certification, promoting strong ESG commitments; an essential criterion in the investment decision process. With this in mind, NEIF III strengthened its environmental focus in late 2021 with the support of the fund's investors and complies since then with the requirements of Article 8 of the Sustainable Finance Disclosure Regulation (SFDR). Also in 2021, the fund improved its GRESB (Global Real Estate Sustainability Benchmark) rating, to achieve top #1 ranking in its category for core office funds invested in Western Europe.
Over the last two quarters, the fund has acquired 4 new assets in Brussels, Berlin, Vienna and Luxembourg. These modern office buildings are environmentally certified and located in attractive districts of these various capitals. These latest acquisitions have enabled NEIF III to diversify further its portfolio, which now consists of 11 operating assets representing a gross asset value of around €800 million, and to deploy all of its capital as of 31 December 2021.
A new building has recently been secured. Located in one of Milan's business districts, the asset has been completely refurbished to a high standard and is to be certified LEED Platinum, BREEAM Very Good, Wiredscore and Well Silver. It is 100% pre-let with a lease duration of 13 years. This 12th deal should enable the capital raised in the first quarter to be deployed this summer.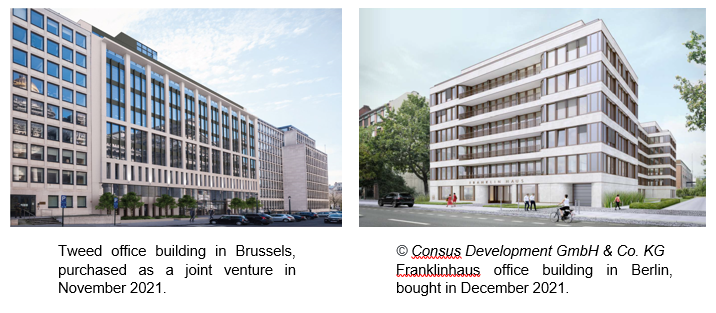 "Our ambition is to continue to grow the NEIF III fund through further capital raising in the coming years. The goal is to reach a portfolio value in excess of €1.5 billion. The fund already brings together institutional investors from six European and Asian countries" comments Henri Romnicianu, Head of Institutional Investor Relations for BNP Paribas REIM.
"NEIF III has a robust portfolio and is looking at new acquisition opportunities in major Eurozone cities. Our investment teams in Europe are constantly analysing the sustainable office real estate sector. Securing this latest asset in Milan is a fine example of the current momentum" adds Dorothea Koestler, Fund Manager for BNP Paribas REIM.

PR REIM_NEIF III overview_210622
PDF - 629Ko
International press contacts