Nature: a fundamental need, highlighted by the lockdowns
In March 2020, faced with the outbreak of the Covid-19 pandemic, nearly four billion people around the world were asked to isolate for weeks on end. Deeply disrupting our lifestyles, the health crisis has revealed the fundamental need to be connected to nature, especially for city dwellers. Thierry Pacot (philosopher and town planner) remembers that parks, gardens and river banks were literally taken by storm after the first lockdown. While we will only be able to truly analyse the consequences of this crisis on environmental awareness within two to three years, it is clear that the events of 2020 have given rise to a new relationship with nature when it comes to health concerns and well-being. Likewise, the pandemic has also underlined how much the feeling of freedom is linked to contact with the outside world, with fauna and flora.
For Marianne Louis (Director General of the Social Union for Housing), even if some of the occupants of social housing were able to take advantage of private outdoor spaces (balconies, terraces, gardens, etc.), not being able to access green public places has deprived city dwellers of social encounters and interactions. These lessons show that the issues of conviviality and living together also play out at the level of the building: a shared space within a residence makes it possible to reconnect with nature and create social ties.
Now, new social housing includes a diversified offer in terms of specific green places, whether they are shared gardens, planted terraces or private balconies. These real estate projects thus call on various teams to bring together the know-how of local authorities, landscapers, town planners and architects. Social landlords are also undertaking initiatives concerning urban agriculture which, although they are not intended to reach entire neighborhoods, nevertheless make it possible to recreate a link with living things. Some projects are also initiating new ideas concerning, for example, the innovative new use of basements to install mushroom farms and as such produce locally and in short circuits. 
 
Reconcile biodiversity, real estate and urbanity
If it is still too early to draw all the consequences of this health crisis, we know that it is accelerating major trends already present before the Covid-19 pandemic and in particular, that of systematically integrating nature into the urban environment. A few years ago, the real estate industry relied on models to build in a more environmentally friendly way. There is for example the BiodiverCity labels, the integration of planted islands or accessible rooftops. In the post-Covid period, these considerations, technical solutions and equipment must systematically and imperatively be the subject of all urban and real estate operations.
At the same time, the relationship with land needs to be changed: even if they have not been built, a square, an green space or shared gardens represent real added value in terms of quality of life in the city. Clearly, we must reconcile the built with biodiversity. And this has already been the case for several years for BNP Paribas Real Estate, which notably hosts a 600 m² vegetable garden on the roof of its current premises in Issy-Les-Moulineaux (recognised by the Biodivercity Life label). For Thierry Laroue-Pont, this first experiment played the role of a "natural start-up to which we also integrated beehives, which, at the time, was really a precursor". For Métal 57 (BiodiverCity Construction Label) the future headquarters of the group currently under construction in Boulogne, the 600 m² becomes 3,600 m² of planted rooftops, also including educational workshops. Through this project, as Thierry Laroue-Pont underlines, BNP Paribas Real Estate goes "well beyond a simple communication operation because biodiversity is an extraordinary vector of value for the company, for our partners and among investors ".
As such, BNP Paribas Real Estate carried out in 2020, in partnership with Ifop, a study which confirms this need for greenery: "Outdoor spaces (gardens, terraces, balconies, etc.) are clearly a vital criteria which the French see as hugely important (81%) "specifies Thierry Laroue-Pont.
As so, office assets are dramatically impacted by the health crisis both in the way they implement more biodiversity but also in their very day-to-day usage.
The change in take-up represents a great opportunity to offer our investors, our users and our private buyers mixed way of using a buildings including in home ownership, co-living, offices and of course large terraces or rooftops
These new ways of conceiving real estate must be based on the concept of "capable" spaces, that is to say adaptable, flexible and reversible.
In order to best respond to this new paradigm, BNP Paribas Real Estate has merged its business, residential and major projects real estate development branches. The new off-plan residential real estate now include teleworking packs, WIFI, accessible and shared roof terraces as well as removable partition systems allowing total modularity of living spaces according to the needs of each individual. 
Thus, the greening component must now find a central place at the heart of all real estate projects: "In the same way that architects, sociologists, philosophers and researchers are integrated into urban projects, today we must systematically integrates landscapers and green space professionals into all of our real estate programs, "concludes Thierry Laroue-Pont.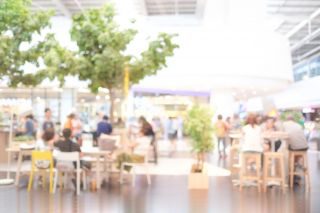 Our CSR commitments
Our Corporate Social Responsibility