Investors and retailers show swift adaptation to new consumer needs, especially new environments and technologies.
Thanks to its databases and reports covering the main European markets, BNP Paribas Real Estate provides an in-depth understanding of key market trends as well as the forecast of the retail real estate market in the "Let's talk retail" report.
Patrick Delcol, pan-European Head of Retail, said: "In investing it is always hard to fight a sentiment. No less so when considering the negative popular perception that surrounds the retail property sector. Successful investors understand the need to take a closer look because it is in overlooked property that true value often lies. Institutional investors have not stopped investing into retail property but are shifting their focus to units that appeal to retailers adapting to new consumption patterns. For investors these are the retail parks, outlets, and high street segments that are the most secure in their eyes."
Retail sales are growing all over Europe
Within the Eurozone, retail trade will stand at +1.6% in 2018 and should reach +2.0% in 2019. In the three largest European markets, in 2019, Germany, the UK and France retail sales growth will continue to increase by more than 2,0%.
Patrick Delcol commented: "Successful retailers (particularly fashion retailers) show swift adaptation to new consumer needs, especially new environments and technologies. Most today place their space productivity at the top of their strategy agenda, even if it causes an expansion slowdown. The consequent closures, lease term renegotiations and store downsizing cause headaches for landlords.
The finger often gets pointed at online retail here, but it cannot be used exclusively as a scapegoat because it exposes some property as not fit for purpose."
Consumer habits are evolving with increasing online shopping purchases. Online sales represented in 2017 nearly 9% of total European retail sales. European people and especially Millenials enjoy going to big shopping centres with highest proportion recorded in Romania (87%), Portugal (84%) and Spain (83%). They also enjoy visiting local shops (70%) and large specialist stores (69%).
Investment: slightly increase over the last twelve months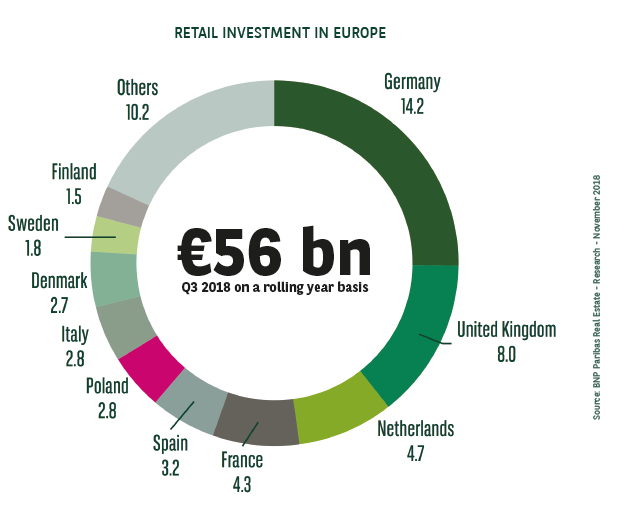 At €56 bn on a rolling year basis, retail property is the second largest investment asset (21%) after offices and grew by 1% compared to the same period in 2017.
Among the main European markets, Germany, the UK and France account for 47% of total retail investment.
From Q1 18 to Q3 18, Germany (+4%), the Netherlands (+29%), France (+14%) and Italy (+16%) recorded rising retail property volume at the opposite of the UK which has dropped by -19%. Thus, over the first nine months, retail property investment has been slowing down (-6%), reaching €35bn. Even though its share of total investment is decreasing, retail property volumes remain higher than the 10-year average of €31 bn.
High streets prime rents remain high values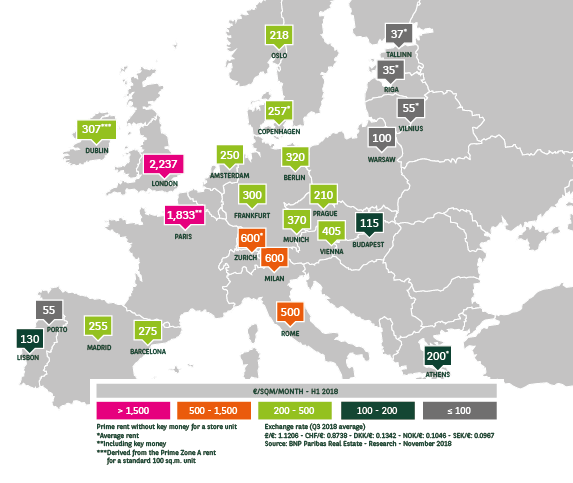 London, one of the key global locations for the luxury segment in Europe, ranks first by rental value in the prestigious Old Bond Street.
Paris's Avenue des Champs Elysées which attracts more and more premium brands should still record increasing prime rents thanks to the opening of new flagship stores in 2019.
In Milan and especially in via Montenapoleone, rental values are rising due to a lack of available products. In Germany, high street prime rents in Berlin and Munich are expected to be stable over the next few months. Grafton Street, the most valuable and most sought-after location for Irish retailers is currently benefitting from a revitalisation of the surrounding streets and recording steady rental value growth.
New entries in Europe
Over this year, international retailers have continued to expand in Europe. Some countries saw the arrival of new brands. Indeed, Decathlon is opening stores for the first time in Lithuania, Ukraine and Ireland. Apple and & Other Stories set up debut stores in Vienna's Kärntner Straße. Big Swedish retailers are opening stores in Ukraine (H&M in August 2018 and Ikea in 2019) thanks to the country's improved business climate. The Irish retailer Primark will enter Poland mid 2019. London remains an attractive city for international famous brands. Microsoft selected Regent street in London to set up its first European store. Also in the luxury segment, Jimmy Choo and Golden Goose Deluxe Brand are opening their first stores in Denmark in Copenhagen's Købmagergade.

Press Release let's talk retail Q3 2018
PDF - 417Ko
International press contacts