The PropTech landscape
As PropTech continues to gain traction in the real estate industry, partnerships between different sectors and industries, as well as open innovation between larger corporations and start-ups, are important elements that are shaping the landscape. 
At Plug and Play Smart Cities, we had a lot of programmes around PropTech on its own, in terms of IoT, mobility, and sustainability. Working with large corporations on the idea of the Smart City quickly showed us that working in siloes like that was not as effective as it could have been. There is now a significant need for different industries to work together to drive innovation forward. As each industry becomes more interested in the technologies of others, collaboration is becoming key. For example, real estate companies have become more and more interested in the innovations of the mobility industry. The question of how buildings should be adapted to the arrival of self-driving cars has forced the real estate sector to look outside of itself and see the bigger picture, turning to the mobility sector for innovation, new ideas, new technologies, and solutions. The idea of the Smart City programme is not to be focused on one industry, but to find ways for the different industries that are tackling Smart City issues to have a platform on which they can innovate and work together.
 
Smart Cities and cross-industry partnerships
When it comes to Smart Cities, the development of such programmes has continued to drive partnerships between industries. The first Smart City platform was launched in Paris with 'Le Grand Paris' and the Olympic Village. The current government is a strong supporter of start-ups and innovation and therefore decided to reinvent the wheel when the time came to put out tenders. Instead of requesting tenders for just a single building, they put out tenders for entire areas. As opposed to thinking of a single building, developers had to ask themselves how they could improve an entire community or neighbourhood, while also keeping the area in contact with neighbouring communities. This context is what created the opportunity for the Paris Smart City programme to develop, by bringing different players to the same table and encouraging them to work together towards the common goal of improving the community.

Corporations see the value in working together and, by uniting forces in PropTech, companies will be able to stay ahead of the game when it comes to external competitors.
Partnership models: incubation vs pilot
As per the exact models of partnership, there are a number to consider, including the incubation model and the pilot model. As larger corporations start to look to other industries and players for innovative solutions, they've realised the huge potential of start-ups and have started to look into integrating them. 
Incubation is particularly valuable when looking at the pre-product, which is the point of conception when the product is still just a good idea, but one that might not be enough to enable large corporations to stay on profit tracks. BNP Paribas Real Estate is a leader in this industry because of a firm belief in the success of this model despite it being time-consuming and risky, as the resources involved in the operation of incubation models are considerable.  
Another partnership model is the pilot model. Many companies are now attending large events such as the Barcelona Smart City Summit in order to identify start-ups that that have already got a product that is able to be scaled, and then use that to really develop a new product line, new revenue streams and improved customer experience. 
Open innovation: the key to finding new ideas
Open innovation is another solution to finding new, innovative ideas. A concept that originated in other industries a while back has begun to be more prevalent in the real estate industry. The idea is that primary competitors can work hand in hand on the same platform. While initial concerns about giving away trade secrets are valid, the final conclusion is that working with different players, learning from them, sharing experiences and growing together is mutually beneficial for all of the parties involved. Corporations see the value in working together and, by uniting forces in PropTech, companies will be able to stay ahead of the game when it comes to external competitors. As there are many different companies all using PropTech, open innovation between, for example, a construction company and a real estate developer, makes sense. As a real estate developer, it's important to make sure that construction companies are bringing their best skills to the table and that they have the latest innovations, and by understanding their industry they can be challenged in their own field. We must remember that a rising tide lifts all boats. So, it's about really collaborating with those different players, learning from them and their experience, and seeing what can be improved. Understanding what worked for them and what didn't work for them, and then sharing that experience and growing together is the final goal of open innovation. 
Whilst we are not at a point where all these models are being applied in real estate, we are certainly getting closer and closer to it. It's now time to really start to look outside of a company for further knowledge and the deployment of certain initiatives. It is really through open innovation and cross-industry partnerships that we are truly helping to foster change in the PropTech industry, while continuing to propel shared learning and growth.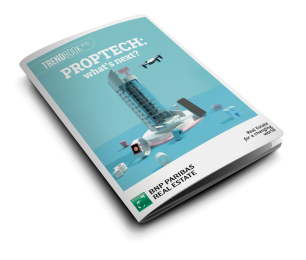 Download the PropTech TrendBook
Find out how sustainability, investment and collaboration are being changed across Europe.
Download the TrendBook here