Guillaume Sottil appointed Head of corporate development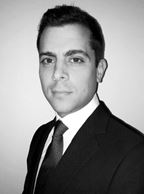 Guillaume Sottil is appointed Head of Corporate Development at BNP Paribas Real Estate, effective February 2nd 2018.
In his new role, Guillaume will be in charge of originating and executing external growth opportunities, of monitoring the market and competitors' activity, as well as supporting the implementation of key strategic initiatives on behalf of the Executive Management of BNP Paribas Real Estate.
Guillaume will report to Nicolas Becker, CFO of BNP Paribas Real Estate.
He succeeds Sebastien Rubinowicz who took another position with the group in London in September 2017, after Strutt&Parker was acquired by BNP Paribas Real Estate.
Guillaume is 33 years old and is a graduate of EM Lyon Business School. He started his career in London in 2009 at Rothschild (Investment Banking). In 2012, he joined Change Capital Partners, a UK-based private equity fund. In 2015, he was appointed Director in the EMEA Corporate Development team at CBRE.
Download the press release

Guillaume Sottil appointed Head of corporate development
PDF - 167Ko
International press contacts
Nicolas OBRIST

Amira TAHIROVIC - HALILOVIC