Q1 2022 office take-up: a significant increase
After take-up began to rally in Q2 21, the office occupier market in Europe has pursued its path to recovery. The beginning of the year saw a solid quarter of letting activity with around 2.29m sqm transacted over Q1 in the 17 main European office markets*, up 41% compared to last year. Quarterly volumes are in line with their 10-year average for Q1 (2.14m sqm).

Take-up recovered to pre-Covid levels in Q1 2022
Take-up across the 26 markets combined to the end of Q1 2022 recorded a sharp increase: up 42% compared to Q1 2021. Thanks to this strong rebound, quarterly volumes exceeded their long-term averages in most markets.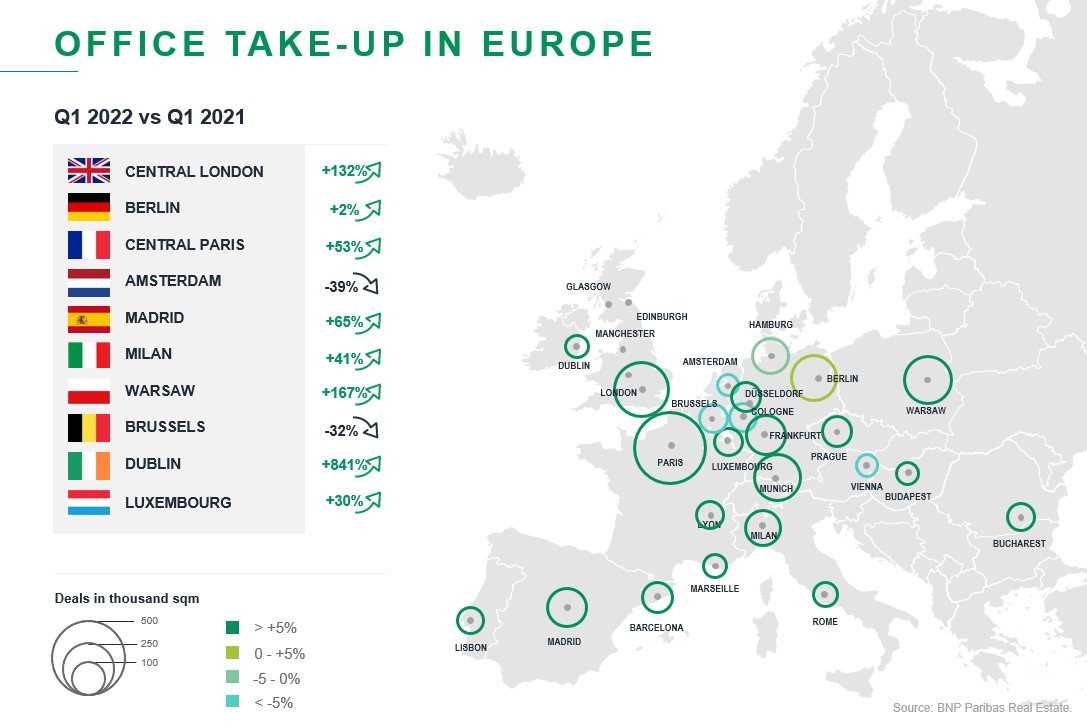 Letting activity picked up dramatically, especially in Dublin (+841% y.o.y), Warsaw (+167%) and Central London (+132%) while Brussels and Amsterdam saw a cooler start to the year at respectively -32% and -39%.
*17 main European markets: Amsterdam, Barcelona, Berlin, Brussels, Dublin, Cologne, Düsseldorf, Frankfurt, Hamburg, Central London, Luxembourg, Madrid, Milan, Munich, Central Paris, Rome, Warsaw.
Net absorption of offices moves back into positive territory
Thanks to the rebound in take-up, the net absorption of offices in Europe is increasing, and represented 791,000 sqm at the end of Q1 2022. Net absorption was particularly high in Berlin (347,000 sqm, i.e. 1.7%), despite a significant amount of office completions (and consequently a larger stock) over the past 12 months, which proves the undisputed dynamism of the market. Warsaw experienced the same trend with a strong increase in net absorption (127,000 sqm, i.e. 2.0% of the stock), driven by a record high Q1 22 take-up.
Vacancy remains under control in Europe
After increasing sharply over 2020 and in the first half of 2021, vacancy rates seem to have been stabilising since the end of Q2 2021, thanks to the gradual recovery of take-up. The overall vacancy rate in Europe stood at 7.2% at the end of Q1 2022 (+30 bps vs. Q1 2021).
Most markets are seeing two-speed trends, with low availability in central submarkets and in new buildings, and much higher vacancy rates in peripheral office districts.
Prime rents were mostly unaffected by the crisis
Despite the slowdown in take-up, the prime segment did not suffer from the crisis. Indeed, in most markets, prime rental values held steady throughout the pandemic, and many of them are now even higher than their pre-crisis level.
"The very low availability of prime assets and the appeal of high-quality buildings located in the most sought-after districts drove values up, especially since the occupier markets are healthy and dynamic, despite growing uncertainties, comments Richard Malle, Deputy Head of Business Services in charge of Research, Innovation and Data at BNP Paribas Real Estate.
Warsaw (+9%), Berlin (+8%) and London (+8%) have seen the most significant increases in values.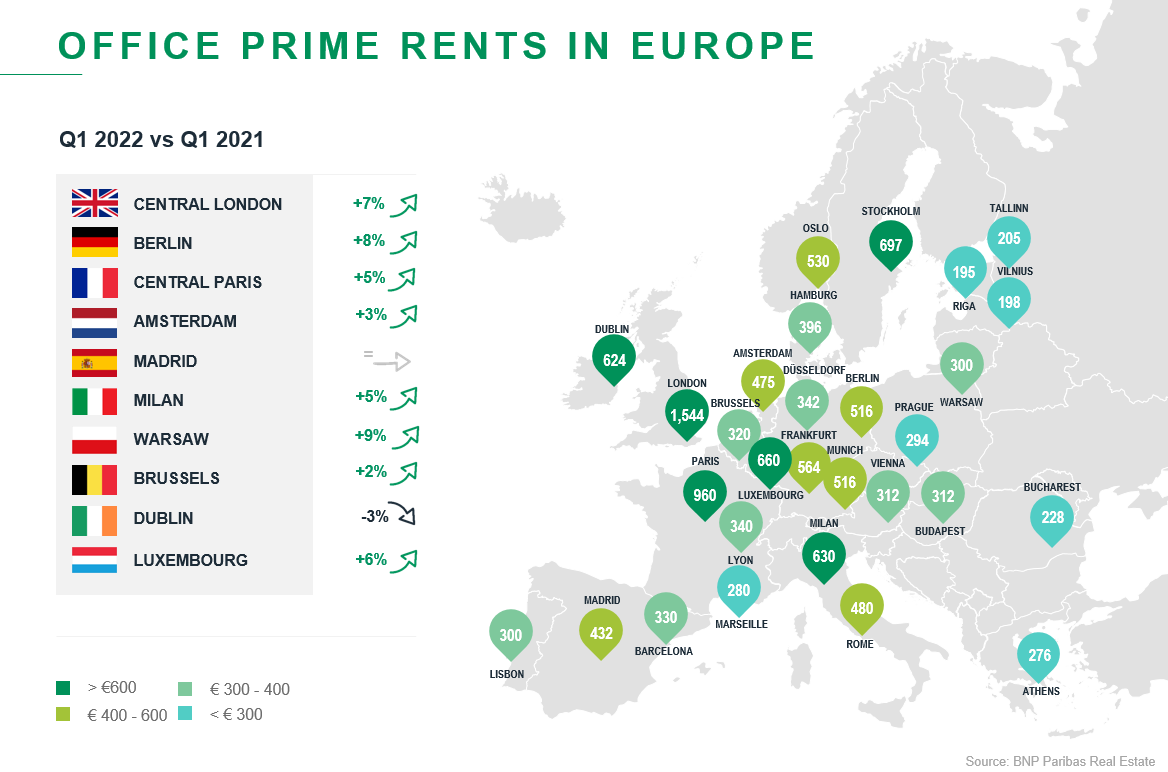 Investment back to pre-covid-19 levels
Offices were the segment hit hardest by the crisis. Office investment plummeted between Q1 2020 and Q1 2021 (-38% on a rolling-year basis). The sudden expansion and mass adoption of remote working sowed doubt among institutional investors, who questioned its current dominance in portfolios.
However, offices showed resilience and investment has picked up again over the last 12 months (+40% from Q1 2021 to Q1 2022). The Q1 2022 figure (€27.2bn) even reached an all-time high for a Q1, 60% above Q1 2021, when logistics (+10%), retail (+26%) or hotel (+33%)' performances were more moderate.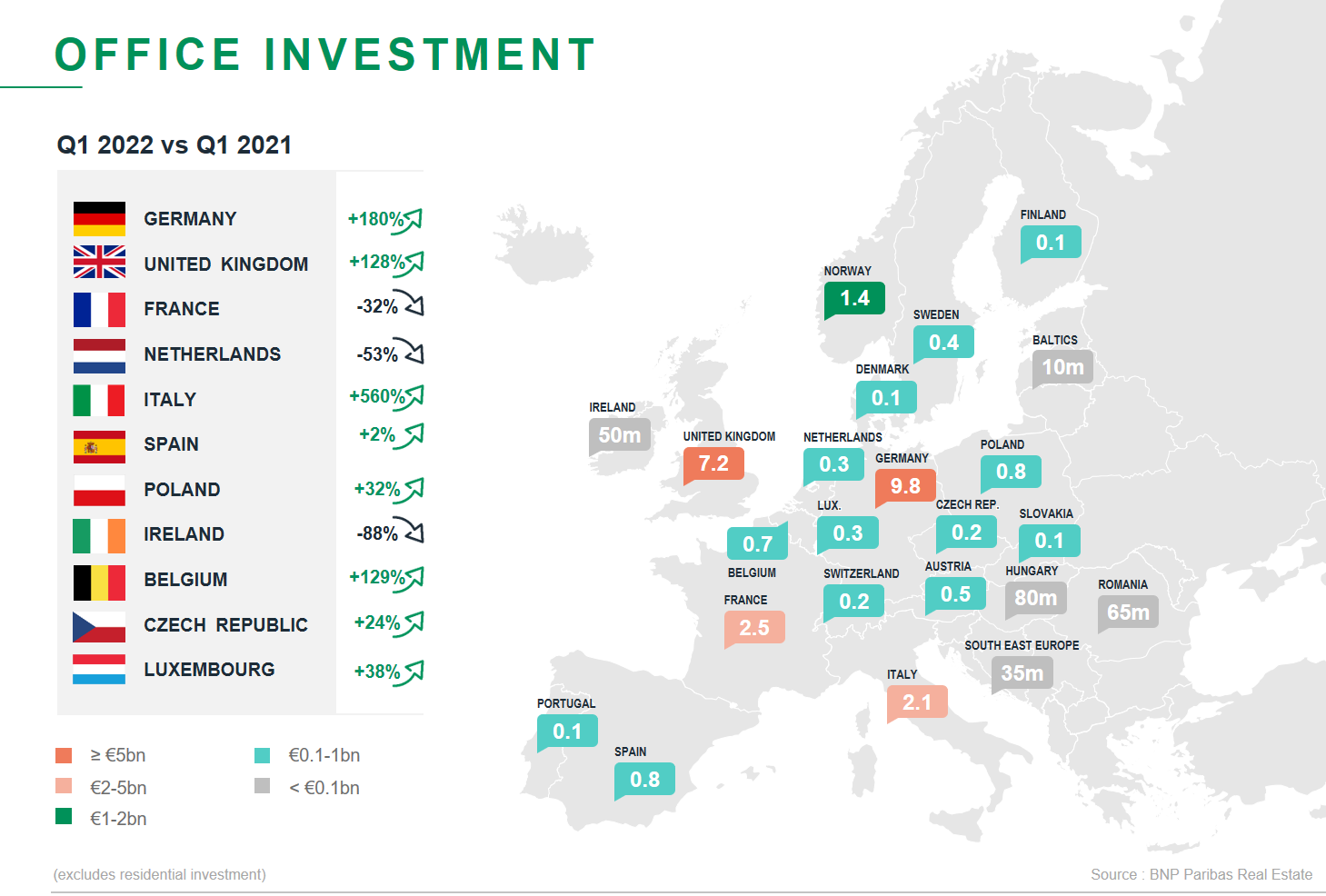 Prime office yields narrowing again
"The downward trend in office prime yields slowed during the Covid crisis, although there was still a keen appetite for core assets let to good tenants. With businesses reopening and occupiers returning to offices, the market then rebounded strongly in late 2021 and early 2022.  However, with the recent rise in inflation, as well as geopolitical uncertainty, we are starting to see signs of yields rising again, with investment slowing and becoming more polarised", indicates Larry Young, Head of the International Investment Group (IIG) within BNP Paribas Real Estate.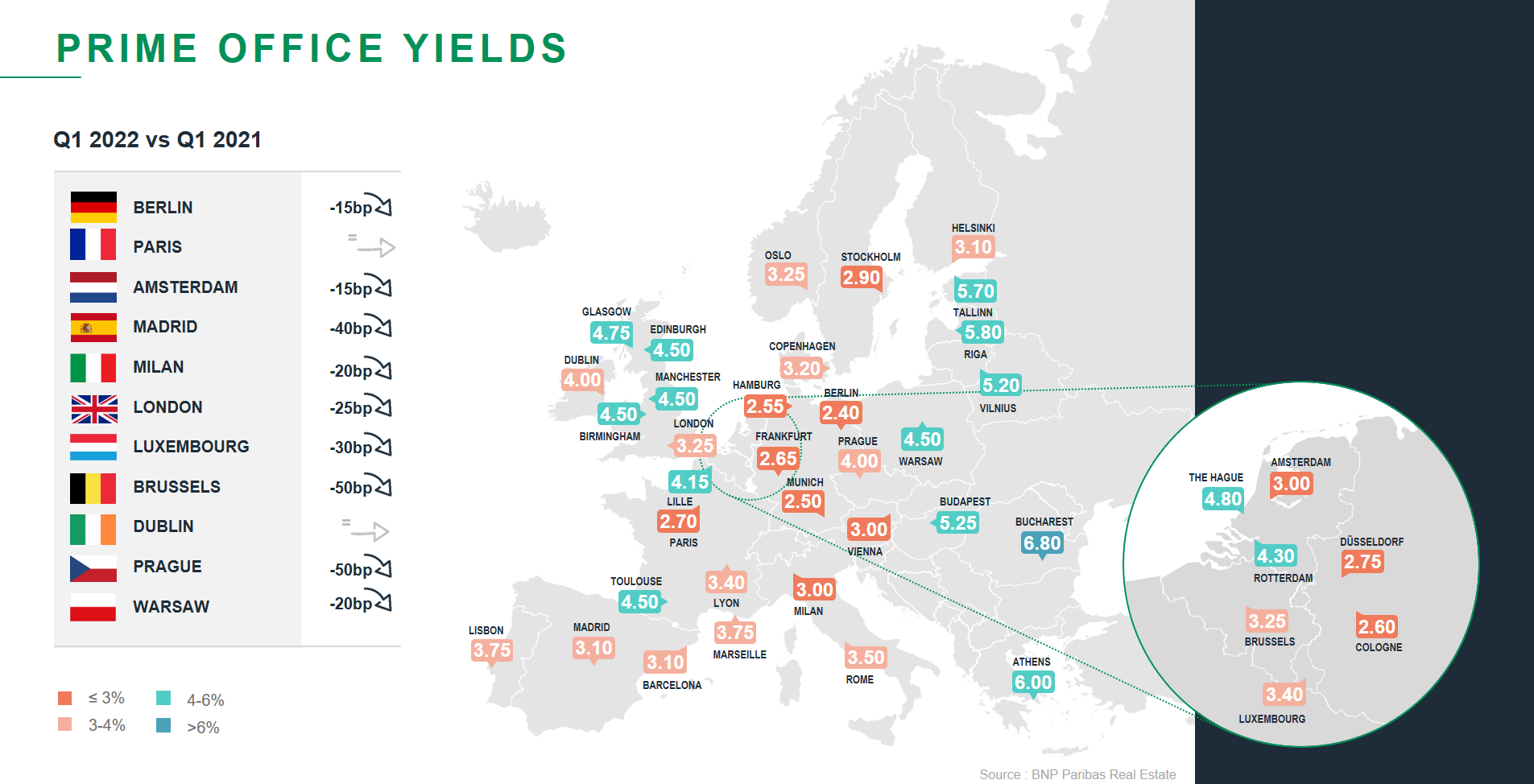 Press Release Office Market
PDF - 1.1Mo
International press contacts