European Logistics Market: €40 billion of investment in 2017
Good momentum: historical volumes in France, Spain and the Netherlands stimulated by a favourable economic backdrop.
Industrial & Logistics investment in Europe: +62% (2017 vs 2016), reflecting the sales of large portfolios.
Net prime yields are at their lowest level and we still can anticipate further compression in some countries.
Take-up: robust activity in 2017 with historical volumes
The logistics market in Europe is thriving boosted by a favourable economic backdrop. Take-up for warehouses over 5,000 sqm grew by 9% in 2017 compared to 2016 in the 21 cities regularly followed by BNP Paribas Real Estate. Historical volumes have been reached in France, Spain and the Netherlands. The overall take-up is 15% above an average recorded since 2011. Nevertheless, the lack of new developments to meet new requirements (XXL warehouses, e-commerce…) is still impacting on the market.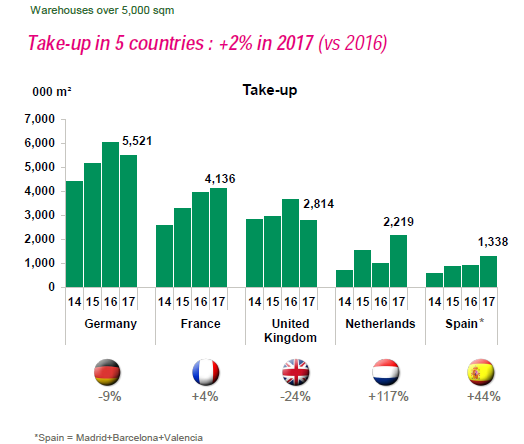 In the Netherlands, business confidence is boosted by domestic demand and industrial output. Take-up reached record levels of transactions (+117% in 2017 vs 2016). The Spanish market was also stimulated by sustained growth of the economy and e-commerce, and take-up in Madrid more than doubled compared to 2016. Regarding the French market, it reached yet another record year over 4 million m², boosted by a stronger economic environment and a greater visibility since the presidential elections. The market was supported by demand from large distributors in the food industry and e-commerce.
In the United Kingdom and in Germany, demand for logistics space weakened in 2017 (respectively -24% and -9% compared to the exceptional volumes recorded in 2016). In the UK, some occupiers have rationalized their expansionary plans due to the recent political and economic uncertainties whereas in Germany the last quarter of 2017 remained good with strong activity in Berlin, Frankfurt and the Ruhr area.
European industrial and logistics investment reached new record level
Logistics is still an attractive asset in Europe. The sale of major portfolios and corporate deals including Logicor for over €12bn generated outstanding volumes of investment during 2017 (€40 billion, being +62% compared to 2016).
Logan Smith, Head of Logistics Investment for Europe said "2017 was the highest year on the record for investment volumes in the logistics and industrial sector in Europe, due to large corporate deals and new entrants such as Asian investors, which resulted in yield compression. The logistics market continues to outperform offices and retail, with good levels of demand from all risk profiles".
In Germany, logistics assets continue to attract more capital than ever, reaching a breaking record of €9.2 bn in 2017. After a strong compression in 2015 and 2016, yields continued to decrease in 2017 to 4.50% in the major logistics hubs. Industrial and logistics investment in the Netherlands doubled in 2017, representing 17% of total commercial real estate investment. The Dutch market was boosted by the sale of large pan-European portfolios (Logicor, Grammercy, Geneba).
In France, the investment market was particularly strong in 2017, boosted by portfolio transfers. It is worth noting that if we exclude corporate deals, the investment market for distribution warehouses still remained buoyant. In the UK, the market nearly doubled, boosted by corporate deals and portfolios transfers. Prime yields dropped between 10 and 15 basis points in the main markets.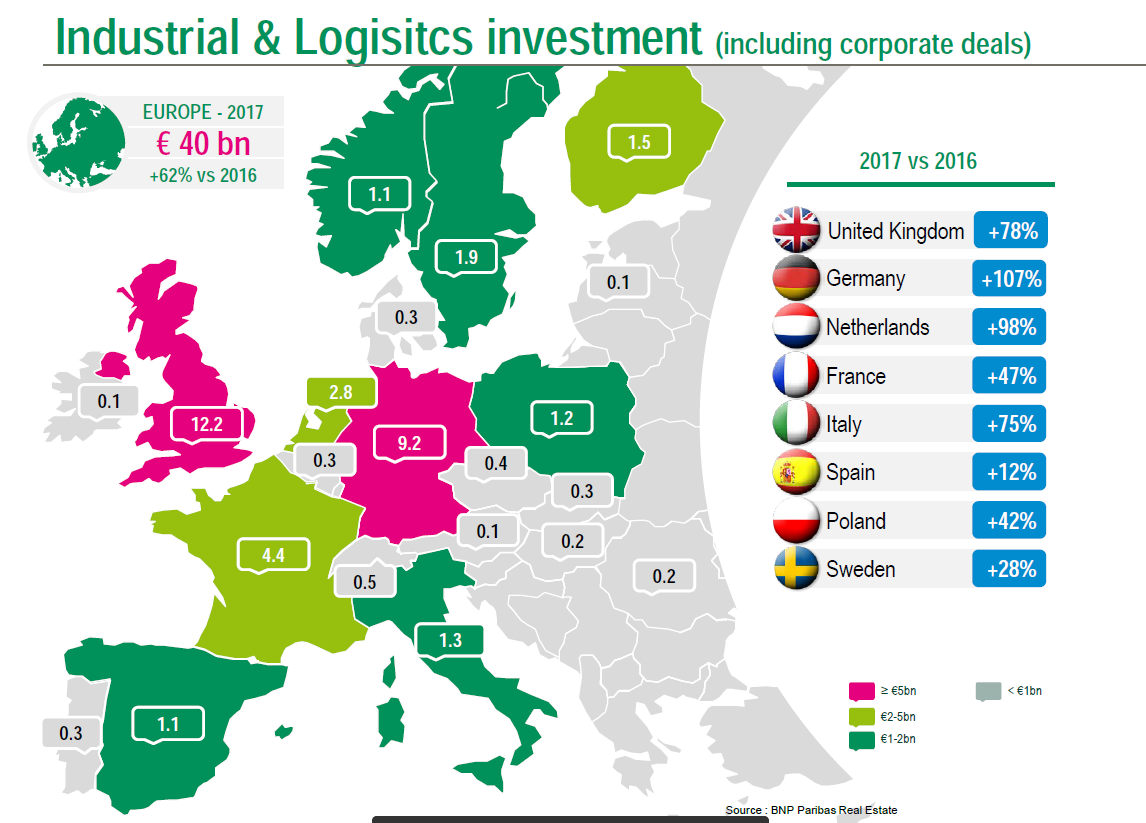 Download the press release

European Logistics Market: €40 billion of investment in 2017
PDF - 507Ko
International press contacts