How is the hotel market taking cues from flexible office space?
Under-used hotel spaces and the demand for remote working are proving complementary. We look at how hotels are playing a part in the flexible working trend and what hotels and dedicated co-working spaces can learn from each other.
Employees – particularly the millennial generation – are increasingly seeking opportunities for flexible and remote working in a bid to achieve a better work-life balance. Globally, figures indicate that 70% of professionals work remotely at least one day a week, with 53% working remotely for at least half the week. Flexibility makes sense for companies too: as well as savings made on office space, it's estimated that companies that support remote work have 25% less staff turnover than those that do not.
With an estimated 1.2 million people now regularly accessing co-working spaces, teleworking no longer just means working from home or a café. Dedicated co-working spaces, such as WeWork and Wojo (formerly Nextdoor) have been meeting the demand for remote working by freelancers, entrepreneurs, start-ups and employees. As well as convenient locations, their attractions include inspiring design, a vibrant atmosphere, a sense of community and the chance to connect with others.
Now hotels are entering the flexible working arena, but rather than creating bland, traditional 'business centres' for guests working on the move they are taking their cues from the look and feel of the spaces offered by dedicated co-working office providers.
Why hotels can be ideal for remote working
Hotels often have large under-used communal spaces, such as lobby areas. Well-equipped with power points and furniture, these can be ideal places for people to bring their laptops, plug in and get to work. Some hotels are happy to allow workers to do just that – they are not charging people to work in lobby areas, but rather benefiting by remote workers spending on food and in the bar, and from the reputational advantages being seen as a fashionable co-working space can bring.
However, some hotels are entering the flexible working space market in a more targeted way. In France, AccorHotels and Nextdoor have joined forces to provide 80 collaborative workspaces by 2022. And seven London hotels have partnered with the Spacemize co-working platform to turn their restaurants into work areas during the day
Meanwhile a number of boutique hotels have created their own dedicated co-working spaces. The fashionable Hotel Schani Wien in Vienna, for example, sells passes for the co-working area in its lobby, which combines the idea of flexible working and community with the Viennese coffee house tradition.
At the Tryp by Wyndham in Dubai, NEST describes itself as 'one of the world's first fully integrated co-working spaces within a major internationally branded hotel.' Its trendily-designed space aims to support networking and productivity, as well as provide inspiration. And the Hobo in Stockholm provides a showroom for start-ups, artists and designers to exhibit, as well as promoting its bars as co-working spaces.
How hotel-style service will influence flexible working spaces
Dedicated flexible working spaces have inspired the remote working facilities hotels are now offering. But in the future, the influence is likely to work the other way too.
According to Essensys Co-working Market Forecast 2019, co-working operators will begin to focus more on hospitality and service elements, offering a level of hospitality consistent with a hotel concierge. And they predict that more hotels will jump on the trend to double as co-working spaces in the coming year.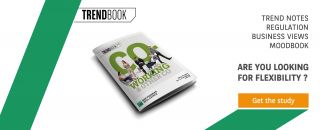 Co-working TrendBook
Download our TrendBook which looks in depth at the co-working sector...
Download the TrendBook here...