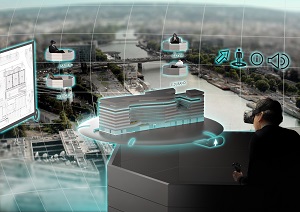 BNP Paribas Real Estate will be attending its second CES in Las Vegas from 5 to 8 January 2017 in order to cement and officially launch its smart home strategy and products.
Driven by a desire for greater innovation in the connected housing sector and new services around the IoT, BNP Paribas Real Estate has decided that before long, 100% of its houses will be compatible with smart technologies. This is why the property group has chosen to team up with Legrand and take advantage of its upcoming connected offer, "Celiane with Netatmo". This will allow BNP Paribas Real Estate to achieve its goal of offering the first house in France compatible with the Apple HomeKit and the La Poste Digital Hub, thus giving its users the choice of a wide range of new experiences and new services.
The teams at Legrand and BNP Paribas Real Estate have been working together to be able to kick off 2017 with the launch of a pilot project incorporating the new "Celiane with Netatmo" offer, which will allow users to preview the initiative upstream of the official launch by Legrand.
"In line with the respective strategies of our partners Legrand and La Poste, we hope to develop an open-innovation ecosystem and offer our clients smart homes that improve their well-being and consumption control, allow them to remain at home longer and even help with digital administrative formalities. Being at the CES among start-ups and major innovative groups will allow us to continue building our IoT ecosystem. We want to prove that a service provider such as BNP Paribas Real Estate can be the creative energy and technological driving force for the real estate sector", says Olivier Bokobza, Managing Director of BNP Paribas Residential.
At the same time, CES 2017 will give BNP Paribas Real Estate the opportunity to offer visitors to the La Poste stand a fully immersive experience of its homes, offices and even a visit to a Grand Paris Express station, thanks to the wonders of virtual reality. This connected VR technology, invented by Vectuel and Ramy Fischler (RF Studio) makes it possible, in a way, for users to experience teleportation and space-time compression by visiting places without having to go anywhere at all.
Finally, the La Poste stand will also offer a fascinating experience designed to illustrate specifically the connected services of the Digital Hub. The demonstration uses a few typical examples of family life to show how connected devices can generate services to make our daily lives easier.
"Innovation is in our DNA and we are so excited about the opportunity to take part in this historical triumvirate to develop France's IoT, alongside La Poste and Legrand. Together, our ambition is to share our vision of the smart building, which will be one of the keystones of the smart city. We have evolved from project managers to expert users, thanks to our involvement in the IoT and our ability to provide highly targeted services for the residents of the buildings of tomorrow", explains Thierry Laroue-Pont, Chief Executive Officer of BNP Paribas Real Estate.

*IoT: The Internet of Things is a technological development in which everyday objects have network connectivity, allowing them to connect with other devices and third-party services.
**The Digital Hub is a central control station for managing and interconnecting with all connected devices and nearby services. It engenders new practices and services with a direct impact on the daily life of users.
Download the document

BNP Paribas Real Estate CES 2017
PDF - 371Ko
International press contacts