BNP Paribas REIM's New Governance
Barbara Knoflach leaves BNP Paribas Real Estate
BNP Paribas Real Estate announces that Barbara Knoflach, Deputy Chief Executive Officer and Global Head of Investment Management, has decided to leave the company.
"My mission at BNP Paribas REIM to create a sizeable European Player with a strong international management team is accomplished. Contributing to the growth ambitions of the group was a real pleasure. It was a great experience being part of one of the most exciting real estate networks in Europe. For me it's time to move on" comments Barbara Knoflach.
Barbara Knoflach joined BNP Paribas Real Estate in 2015 and was in charge of setting up and driving forward the Investment Management strategy for BNP Paribas Real Estate and leading its implementation through eight countries with more than 350 employees. During the past 4 years, Barbara Knoflach transformed BNP Paribas REIM into a large European Investment Manager growing assets under management from 22 bn Euros up to 29 bn in 2018. Under her leadership, performance has been accelerated in the 3 key segments: Institutional Funds, Retail Funds and Separate Accounts/Mandates. In this last segment, clients entrusted BNP Paribas REIM with a record 2.2 bn Euros in new mandates in 2018, thanks to a rigorous investment process.
"On behalf of the Board, I would like to thank Barbara for the achievements under her leadership and for being a driving force for our European ambitions. I wish her all the best and for the future every success." concludes Thierry Laroue-Pont, Chairman & Chief Executive Officer of BNP Paribas Real Estate.
Nathalie Charles will be appointed Deputy Chief Executive Officer and Global Head of Investment Management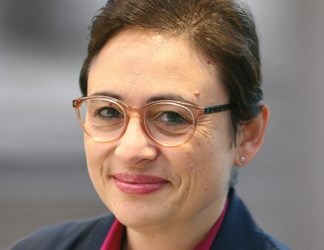 Nathalie Charles (53) will join BNP Paribas Real Estate on July 1st as Global Head of Investment Management. Her nomination as Deputy Chief Executive Officer will be proposed to the Supervisory Board of BNP Paribas Real Estate. In her role, she will be responsible for strengthening the strategy for the REIM business line and lead its effective execution locally in France, Germany, Italy, Luxembourg, Belgium, Netherlands, UK and Spain, reinforcing the position of BNP Paribas REIM as a leading player in Europe.
"We are very pleased to welcome Nathalie. Her great experience and in-depth understanding of the entire life cycle of real estate will enable us to reach our ambitious goals in Europe. Our growth drivers include a target of 34 bn Euros of assets under management by 2020" adds Thierry Laroue-Pont.
Prior to joining BNP Paribas Real Estate, Nathalie Charles was Head of Development and European Country Teams at AXA IM–Real Assets. Her responsibilities included overseeing all aspects of managing properties in the region, including acquisitions, disposals, lettings and development.
Previously, she was Managing Director of Corporate Real Estate at EDF Group (French Electricity Company), where she led the asset, property and facility management activities across EDF and its subsidiaries in France, with a portfolio of 4.5 million m².
Prior to EDF, Nathalie spent 12 years at the Unibail-Rodamco Group, where she held various senior positions overseeing office, retail and large development projects in the Paris region.
Nathalie Charles has 30 years' experience in the real estate industry and graduated from the French École Polytechnique. In 2011, she was awarded the French distinction Legion d'Honneur. In 2018, she has been appointed as the Chair of Urban Land Institute (ULI) France.
Download the press release

BNP Paribas REIM's New Governance
PDF - 236Ko
International press contacts
Nicolas OBRIST

Amira TAHIROVIC - HALILOVIC