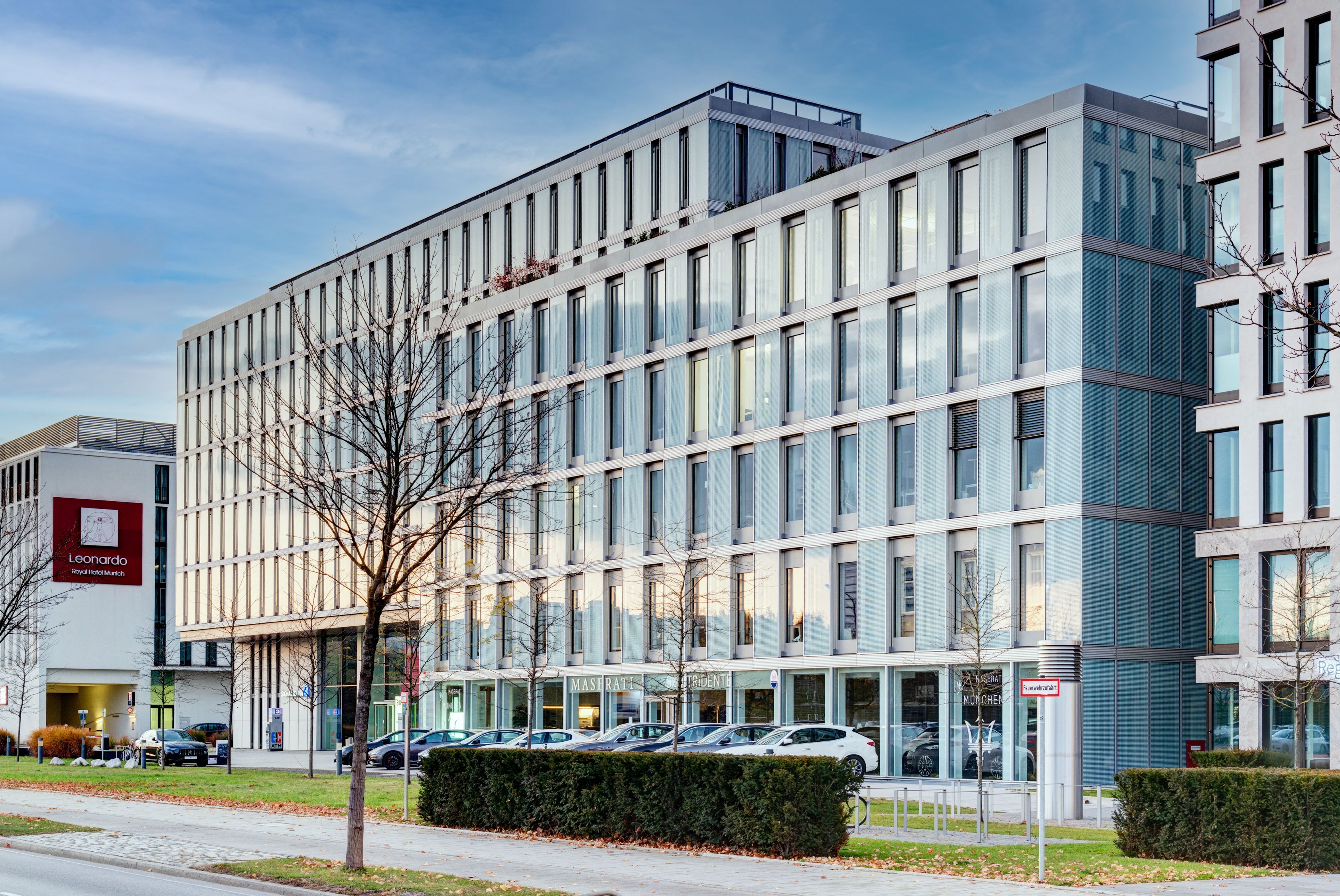 © Knight Frank
BNP Paribas Real Estate Investment Management (BNP Paribas REIM) Germany recently sold the almost fully let H2O office building located on Moosacher Straße in the north of Munich, from its Next Estate Income Fund II (NEIF II) pan-European investment fund, to Deka Immobilien. The core office building was built in 2016 and features over 18,569 sqm of office space and more than 200 parking spaces.
The main tenants of the property are companies specialised in e-commerce, cars and charging solutions for electric cars. They've all expanded their leases. All nine leases include a green lease clause that regulates sustainable use and maintenance of the asset and rental units.
The property, which is located in the immediate vicinity of Munich's Olympiapark, was designed and built with sustainability in mind. The office building is equipped with an energy efficient temperature regulation system. Most of the heat at the property is provided via district heating with an excellent primary energy factor. The heating and cooling system makes efficient use of ground water. A deep supply well provides low-energy concrete core cooling in the summer. A refrigeration unit supports the system during peak usage times and then switches over to a heat pump to help heat the building in the winter. The building is LEED Gold certified.
Those using the property have access to everything they need thanks to the numerous green spaces in the vicinity and the asset's location in a neighbourhood that is home to offices, residential, hotels, restaurants, retail and a daycare. The property is also close the Munich's Mittlerer Ring and located right near an underground station. Modern fitout, a landscaped courtyard and a rooftop terrace with a view of the inspiring architecture of the Olympiapark add to the enjoyment of a perfect work-life balance.
"Not only does this sale highlight the effectiveness of our Transaction and Asset Management team, it also reflects our conviction that it is always possible to find buyers for assets with excellent ESG performance, regardless of the current market phase. When property developers and asset managers place their focus on people in planning and managing a property, they work together to create true added value and assets that will always be in demand," says Isabella Chacón Troidl, Chief Investment Officer at BNP Paribas REIM Germany.
Knight Frank and BNP Paribas Real Estate were involved in the deal as real estate agents. Clifford Chance provided legal advisory services and x.project acted as technical advisor.

PR REIM_NEIF II HEO building sale in Munich_211222
PDF - 899Ko
International press contacts