As the economic and health crisis makes us think more intently than ever about urban resilience, BNP Paribas REIM, the Investment Management business line of BNP Paribas Real Estate, is sharpening its focus on the impact of its investment solutions on the city of the future. In this context, the entity is releasing its new annual CSR report, which concludes a first cycle of objectives initiated in 2013, and paves the way for new challenges in the coming years. Its aim is to constantly improve the performance of its real estate assets throughout Europe, with an approach that embraces the circular economy, biodiversity and responsibility. 
Committing to a sustainable and responsible performance on a European scale
Every year, BNP Paribas REIM moves forward with its responsibility policy and all the products it launches now include an important environmental or social aspect. The creation of the Health Property Fund (HPF) which targets the healthcare real estate sector (from short to long stay) is a practical example of its will to build new resilient and targeted investment strategies across Europe. Another precise example is the development of the "Next Estate Income Fund III", an open European fund offering international institutional investors diversification in the modern and labeled offices sector in the Eurozone. Since it was launched, the fund received more than € 500m of capital with a strong emphasis on sustainable development.
Another highlight for BNP Paribas REIM in France in 2019 was the refurbishment of a 15,200 m² office building in Neuilly-Sur-Seine, where 94% of the waste produced on the site has found a fresh use thanks to the circular economy. This pioneering scheme demonstrated its commitment to sustainable construction, while reducing the waste and pollution at its sites was once again a major challenge this year.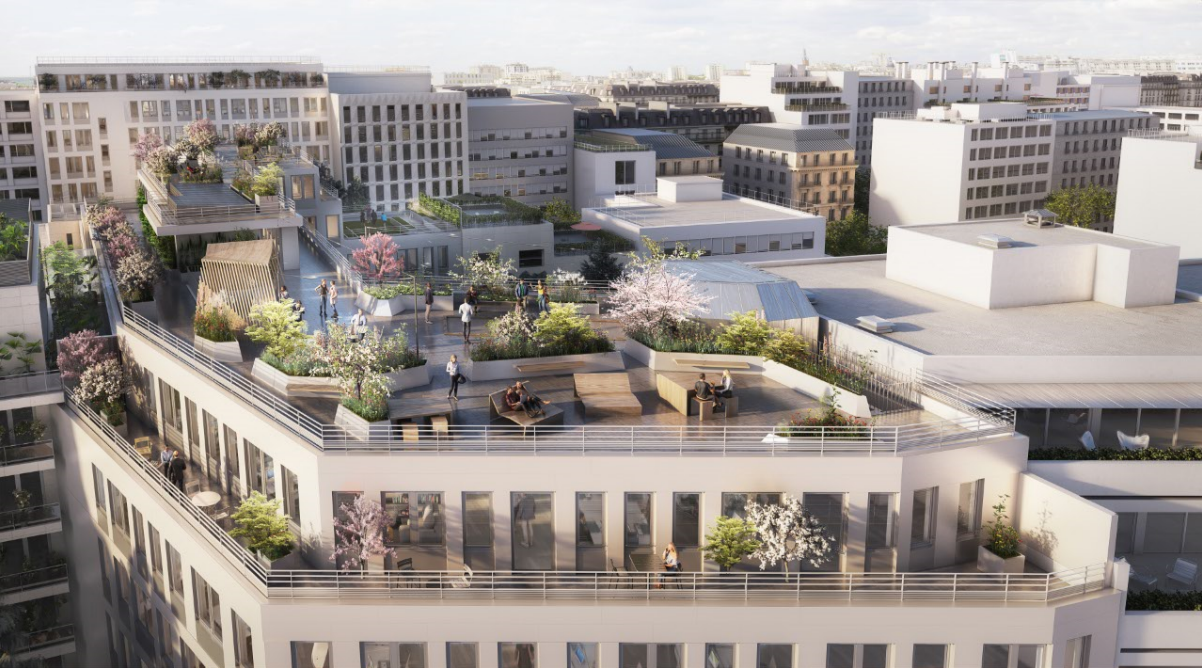 Credits: BNP Paribas Real Estate – Building 185 Charles de Gaulle in Neuilly-sur-Seine
The report also highlights that several assets owned by BNP Paribas REIM in the UK and Germany were awarded BREEAM certification in 2019, equivalent to the Haute Qualité Environnementale (HQE) label in France. All told BNP Paribas REIM has 120 sites with HQE and BREEM In-use certification, for a certified total of 2.5 million sqm. This new expertise has also paved the way for new objectives at the European level, particularly in the field of asset management and responsible investment.
"More than ever, the COVID-19 health crisis has highlighted our ability to create more supportive and inclusive communities to help better preserve the environment. These are the issues that will determine the long-term success of our company, and which we are committed to addressing through an enhanced CSR strategy so that we can keep improving the ESG and SRI performance of our existing and future portfolios",  explains Nathalie Charles, Chief Executive Officer of BNP Paribas REIM.   
A new roadmap for 2024
BNP Paribas REIM has therefore set itself a new roadmap for 2020-2024 in Europe, with the aim of strengthening its commitments, based on 4 major themes:
Environmental responsibility

, to optimise the energy consumption of buildings and ensure accessibility by cleaner means of transport. Several criteria will be evaluated to tackle this challenge: reducing energy consumption for 100% of the portfolio, developing more green transport solutions, but also the control and reduction of pollution, water consumption and waste production for 75% of the assets.

Economic responsibility

, to build innovative, ethical and responsible products and services, in particular by applying the sustainable purchasing charter to 90% of contracts with suppliers, and by ensuring a 100% occupancy rate throughout the REIM portfolio.

Social responsibility

, to raise the awareness of employees, suppliers, customers and partners in terms of diversity and equal opportunities, with the aim of promoting equality and diversity in all teams.

Civic responsibility

, to become a committed player in the real estate sector and support local initiatives through the creation of sustainable urban environments, by allocating an annual budget to charitable endeavours, or by ensuring access to our properties for people with reduced mobility.
"By 2024, our strategy is to integrate social responsibility into all of our businesses and European entities. With this in mind, we shall release our detailed roadmap for the next four years: to help us in this process, an ESG/Innovation manager will be appointed to guide and steer our projects in keeping with our commitments", concludes Nathalie Charles.    
To consult BNP Paribas REIM's 2019 RSE report click here.

BNP Paribas REIM CSR Report 2019
PDF - 705Ko
International press contacts
Nicolas OBRIST

Amira TAHIROVIC - HALILOVIC