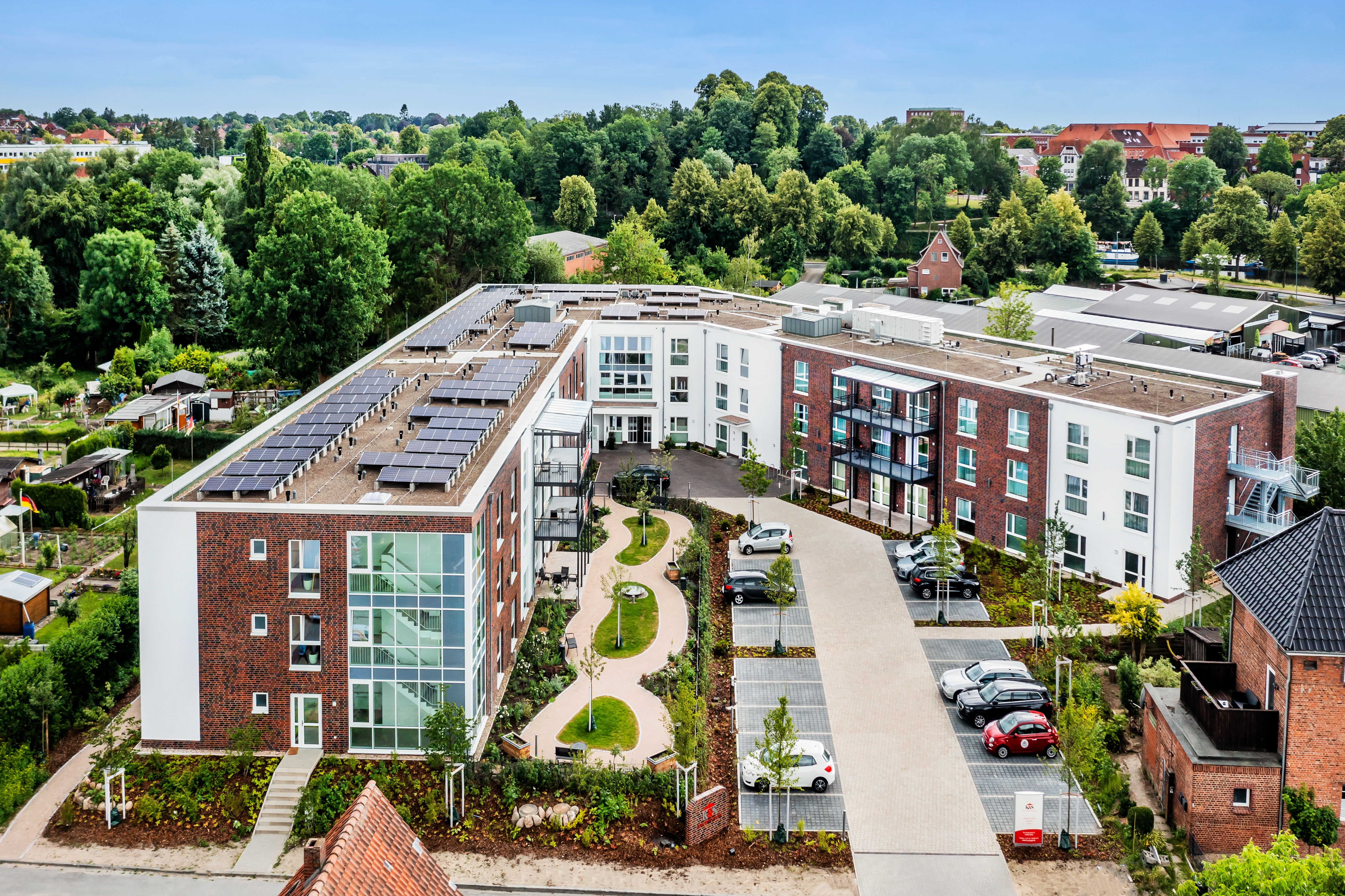 © Senectus GmbH
BNP Paribas Real Estate Investment Management (BNP Paribas REIM) Germany has acquired a care facility in Stade, Germany, for the European Healthcare Property Fund (HPF Europe), which was launched in 2020. The facility was developed by Hamburg-based Senectus GmbH, which specialises in the development and construction of senior living facilities in northern Germany. The long-stay care facility with capacity for 131 residents officially opened its doors on 1 June. The facility is run by the K&S Group, an experienced operator of long-stay and outpatient care facilities. The project's general contractor was ELBE Baubetreuungs-GmbH.
The care facility is close to the city centre and offers residents a high-quality and comfortable environment featuring a variety of cafes, restaurants, medical facilities and green spaces in the immediate vicinity. It was built in compliance with the KfW 40 standard and boasts excellent energy efficiency. A large section of the flat roof is equipped with a photovoltaic system. The innovative project was developed in cooperation with Madaster, which means that data on all materials and components used in the property are recorded in a register. That makes it possible to access information on the ease with which materials can be separated and reused as well as data on bound carbon emissions and material toxicity.
"Demographic change is one of the main drivers behind the growing importance of this asset class, both economically and socially. At BNP Paribas REIM we factor this into our investment strategy and the property in Stade is a perfect fit. We have acquired numerous sustainable properties in recent years with a strong social impact and will continue to do so in the future," says Isabella Chacón Troidl, CEO of BNP Paribas REIM Germany. "The fact that the new-build is so self-sufficient will reduce a large amount of carbon emissions and keep service charges low for the operator," adds Torsten Rieckmann, Managing Partner at Senectus GmbH.
BNP Paribas REIM has been investing in healthcare properties in Europe for twelve years and is a market leader in the segment with close to 80 healthcare properties acquired over the period. HPF Europe focuses on healthcare properties specializing in short, medium and long-term care in key Eurozone countries. The fund offers institutional investors exposure to hospitals, clinics and medical care facilities, an attractive portfolio mix in the asset class. BNP Paribas REIM made around 30 acquisitions for HPF Europe last year.

PR REIM_HPF Europe acquisition in Germany_270723
PDF - 1.1Mo
International press contacts