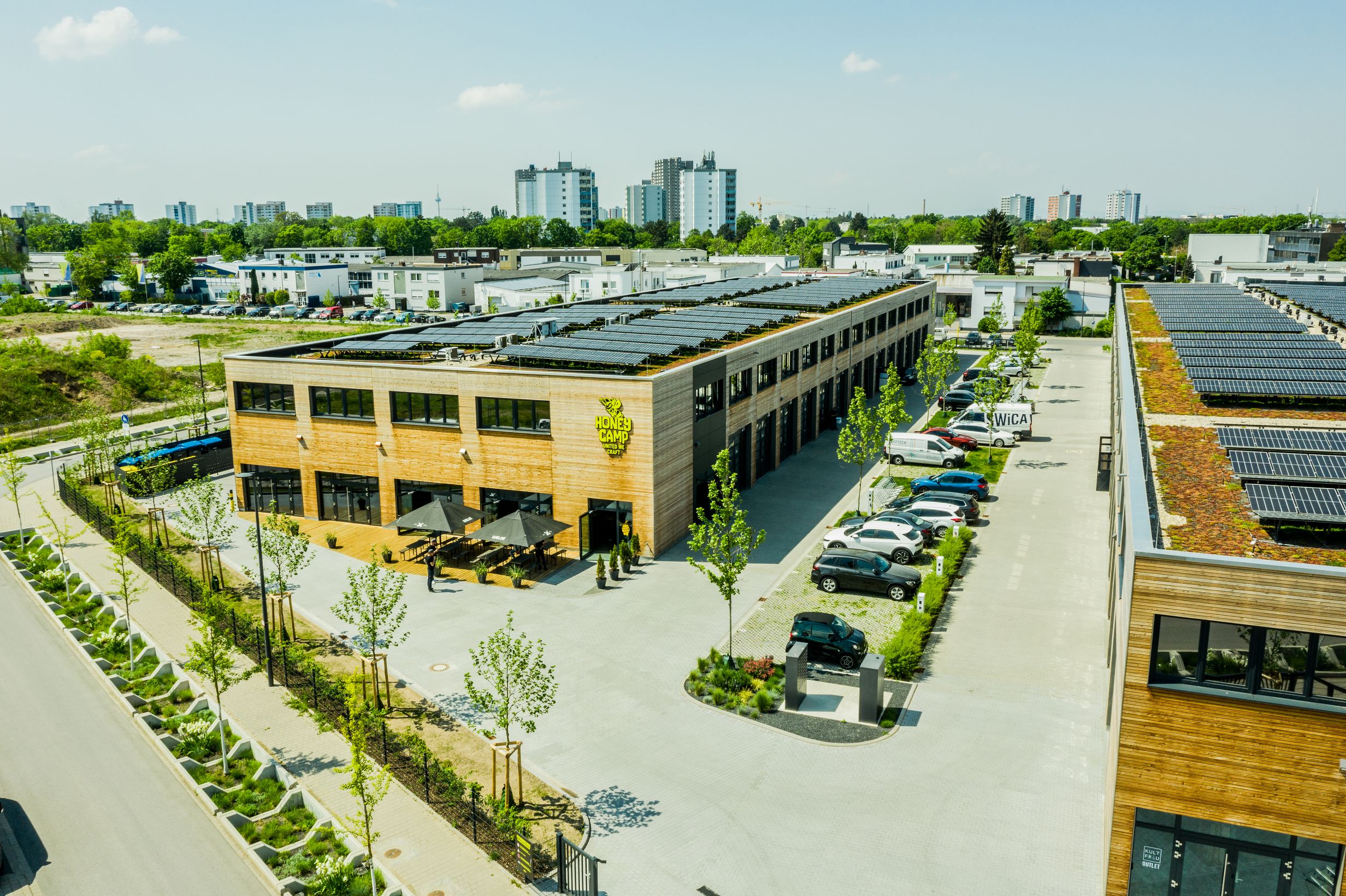 ©Honeycamp Operations
Innovative, sustainable concept

Managed, collaborative tenant community

Solid wood construction
BNP Paribas Real Estate Investment Management (BNP Paribas REIM) Germany completed the acquisition on October 1st, on behalf of one of its funds, of the Honeycamp Cocrafting© property in Mannheim from property developer HONEYCAMP Group.
The property is situated on a site encompassing just under 11,500 sqm. It boasts 76 office and commercial units featuring a total of roughly 9,200 sqm of rental space that can be flexibly partitioned into units ranging from 110 sqm to 1,000 sqm. The property also includes 113 parking spaces, 8 of which have already been equipped with e-charging stations and another 16 that are ready for installation as needed.
The property features a number of common areas that provide space for tenants to get together and share ideas. These include a café, a bar, The Hive event location, space for meetings and presentations and the 21 Supper Club, a meeting space with an event kitchen and a rooftop terrace. "The synergy effects, inspiration and collaboration this creates give tenants added value", explains Isabella Chacón Troidl, CIO of BNP Paribas REIM Germany.
The multi-tenant asset opened in 2021 and is currently fully let to 45 different businesses ranging from manufacturing and service providers to research, development and engineering companies. "Such variety also means risk diversification, making the model particularly attractive to our investors", says Isabella Chacón Troidl. "This diversity also enables us to offer shorter leases to some of our tenants, which particularly helps young companies to stay flexible. Start-ups often grow fast and are on the lookout for ways to adapt their space at short notice as they grow. Honeycamp's ground and upper floor units can be combined and separated as needed."
Honeycamp is an innovative flagship development when it comes to sustainability and resource optimisation in the commercial real estate sector. The buildings are solid wood construction and comply with the latest energy standards. Photovoltaic systems are installed on the roofs to guarantee self-sufficient power supply and heat is efficiently supplied via district heating. Honeycamp was built using 2,500 tons of mixed coniferous wood, which binds 2,300 tons of CO2. The post-and-beam construction creates flexibility and simplifies demolition. In addition to charging stations for e-vehicles, Honeycamp also features parking for up to 76 bicycles along with shower facilities for commuters.
The Rhine-Neckar metropolitan region, which is home to the cities of Mannheim, Ludwigshafen and Heidelberg, is a highly attractive destination for businesses. The property enjoys an excellent location in Mannheim and is easily accessible thanks to its proximity to the Viernheim junction at the A6 and the A659 motorways. Honeycamp is situated on the former Taylor Barracks site in Mannheim's Vogelstang district. It is only about 800 metres to the next tram stop and a bus line also runs in the immediate vicinity of the property. Thanks to such excellent access to public transport, it is only about a 24-minute ride to Mannheim's central train station.
JLL was involved in the deal as broker, Norton Rose Fulbright as legal advisor and Orange Recon as technical advisor.

PR REIM_Honeycamp acquisition in Mannheim_281122
PDF - 1Mo
International press contacts