Located in the Trapèze district of Boulogne-Billancourt (92), "Métal 57" has restructured and extended the iconic Renault workshop "57 Métal". The conversion was overseen by the architect Dominique Perrault, who has turned it into a polymorphic space of 37,000 m², heralding a new approach to commercial real estate. The development promotes mixed use, environmental quality and the protection of biodiversity, as well as addressing urban issues by opening up to the city.
"At a time of sweeping transitions, Métal 57 stands as a precursor to the office building of the future. Working with the architect Dominique Perrault, we have designed a space that will lead to operational innovations. Métal 57 has been adapted to the new uses of our clients, occupiers and local residents, and is a source of great pride for us as a developer: it shows our ability to make the city more sustainable and agreeable, using innovation to enhance the experience, and making people central to our projects", declares Thierry Laroue-Pont, CEO of BNP Paribas Real Estate.
Métal 57, industrial heritage preserved and reinvented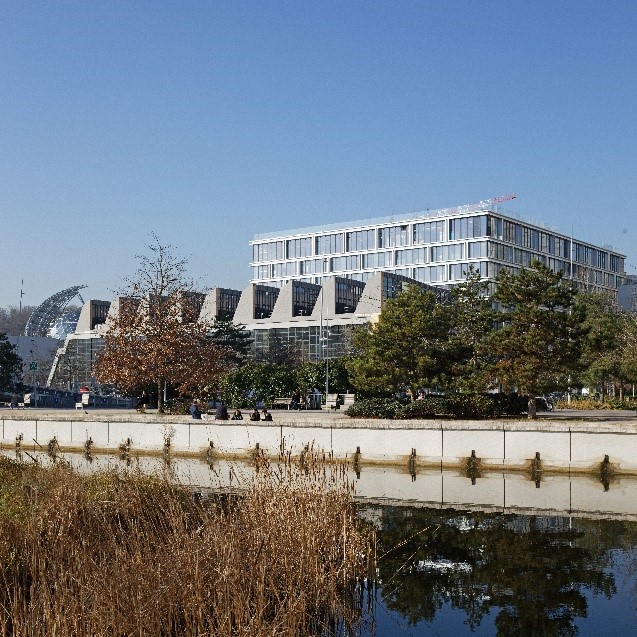 To preserve the industrial heritage of the original structure built in 1984 by architect Claude Vasconi, BNP Paribas Real Estate has renovated around 50% of the original building and added a new one, thereby creating a powerful identity. The developer teamed up with the urban architect and designer Dominique Perrault to breathe new life into this heritage building. The central tenet of this large-scale architectural rehabilitation was the protection of its industrial identity, embodied by its sheds, the distinctive feature of Métal 57, and its façade. For this metal origami to be preserved, the concrete pillars were left in place and the metallic structure put back just as it was. This way, the facade has retained its industrial outline and pattern.
"Inserting a real estate scheme on this scale is no longer confined to issues of architectural context and urban heritage. The idea has been extended to include a range of services within a complex that has a variety of functions.
Métal 57 is a prime example. The issue here was to be in keeping with the Trapèze district, which has undergone deep-seated changes in terms of its spirit and population. The site is open to the city thanks to a varied programme that looks at the office building from a new angle, considering the challenges and new reality brought about by the pandemic" remarks architect Dominique Perrault.
A laboratory for ideas and experimentation
Combining technical performance with design, Métal 57 showcases BNP Paribas Real Estate's expertise and joins the legacy of a bygone industrial era to the beginnings of a new world. The indoor thoroughfare, flanked by its sheds, creates a natural pool of light. The electrochromic windows are tinted depending on how much sunlight there is and on the south side, micro-perforated zinc lets in natural light while regulating the temperature. Inside, the combination of wood and brick creates a warm atmosphere, with dimensions inspired by industrial concepts. The floors are bathed in light thanks to exceptionally high ceilings (3.60 m between floors) with the façades glazed from top to bottom. The workspaces meanwhile have sensors connected to a cutting-edge technical management system that helps to minimise the building's energy consumption.
A building open to the city
Beyond its rehabilitation aspect, Métal 57 also contributes to th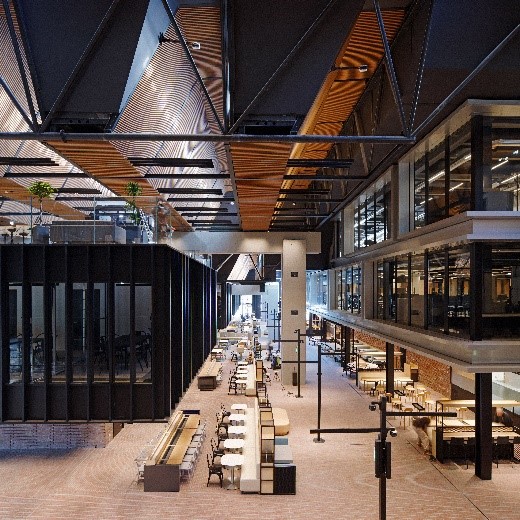 e reshaping of Boulogne's urban landscape: this large-scale restructuring has reduced the footprint and released spaces that will become public. These new communal places will provide easy access to public transport, particularly to the future "Ile Seguin - Pont de Sèvres" station of the Grand Paris Express (future line 15).
The building also includes a large, covered passageway, linking the Rue du Vieux Pont de Sèvres to the Cours de l'Île Seguin. This 5,000 m² service area has a food hall with restaurants, a gym, a 285-seat glass auditorium that can be used for events, and a business centre.
"Metal 57 is a great example of how the memory of local industrial history can be evoked. Boulogne-Billancourt was shaped by industrial companies, and particularly Renault. Here, it is important when putting down roots to acknowledge the area's past, to continue its development.
With this refurbishment of Metal 57, based on Claude Vasconi's original architectural design, Dominique Perrault has brilliantly succeeded in bridging the past and the present. By combining the metal framework, an iconic silhouette in the Boulogne landscape, with a sober and elegant new construction, he has masterfully reinterpreted the site's prestigious past.
The ensemble now features innovative office spaces that meet occupiers' new expectations, providing both flexibility and user-friendliness. I am delighted that BNP Paribas Real Estate has chosen to relocate to Métal 57, which has a wealth of history and a bright future, reflecting the vitality of Boulogne". Pierre-Christophe Baguet, Mayor of Boulogne-Billancourt.
Embodying the "Future of collaboration"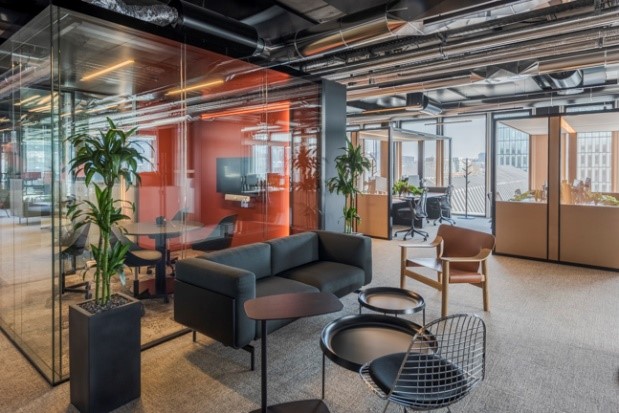 Metal 57 is a place to work, live and eat, and offers a glimpse into the commercial real estate of the future. Its 8 floors feature spaces for all types of layouts. In addition to its service area, the building also offers:
- A high-end concierge service inspired by hotel conventions, available to employees;
- A 3,500 m² landscaped rooftop terrace, promoting biodiversity and open to occupiers who can enjoy fresh air and help grow a vegetable garden.
This "human centric" approach makes Metal 57 a place to live and visit, not just a place to work.
BNP Paribas Real Estate, which is taking up 18,000 sqm, has opted for a hybrid and flexible layout for its teams that prioritises collaborative work arrangements. Co-working areas, meeting rooms, small "labs", "mini-amphitheatres" and "work cafés" account for 80% of the total floor area: the layout has been designed to enable staff to meet, exchange ideas and work as a team.
To nourish open innovation, BNP Paribas Real Estate staff can use the Customer Experience Center (or CXC), several interactive co-development spaces that frequently host clients, local authorities, corporate partners and start-ups as they build the city of the future together. The CXC's role is also to promote acculturation from both inside and outside the company and to support change, thereby exemplifying the company's human resources vision of a "learning company".
Metal 57 also features a 500 m² showroom with samples of materials and fittings, for future residential buyers who have chosen to invest in properties built by BNP Paribas Real Estate.
CSR central to the scheme
Environmental and social concerns are part of Métal 57's DNA, which has been designed with a biophilic approach. The building sits in a patchwork of parks and wooded areas (Meudon forest, Boulogne woods, etc.) that are home to a large population of birds and insects. It acts as an ecological hub, with a rooftop sanctuary of habitats for biodiversity. At the same time, measures have been taken to prevent birds from hitting the transparent panes of glass. The planted patios include local species and the urban farm that has been built on the rooftop will supply the food hall's restaurants through short circuits, while staff can get actively involved in the project too.
Métal 57's natural spaces will help reinforce its inclusive approach, by assigning the maintenance of the planted areas to an ESAT, or by taking on students seeking employment and local school children. In addition, Métal 57 will promote the French art scene by displaying artworks on the premises. As part of the Culture Ministry's "1 immeuble - 1 œuvre" programme, these will help towards the goals of broadening minds and making art available to all, like the fence decorated with street art during the construction period.
Métal 57 is at the cutting edge of eco-responsibility and is targeting certification and labels including BREEAM – Excellent, BiodiverCity, Effinergie + (new section), BBC (refurbished section), WiredScore Platinium, HQE Exceptionnel (new section), and Excellent (refurbished section), as well as Osmoz. It has been designed with a focus on passive solutions and has also applied enhanced architectural and organisational techniques, ultimately aiming to become a practical, energy-efficient building.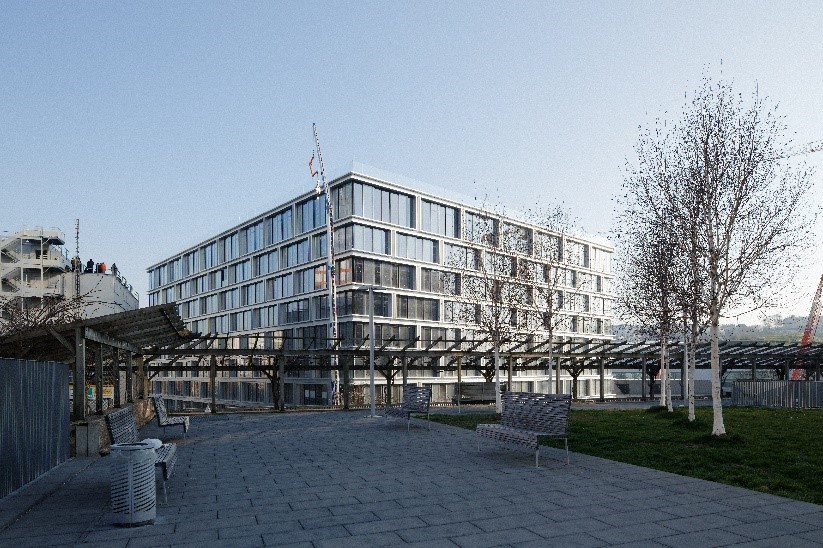 Several recycled and bio-based materials from the demolition of the old building have been reused, taking into account criteria such as the degree of wear and tear and compliance with safety standards.
Certain spaces have also been designed as experimental areas with a view to the circular economy, such as the showroom or the Customer Experience Centre, which includes materials that have been reemployed, upcycled, and sourced using short circuits.
"Métal 57 responds to very topical challenges: it has been designed to have a positive impact on its natural and urban environment. We are proud to turn Metal 57 into a laboratory and a showcase for our dedication and expertise, a building that contributes both to the construction of a more sustainable city and to the wellbeing of its occupiers", emphasises Catherine Papillon, head of Sustainable Development and CSR at BNP Paribas Real Estate.Lastly, Métal 57 is well connected to public transport and is committed to soft mobility by providing its users with electric charging stations for cars and scooters, together with a system for sharing not only cars, but also bicycles and electric scooters, as well as a bicycle repair workshop.
Multi-tenant building
Alongside BNP Paribas Real Estate, which has moved into 18,000 m², the companies Odigo and Kronenbourg are installing their teams into spaces of respectively 2,100 m² and 1,800 m².
"Thanks to its building techniques and interior layout, Métal 57 represents a fresh conception of the office building, whereby it is both permeable and connected to its immediate surroundings, but also mindful of its ecological and behavioural impacts. We have no doubt that it will attract occupiers and we are keen to hear their first impressions," states Arnaud Taverne, CEO of CDC Investissement Immobilier, which is managing the investment on behalf of the building's owners: CDC Investissement Immobilier and Assurances du Crédit Mutuel.

Metal 57 Press Release
PDF - 830Ko
International press contacts